Kansas men's basketball hosts Oklahoma Saturday, Feb. 15, at Allen Fieldhouse for its final regular season matchup. Tipoff is slated for 11 a.m. 
In the first meeting in Norman, Oklahoma, the Jayhawks bested the Sooners 66-52 without their leading scorer Devon Dotson. Without Dotson, senior guard Isaiah Moss, who turned in 20 points on 7-of-13 shooting, led Kansas. The Jayhawks showcase an all-time record of 107-44 against Oklahoma.  
Oklahoma Sooners: 16-8, Big 12 (6-5)
Senior forward Kristian Doolittle - ★ ★ ★ ★  
After he was named the Big 12's most improved player last season, Doolittle is back for his senior season and has become one of the Sooners' best players. Listed at 6-foot-7, 232 pounds, he enters the game as the team's leading rebounder. In Oklahoma's upset win over West Virginia last week, the Edmond, Oklahoma, native garnered 27 points and 12 rebounds.
Freshman guard De'Vion Harmon - ★ ★ ★  
Rated as the Sooners' best recruit this season by 247 Sports, Harmon has made an impact as a true freshman. In the first matchup with Kansas, he tied a team high with 13 points and added two steals. The former four-star recruit is a streaky shooter but has been hot lately, knocking down just under 50% of his 3-pointers in the last six games.
Sophomore guard Jamal Bieniemy- ★ ★  
Much of Bieniemy's impact doesn't appear on the stat sheet. He is a valuable player in the Sooners' lineup due to his defensive prowess and hustle. However, the Katy, Texas, native has had a rough season shooting the ball, sitting around 33% from the field this season.
Kansas Jayhawks: 21-3, Big 12 (10-1)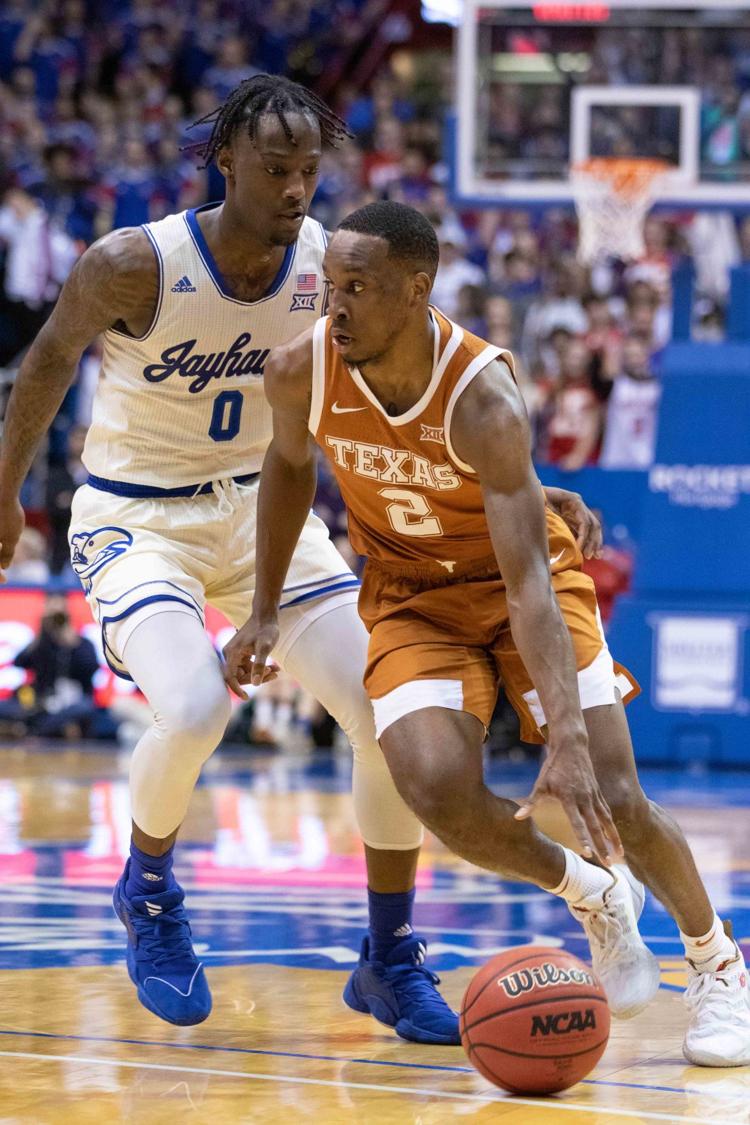 Junior guard Marcus Garrett - ★ ★ ★ ★ 
Through 24 games this season, Garrett leads the Big 12 in assist to turnover ratio and ranks seventh in steals. In a three-game span from Jan. 11 to 18, Garrett tallied 39 points, 16 assists and 16 rebounds. On Jan. 14 against Oklahoma, he totaled 15 points, five rebounds and five assists in 38 minutes of action. 
Sophomore guard Ochai Agbaji - ★ ★ ★ 
It has been a hot and cold season for the sophomore from Kansas City, Missouri. After collecting 16 points and four 3-pointers at Iowa State on Jan. 8, Agbaji only averaged 5.8 points and shot 9% from beyond the arc over the next four games. In the win at Oklahoma, Agbaji notched seven points on 3-of-11 shooting and grabbed five rebounds.  
Freshman guard Christian Braun - ★ ★ 
The local kid from Blue Valley Northwest High School in Overland Park has transitioned from a bench role to a starter in his first season at the collegiate level. In his career start at Oklahoma State on Jan. 27, Braun knocked down 4-of-8 from three and totaled 16 points in 33 minutes of play. Though he tallied just two points in the first meeting against the Sooners, Braun snagged six rebounds in 26 minutes off the bench. 
Beat Writer Predictions: 
Jakob Katzenberg: Kansas 71, Oklahoma 56
Jack Johnson: Kansas 74 , Oklahoma 60