Coming off its sweep against the Texas Longhorns, Kansas men's basketball heads to Fort Worth, Texas, to take on TCU for the first time this season Saturday. Tipoff is slated for 11 a.m. Last season, the Jayhawks took both games with their last win coming in overtime. Of the 20 matchups dating back to 1952, Kansas has won 18 of them. 
TCU Horned Frogs: 13-8, Big 12 (4-5)
Senior guard Desmond Bane - ★ ★ ★ ★ ★ 
Through 22 games this season, Bane is the second-leading scorer in the Big 12 and the top 3-point shooter in the conference. The product of Richmond, Indiana, has tallied 20 or more points in seven games with a season-high of 30 against George Mason on Dec. 30. Last season versus Kansas, Bane averaged 15.5 points and 5.5 rebounds.   
Sophomore center Kevin Samuel - ★ ★ ★ ★ 
The 6-foot-11, 250-pound big man from Codrington Village, Antigua and Barbuda, should be an equal match in size with senior center Udoka Azubuike. Samuel is the Horned Frogs' leading rebounder and notched a season-high of 18 against Arkansas in the Big 12/SEC Challenge. Last year, he totaled 12 points on 6-of-7 shooting and eight rebounds against Kansas on Jan. 9, 2019. 
Sophomore guard RJ Nembhard - ★ ★ ★  
This season, Nembhard has seen a drastic increase in both minutes and point production this season. Starting in all 21 games he's appeared in, Nembard has averaged over 30 minutes and 12.4 points per game - stomping his 4.4 points and 17.2 minutes per game averages from last year. The Texas native scored a team-high 14 points against the Jayhawks in Lawrence last season.   
Kansas Jayhawks: 19-3, Big 12 (8-1)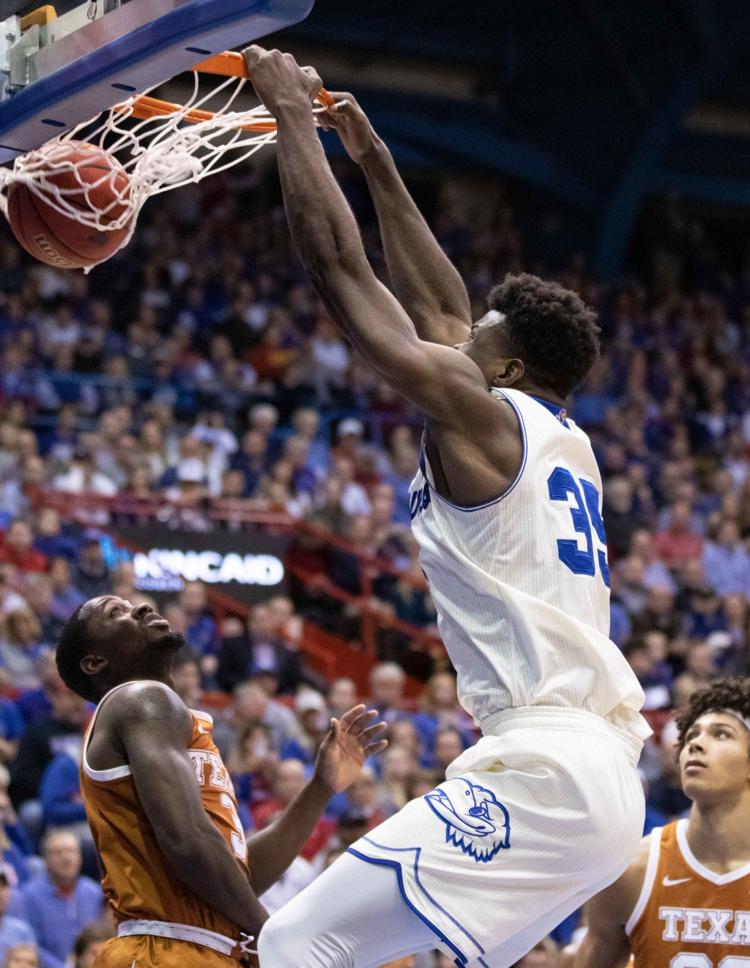 Senior center Udoka Azubuike - ★ ★ ★ ★ ★
One of the best of the big men in the country, Azubuike is averaging 12.6 points, 9.5 rebounds and 2.5 blocks per game for Kansas. After not starting versus Texas, the Nigeria native came off the bench to lead the team in points (17) and rebounds (12). Azubuike now faces the Big 12's leading shot-blocker, Samuel.
Sophomore guard Ochai Agbaji - ★ ★ ★ ★
The Kansas City native, Agbaji, has had an up and down sophomore season. He's been a streaky shooter, especially as of late, netting only six of his last 25 shots from three-point range. However, he is averaging 11 points and 4.3 rebounds in the last four games.
Sophomore forward David McCormack - ★ ★ ★
McCormack has played well since returning from his two-game suspension. He played a pivotal role in Kansas' win over Texas Tech, as he turned in six points, six rebounds, three blocks and two assists. The former McDonald's All-American will have to play quality minutes when Azubuike goes to the bench.
Beat Writer Predictions: 
Jakob Katzenberg: Kansas 73, TCU 59
Jack Johnson: Kansas 76, TCU 63