With the MLB trade deadline approaching on July 31, division leaders and contenders are looking to add a key player or two to help in the playoff push. Let's take a look at what moves these teams can make to improve their roster for the latter half of the season.
New York Yankees
Even though the starting rotation has been reliable for most of the season, New York can use Seattle Mariners righty Mike Leake's arm to give them depth. He can also be insurance for Yankees ace pitcher Luis Severino, who hasn't pitched yet this season and just began a throwing program Monday.
Even though it has dipped this season (1.11), Leake's career groundout-to-air out ratio is 1.47, so his pitching style would work well at Yankee Stadium.  Leake has been traded at the deadline twice in the last five seasons so a change of scenery during the season wouldn't be new to him.
Minnesota Twins
The Twins have mashed their way to the top of the American League central standings with a deep lineup. Ten players have hit at least 10 home runs for Minnesota, so upgrading their lineup won't be a priority at the deadline. A relief pitcher or two could push the Twins from overachievers to serious World Series contenders.
Perhaps the Twins could trade for San Francisco Giants left-handed reliever Will Smith but they already have an effective lefty at the back end of their bullpen with Taylor Rogers.
Toronto's right-handed closer Ken Giles makes the most sense for them. He's having a great year for the Blue Jays with a 1.45 earned run average and an opponents' batting average of .195. Getting Giles would bolster the Twins' chances of making a deep postseason run.
Houston Astros
Houston needs one more starting pitcher down the stretch and in the playoffs to fill the void left by former pitchers Dallas Keuchel and Charlie Morton.
The Astros are strong at the top of their rotation with Justin Verlander and Gerrit Cole, but acquiring Blue Jays starting pitcher Marcus Stroman could make them the favorites to represent the American League in the World Series. His ability to induce ground balls would help eat up innings and he has experience pitching in the playoffs with Toronto in 2015 and 2016.
Stroman has one year left on his contract, so Houston may have to offer a little more than they would for someone who is an upcoming free agent. The Astros can do that though, because they have the assets to trade for the 2019 all-star. According to MLB Pipeline, they have the No. 6 farm system in baseball.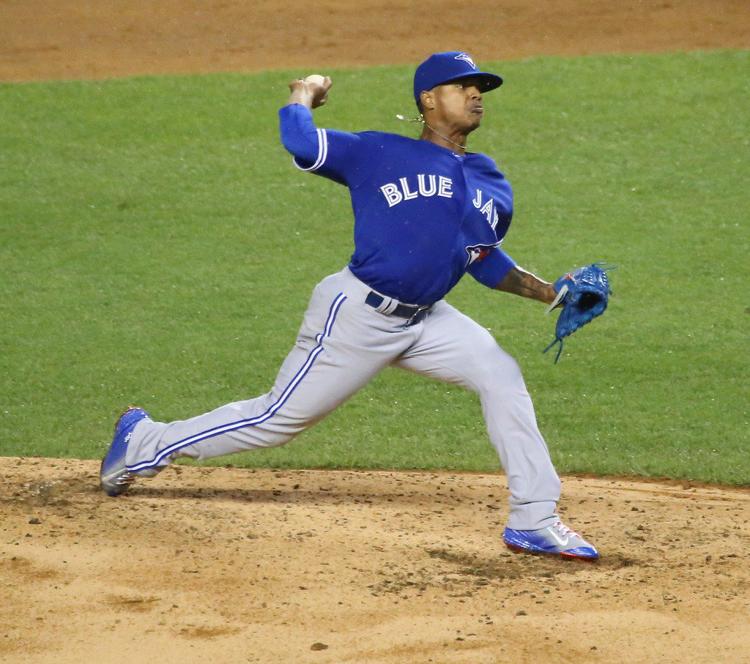 Atlanta Braves
Just like Houston, the Braves have a top farm system. Atlanta is ranked third by MLB Pipeline, which means they have plenty of firepower to deal for an impact player.
Detroit Tigers left-handed starter Matthew Boyd would be a good fit and he's eligible for arbitration for the next three seasons as well. Boyd also fits well because of his ability to throw strikes. The Braves need that because they rank 25th in the majors in walks per nine innings.
Even though he's given up 19 home runs this year, Boyd's incredible 6.33 strikeout-to-walk ratio should entice Atlanta to trade for him.
Chicago Cubs
Giants left-handed reliever Tony Watson makes sense for Chicago. The Cubs could use him in high-pressure situations and he would help them during the last two months of the season against impact left-handed hitters like Christian Yelich and Mike Moustakas as they fight Milwaukee for the National League Central title.
If they get in the playoffs, Watson's experience would help the bullpen too. He has a 2.25 earned run average in 16 career postseason games.
Los Angeles Dodgers
The Dodgers also have the capital to acquire almost anyone available on the trade market. Expect them to deal for a starting pitcher and maybe one or two relievers.
One of the most obvious candidates for them to acquire is Tigers closer Shane Greene. The 30-year old righty is having a career year and was named to the American League All-Star team. Los Angeles needs someone to take some pressure off closer Kenley Jansen, and Greene can do that.
His 1.06 earned run average and .154 opponents batting average this season is elite. Greene could become one of the pieces that finally propels the Dodgers to their first World Series championship since 1988.