After toppling the No. 7-ranked Texas Longhorns to become Big 12 tournament champions for the first time in program history, No. 20-ranked Kansas tennis was recognized for its efforts, with six Jayhawks named to the All-Tournament team.
The greatest honor was awarded to junior Maria Toran Ribes, who, after clinching the championship point against Texas, was named the Most Outstanding Player of the tournament.
Amassing a perfect 3-0 singles record across the three days of competition, Toran Ribes sealed the Jayhawks victory's against No. 12 Oklahoma State on Friday and followed that up with more heroics against Texas. Toran Ribes also earned All-Tournament honors in doubles play alongside her freshman partner Malkia Ngounoue by recording a 3-0 record in the tournament.
Rounding out All-Tournament honors for singles play, seniors Anastasia Rychagova and Nina Khmelnitckaia were both recognized for their efforts. Rychagova garnered a 1-0 record over the weekend as two of her matches went unfinished and Khmelnitckaia earned a 3-0 record for the tournament.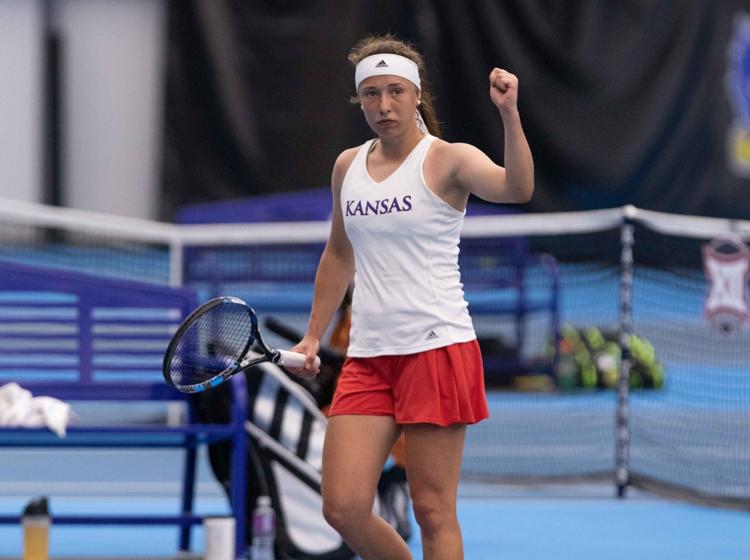 For the doubles awards, the Jayhawks swept every honor, a testament to their dominance throughout the season in which they won the doubles point in 22 out of 23 matches this season. The No. 3-ranked duo in the nation of Khmelnitckaia and Janet Koch won their semifinal match vs. Oklahoma State, but had their other two matches unfinished. No. 73-ranked duo of Rychagova and freshman Sonia Smagina went 2-0 with an unfinished match against TCU. 
The Jayhawks will know what their NCAA tournament future holds on Monday, April 29 during the NCAA selection show.