As Sporting Kansas City's preseason gets underway this Saturday in Arizona, the team will look at its new additions to fill the voids of midfielder Benny Feilhaber and forward Latif Blessing, who recently joined expansion team LAFC for the 2018 MLS season.
After losing Benny Feilhaber and Latif Blessing in the offseason to Los Angeles FC, members of the Kansas City soccer club talk about their former teammates and the need to bounce back without them.
While both Feilhaber and Blessing had premier offensive roles with Kansas City, the team isn't worried, since young talent acquired in multiple ways has the potential to fill the holes.
Forward Zach Wright, three-year starter from the University of North Carolina, signed with Kansas City last week after being a part of the team's U-18 Academy as a senior in high school.
"It's kind of like a dream," Wright said Saturday. "Always wanted to get back here, be around the guys again, so [I'm] excited about that."
The youngest of the newly signed additions, Wright joins former North Carolina teammate and 2017 SuperDraft first-round defender Colton Storm on the team.
"It'll be easy to blend into things," Storm said. "It feels good to be back together."
With 15 goals and 28 assists over the course of 79 games at North Carolina, Wright not only adds an attacking presence but a multi-dimensional aspect, as he was in the top three of the ACC leaderboard in assists during his last two years as a Tar Heel.
🎥 @zhwright11 helped @UNCmenssoccer win lots of games. Here's some of what #SportingKC's new homegrown has to offer... pic.twitter.com/h0AEjJvm7p

— Sporting Kansas City (@SportingKC) January 18, 2018
From across the Atlantic Ocean, Kansas City signed French midfielder Yohan Croizet in December.
Croizet's European experience is a unique but not rare aspect to Kansas City, with Croizet having spent three years in Belgium's first league, most recently with KV Mechelen.
"In Europe, some players want to come play in the MLS," Croizet said. "For the players like me, we want to try a new experience."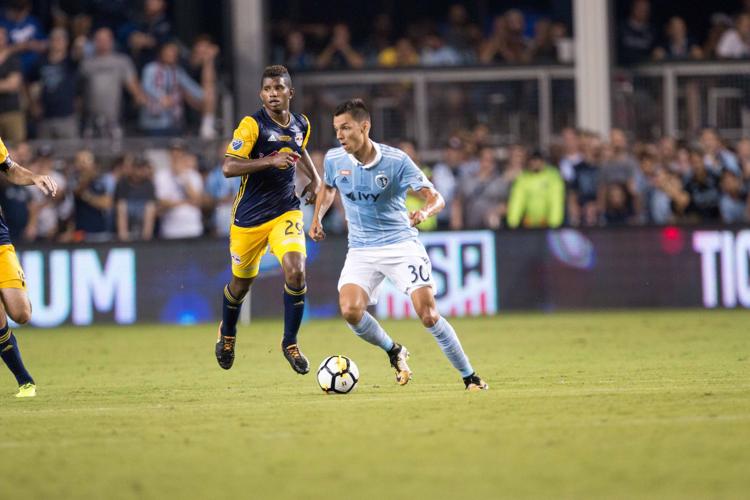 Forward Daniel Salloi, one of Sporting KC's three European natives, believes that the Frenchman's style of play resembles Feilhaber's the most.
"He's a type of player who is a cheeky player on the field," Salloi said.
Kansas City's third newly signed addition, forward Khiry Shelton, was acquired from New York City FC last month.
Although an injury sidelined him for most of last season, Shelton tallied in six goals and 10 assists in his three-year stint for the 2015 expansion team.
A member of the youth national team, Shelton adds top-level American experience at the youth level, a trait Kansas City has been attracted to in recent years. 
"There's some new faces here," Shelton said. "We got to get together as a team and be one unit so that when we hit the pitch … we're going with a full head of steam."
Kansas City will play seven games in Arizona before it heads to New York City to face NYCFC in its season opener on March 4.