Kansas men's basketball's incredible roster depth coming into this next season has been at the forefront of discussions regarding the team. Returning players like senior center Udoka Azubuike and sophomore point guard Devon Dotson are poised to take another leap with added experience next season. Conversely, incoming freshmen such as small forward Jalen Wilson and guard Issac McBride have an opportunity to make an instant impact and take a load off the Jayhawks' established stars.
Despite the start of the season still being over three months away, the roster already has some players who could be early-bird prospects for the 2020 NBA Draft. Let's take a look at two of the most worthy candidates from this season's roster.
Devon Dotson, sophomore point guard
Devon Dotson enjoyed a strong freshman season at Kansas, finishing with averages of 12.3 points, 3.7 rebounds and 3.5 assists on the year. Dotson's game matured well beyond his young age over the course of the season as he established himself as the Jayhawks' primary floor general.
The young guard showcased his ability to run the offense as well as create his own offense via driving to the basket and (on occasion) pulling up from the three-point arc. The latter is a skill Dotson has been gradually honing since he arrived in Lawrence, and it could put him over the top as an NBA prospect next season.
Adding a consistent three-point shot has become a necessity for NBA guards in the current era of run-and-gun offense. Guards like Stephen Curry, Kyle Lowry and James Harden all shoot the three at an excellent clip, which takes a lot of the pressure to score off their teammates' shoulders. The three is also a quick and efficient way to get points in transition, an area of the game in which Dotson succeeds due to his quick motor.
If Dotson can shoot the three with accuracy and efficiency as well as continue to develop his skills at the point, he will likely be in line for a first-round draft selection next year.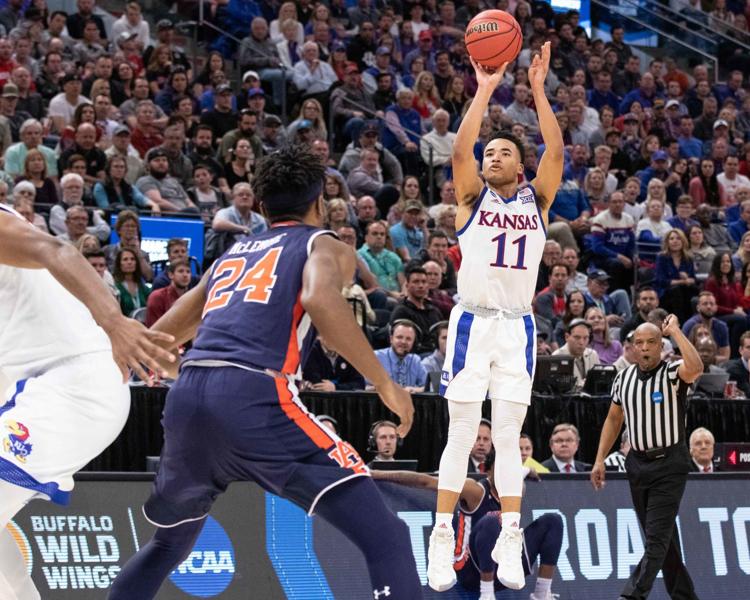 Ochai Agbaji, sophomore guard
One of the bright spots of a disappointing 2018-19 campaign for the Jayhawks was then-freshman guard Ochai Agbaji, who started the season as a redshirt. After Kansas received the one-two punch of Udoka Azubuike's season-ending wrist injury and Silvio De Sousa's harsh NCAA ruling, it was clear to coach Bill Self his team needed a spark. Self almost immediately removed Agbaji's redshirt, and his impact was felt instantly as he contributed seven points, four rebounds and two steals in his first-ever college game, a win over TCU.
Agbaji went on to break the 20-point mark on three separate occasions, providing an individual scoring surge Kansas had not yet experienced that season. His unique combination of aggressive scoring, freak athleticism and lateral quickness was a revelation for a Kansas team desperate for some kind of production.
Each of these traits are still raw and require further development, but Agbaji clearly possesses NBA upside. His midseason explosion had such a ripple effect that he was even being considered as a 2019 NBA lottery pick by some draft boards.
If Agbaji's small sample size last season was enough for him to be considered a top-10-level prospect, his ceiling for next season knows no bounds. Agbaji's lack of minutes and overall experience led him to stay in Lawrence for another year, but there is a high possibility with more experience and development, the Kansas City product will have his name called to the stage come next June.