Kansas softball hosted three games over the weekend, finishing off the complete sweep on Sunday with a 10-7 win over the Wichita State Shockers. 
The Jayhawks' weekend was welcomed with a dominant 12-4 win over Kansas City in just five innings of play on Saturday. This was the second straight game that Kansas only needed five innings of work to send its opponents packing.  
The ballgame started with a score off of a single from redshirt sophomore shortstop Sydnee Ramsey. Senior second baseman Miranda Rodriguez took a ball out to deep centerfield for a three-run shot to add on to the Jayhawks' lead. Junior center fielder Brittany Jackson matched her in the fifth inning with a three-run longball of her own.

With another five runs combined from redshirt sophomore catcher Shelby Gayre and junior left fielder Tarin Travieso, it was a fast game for the Jayhawks as they run-ruled the Roos in the fifth inning.
Three earned runs combined from senior right fielder Faith Willis and sophomore center fielder Ashley Thorne were all Kansas City could muster up.
Kansas would stay put as it got ready to take on the Drake Bulldogs in a rematch game after a 12-2 win on Friday.

The Jayhawks entered the game wit 33 runs in their previous three games before the match against Drake. They added to this streak with another 14 runs in a 14-8 route over the Bulldogs.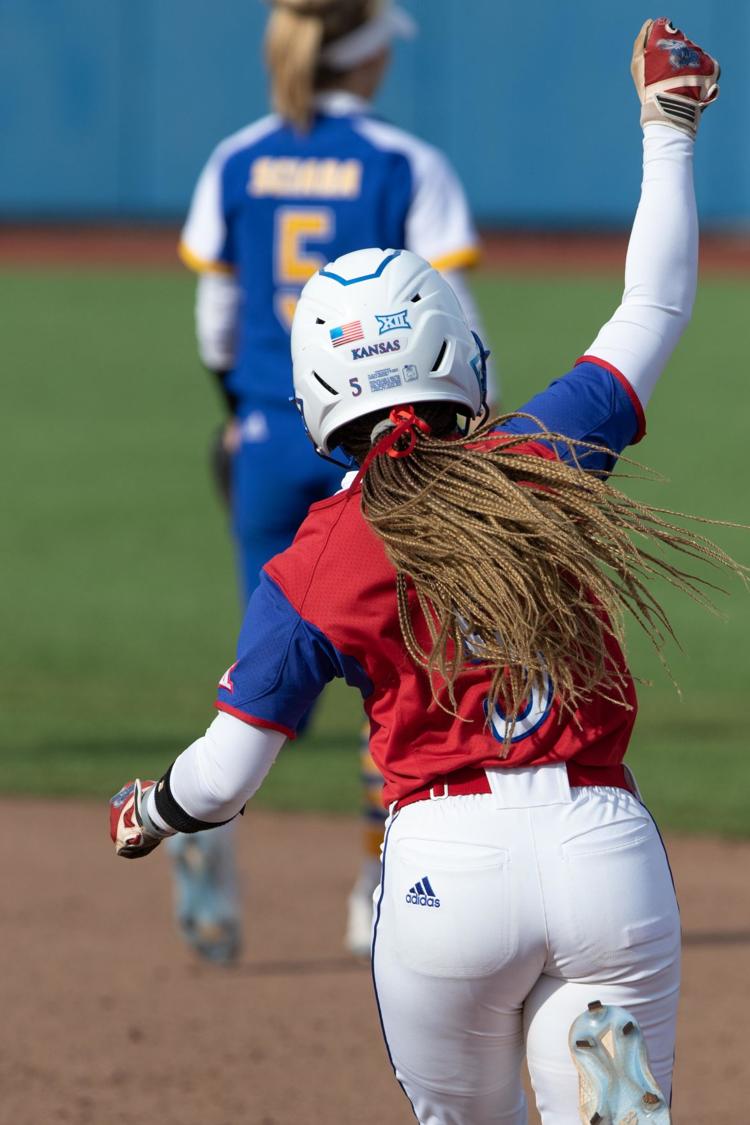 Freshman third baseman Madison Hirsch had herself a game, leading the way with a team-high four runs and three hits. Hirsch would score a run on every hit she had, with her last hit being a two-run shot. Redshirt sophomore utility Shelby Gayre and senior first baseman Becki Monaghan helped extend the lead with two RBIs each. 
Kansas would walk away from this game with 16 walks in six innings. That would tie for seventh in D-I history but would keep the Jayhawks on base throughout the game and keep the defense on its heels all night long.  
Senior pitcher Hailey Reed would deliver in two key innings of work, allowing just one hit and zero runs. With two clean innings of relief from Reed, the Jayhawks would go on to win their fourth straight game, keeping their home record at 4-0 on the season.

Sunday:
On Sunday, Kansas would look to sweep the Rock Chalk Challenge and end its weekend with a perfect record at home as the team took on Wichita State and claim a 10-7 rematch victory.

It was a fast start for the Jayhawks, as they scored three runs in the first inning, with two coming off a deep two-run shot from Gayre. Wichita State came back, sending two pitches deep in the second and third innings, both of which were two-run home runs.  
Kansas back with a six-run third inning, which was highlighted by a three-run home run from freshman third baseman Ashlyn Anderson. That would be all the Jayhawks needed to secure the victory against the Shockers and keep their home winning streak alive.

Next, the Jayhawks will be traveling to Fayetteville, Arkansas to take on the Arkansas Razorbacks in a two-game series on Tuesday. The first game is set to start at 3 p.m.