Every year the Rock Chalk Roundball Classic selects five families who need help fighting their battle with cancer, nicknamed "The Starting Five." This year's starting five are as follows: 12-year-old Nicholas Parscale, 11-year-old Sergio Gomez, 10-year-old Dontez Guzman, 8-year-old Nathan Tuder and 2-year old Taylia Vannicola.
When asked what part of the event was his favorite, Nicholas was quick to give an answer.
"The donating money," he said.
Brian Hanni's 11th annual fundraiser started Thursday night at Eudora High School with a Kansas alumni basketball game. The star-studded lineups included former Jayhawks Frank Mason, Perry Ellis, Brandon Rush, Mario Chalmers, Sherron Collins and Ben McLemore, among others.
Taylia's family was in disbelief when they took the court during introductions.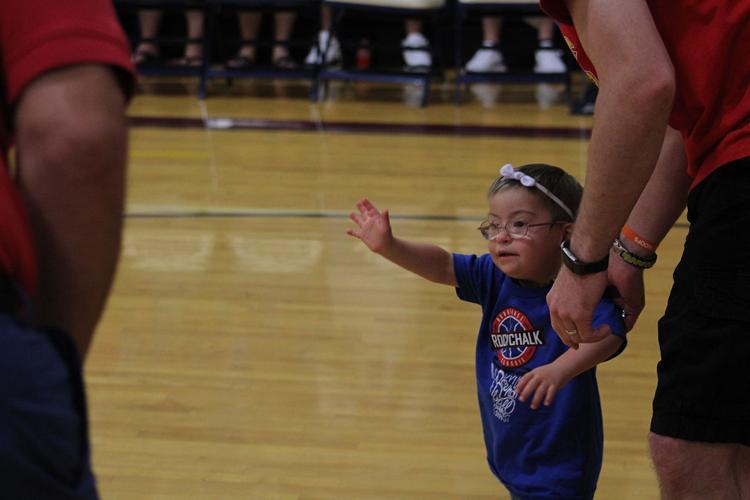 "I was floored. I can't believe that every seat is full and we have standing room only," said Taylia's dad, Jason. "Just to see this number of people come out and support the cause, the foundation, the kids especially — wow."
Her mom, Nicole, shared the feeling.
"To have the support of thousands of dollars for people that don't know these families, that kind of heart is amazing," Nicole said.
Presented at the alumni basketball game was a gift from an anonymous donor. $1,500 was donated to hang jerseys for nine children honored at the Roundball Classic in the past who lost their battle with cancer.
For former Kansas center Cole Aldrich, it's all about the kids.
"It's awesome being able to support the fans that supported us for so long, and still do," Aldrich said.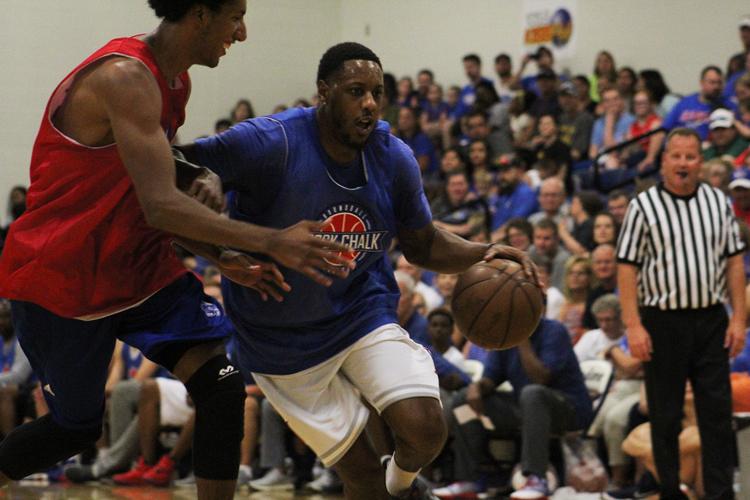 Former Kansas guard Travis Releford plays for the same reason.
"A guy reached out and asked me if I could do it, told me about the cause," Releford said. "I said 'of course;' it's for a great cause." 
As in years past, the semifinalists who didn't make the starting five were brought to the floor and honored as honorary coaches. This year, these families received a big surprise — a $1,000 donation to each of them for their bravery.
The Roundball Classic continues Friday night with a VIP dinner and auction, with a chance for people to eat dinner with some of the biggest KU celebrities. The weekend finishes up Saturday with a celebrity golf tournament at Lawrence Country Club, with prizes awarded to longest drive and hole-in-ones.
The Crimson team, coached by Bud Stallworth, took the win over the Blue team 127-124.
BLUE (124)
Ben McLemore 42, Tyshawn Taylor 18, Brandon Rush 14, Elijah Johnson 13, Mario Chalmers 10, Kenny Gregory 7, Cole Aldrich 6, Clay Young 5, Billy Thomas 3, Scooter Barry 3, Tyrel Reed 2, y-Kelton Ford 2, Natalie Knight 2, Brandon McAnderson 0, Sherron Collins 0, Jeff Graves 0.
CRIMSON (127)
Frank Mason 33, Perry Ellis 22, Mario Little 21, Kevin Young 15, Travis Releford 11, Keith Langford 10, Dezmon Briscoe 5, Jeff Hawkins 3, Monica Engelman 2, Russell Robinson 0, Sasha Kaun 0, Stephen Vinson 0.
x - Scores did not add up because of scoreboard error. y - Kelton Ford was youngster asked to play in second half.