For nearly a decade, Kansas football has been under construction, attempting to once again become the program that appeared in the 2008 Orange Bowl and was one win away from playing for a national title. Since the firing of former coach Mark Mangino, the Jayhawks have had four different coaches, totaled 18 wins and are widely regarded as one of the worst Power Five programs in the country.
However, the fourth coach since Mangino, Les Miles, has brought some optimism to the program that Kansas has not seen in a long time.
The journey began on Nov. 18, 2018, when the University hired Miles to take over the football program.
Miles came in as a prestigious coach, having one national championship under his belt along with a winning record of 142-55.  Miles immediately made his presence known in recruiting by landing two top-50 JUCO recruits in quarterback Thomas MacVittie and defensive end Malcolm Lee.
Miles surrounded the program with optimism and made fans energized towards Kansas football, but his recruiting class only ranked 68th, the worst recruiting class he has ever had. During his tenure at LSU, Miles never finished with a recruiting class lower than 14th.
However, despite a poor recruiting class compared to Miles' history, he still landed major prospects such as safety Jayden Russell and defensive end Steven Parker.
Since National Signing Day back in February, Miles has only continued to change the culture surrounding the football program. Instead of the annual spring game, Miles ushered in a new era with Late Night Under the Lights, similar to the men's basketball team's Late Night in the Phog. The event was headlined with an appearance from hip hop artist Rick Ross, which helped convince fans to swarm the stadium.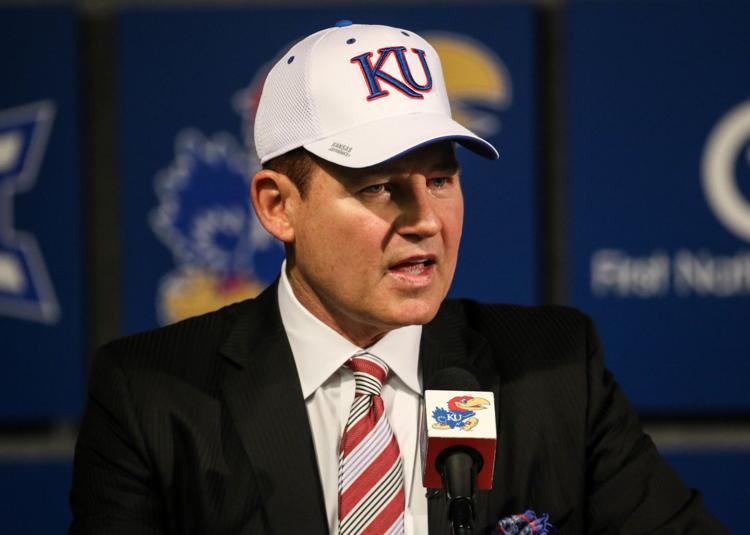 Because of Miles, Kansas has had more attention on its football program in the last six months than it has in the last decade combined. That attention quickly transitioned to recruiting, an area Miles is an expert.
The 2020 recruiting class seems to be where Miles is putting in most of his work, building for the future. As of Monday, Miles has put the Jayhawks at No. 29 for the 2020 recruiting class and has a total of 20 commitments, 19 of which are three-star recruits.
Between Friday, June 21 and Sunday, June 23, Miles managed to land seven different players.
Miles' efforts in recruiting has given the Jayhawks opportunities like never before as the program is getting attention from prospects such as Zachary Evans, the top high school running back in the country in 2020.
Miles has yet to coach his first game at Kansas and has already completely revamped the program. There are still many questions needing to be answered, but with Miles at the helm, the future is bright for the Jayhawks.