Sitting around the dinner table with a family on the first night of summer break 1971, Amy Hurst's parents asked what she had planned for the summer. The Ohio native had just finished her freshman year at the University of Kansas, and little to her knowledge at the time, she had the beginnings of an idea swirling around in her head that would soon be known and loved by fellow Jayhawks for years to come.
Her idea?
To create a miniature version of the then-only Jayhawk mascot, which would be called "Baby Jay."
In the spring semester just gone, Hurst pitched the idea to then-president of the University of Kansas Alumni Association Dick Wintermote, who was indifferent to the idea, thinking that he wouldn't see the freshman again. He told Hurst that the University could not fund her idea.
"When my parents asked me what I was gonna do that summer, I said, 'Well this is what I want to do,'" Hurst said in a 2011 interview for the University YouTube channel. "I pitched them the idea of building a Baby Jay and I hadn't even finished the pitch and everyone got up. They were so excited."
The following fall, Hurst approached Wintermote yet again, this time with a finished idea of what Baby Jay would be.
But Wintermote was still puzzled by Hurst, wondering how she would present it to the University.
"By hatching from an egg of course," Hurst said.
Shortly after that conversation, the newly minted Baby Jay made her debut in the 1971 homecoming game against Kansas State.
At halftime, a papier mâché float in the shape of an egg came to midfield and revealed the miniature Jayhawk. The collective awe of the crowd added to the festive atmosphere.
The actual Jayhawk's relationship with the University, though, goes a little further back.
The term Jayhawker was coined around 1848 during the pre-Civil War struggle of the Kansas Territory settlers. The fictional bird was a combination of two real birds: a blue jay and a sparrow hawk.
The term eventually evolved into something that represented those in the state that fought for the Kansas Territory to become a free state in the Union. Ultimately, this symbol became the mascot the University would bare.
The Jayhawk itself would make its first visual appearance in The University Daily Kansan in a cartoon by cartoonist Henry Maloy in 1912. Without the opportunity provided by the Kansan, Maloy felt that there would be no symbol for the Jayhawk today.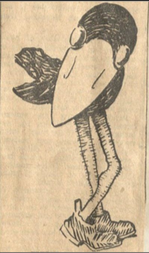 "Recent research has brought out that birds had been used at KU on wall posters, postcards, etcetera as far back as the gay nineties," Maloy said in a 1944 interview. "If it weren't for the Kansan there wouldn't be any more of a Jayhawk now than there had been before 1912."