In the first game under new offensive coordinator Brent Dearmon, there was mystery as to what Kansas football would scheme up to compete with no. 15 Texas. However, that mystery would become a little clearer minutes into the game.
In the opening series for the Jayhawks, Dearmon wasted no time in raising the eyebrows of those watching. On the sixth play from scrimmage, an unfamiliar name trotted on to the field. Sporting the number 12 on his jersey, freshman quarterback Torry Locklin entered the contest and lined up in the shotgun formation.
It would be the first time Locklin had stepped foot on the field at the collegiate level. Recruited from the state of Texas, the freshman attended Rockdale High School where he became a three-star recruit. Winning a 3A state title in 2017, Locklin finished his career with 2,536 passing yards and 27 touchdowns along with 2,434 yards rushing and 32 touchdowns.
Debuting in Darrell K Royal-Texas Memorial Stadium, which is located a little over an hour from his hometown, the lefty gunslinger appeared to be introduced as an integral part of the plan that Dearmon was incorporating early.
Surprisingly, during warm-ups, Locklin was not taking reps with the quarterbacks. Instead, he was receiving the ball from them at the running back position.
But on this specific play, he was back in his natural element. Taking the snap, Locklin tucked it and eyed for an opening at the line of scrimmage. Unable to find a hole, he was stuffed for no gain. Moments later, he returned to the sideline.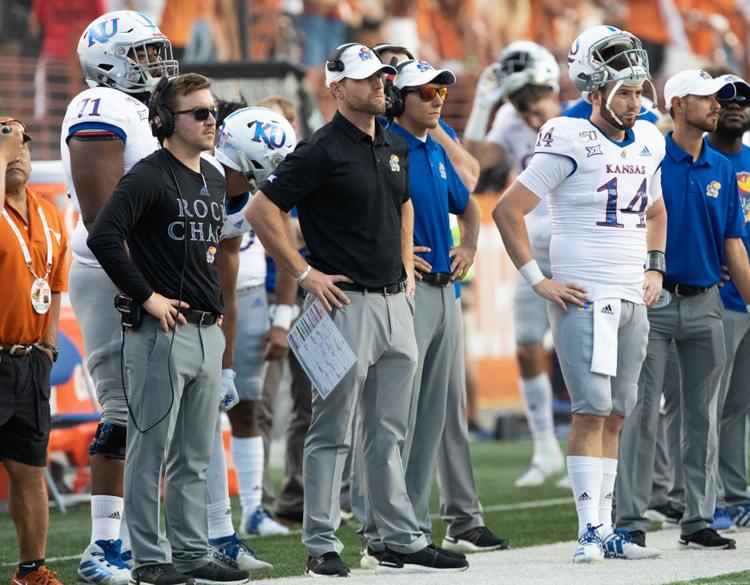 Up until that play, only one other quarterback aside from senior Carter Stanley had taken a snap for the Jayhawks. This came in the loss to West Virginia when senior Manny Miles, coach Les Miles' son, came in for one play after Stanley's helmet popped off. However, the game against Texas was different. Locklin was not playing by default. He was in the game for a reason.
Standing at 6-foot-2 and 210 lbs., his stature doesn't fit the mold of past quarterbacks who are designed to ground and pound the ball. In 2012 and 2013, Oklahoma ran a similar style of offense with former quarterback Blake Bell, who was listed at 6-foot-6, 252 lbs. From that, Bell earned the nickname "Belldozer."
In those two seasons, he combined for 135 rushes, 456 yards and 11 touchdowns (3.3 YPC). Two years later, Texas ran a similar red zone offense with Tyrone Swoopes. Through 2015 and 2016, the 6-foot-4, 249-lb. Swoopes carried it 128 times for 625 yards and 19 touchdowns (4.8 YPC).
Despite his limited participation, coming in twice for two yards on two carries, the package created for Locklin was not intended for just the game against Texas. In fact, the coming weeks could see more of it. 
"We will have to see how that goes," coach Les Miles said. "We would certainly like to make that a regular piece of our business."
Recording no stats heading into the Texas game, Locklin's induction into the offense can be credited to Dearmon, who senior offensive lineman Hakeem Adeniji said introduced that play.
"That's [Dearmon] coming along and running the offense that he put in," Adeniji said.
Going up against Texas Tech this Saturday, the opportunity could present itself  to use Locklin in the run game once again. The Red Raiders currently rank eighth in the conference in rushing defense — allowing 184.7 yards per game on the ground.
This game, in part, will be the next stepping stone for the program as a whole. If the offense builds off the torrid outbreak against Texas, the Jayhawks have a legitimate shot at their first Big 12 victory. For Stanley, the confidence still rides high in his teammates' ability.
"We got a lot of talented guys in this offense," Stanley said. "I think, honestly, we could have even more."
Kickoff Saturday is slated for 6 p.m.