There was a bit of pre-game drama before Kansas' 69-58 win over Texas. Moments before tip-off, it was announced senior center Udoka Azubuike was not in the starting lineup.
Azubuike didn't appear to be hindered by any kind of injury and was a full participant in pre-game warm-ups. ESPN dubbed the move a coach's decision, as he got into "a bit of a dust-up" with coach Bill Self at the conclusion of Kansas' previous game against Texas Tech.
Self addressed the issue in the post-game press conference, saying his decision stemmed from a rough day of practice but refused to go into much detail.
"We didn't have a great day yesterday," Self said. "We're going to keep that in the house on that."
After sitting out for the first 3:56, Azubuike checked into the game. He scored his first points of the game with a hook shot on the low block. But, he struggled early on, committing three turnovers in his first six minutes of action.
Self credited Azubuike's early mistakes to being "too anxious and too excited."
At the 10:11 mark of the first half, Azubuike began to look like his old self, as he swatted away junior forward Royce Hamm Jr.'s shot and took off down the court. Azubuike took one big jump stop in the lane before attempting a powerful two-handed slam but ultimately was called for double dribble. This was Azubuike's fourth turnover of the night.
However, from that point on, Azubuike kicked it back into gear.
The monstrous center used his long arms to snag an offensive rebound after a missed layup by junior Marcus Garrett at the 3:55 mark of the first half. Later that possession, with Hamm and redshirt sophomore guard Andrew Jones draped over him, Azubuike shrugged off the contact and finished an and-one lay-in. 
Azubuike returned to his starting role in the second half, but not for long. He was quickly sent back to the bench just 2:26 in after picking up his third personal foul while trying to muscle through Texas' star forward, junior Jericho Sims.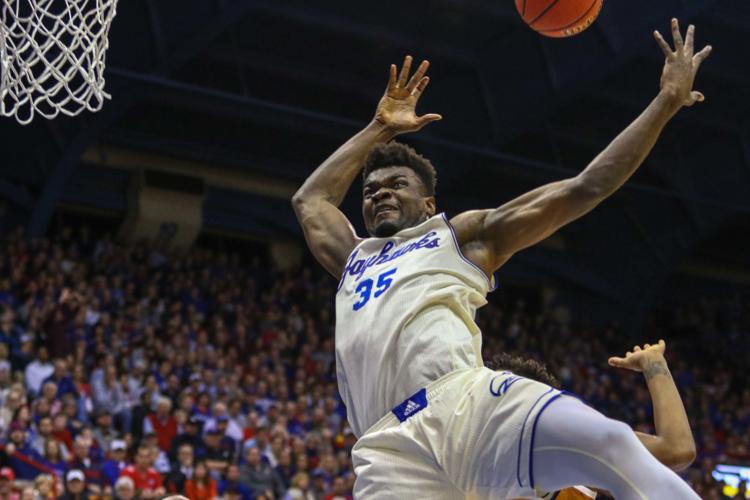 Azubuike didn't return until the 10:45 mark. When he came back in, he instantly provided the spark Kansas needed. 
Azubuike said Self asked the team to get the ball to him.
"He told the team, 'you got to go to [Azubuike]. You got to find a way to get me the ball,'" Azubuike said. "My teammates did a good job finding me down the stretch."
Right out of the game break, Azubuike threw down a ferocious two-handed alley-oop dunk on an inbounds play. That play ignited a 17-4 Kansas run which started with Azubuike scoring six of the Jayhawks first eight points.
Azubuike said he can sense when he is in a rhythm like that and expressed how much it helps Kansas' offense.
"I know when I get the ball where I need to get the ball, something positive is always going to happen," Azubuike said. "Either I'm going to get double-teamed and kick it out, or I'll go and get a bucket or get a foul. It's just about me getting my position."
Azubuike iced the game with one more highlight play with 3:11 left in the game.
After setting a screen, sophomore guard Devon Dotson hit Azubuike with a bounce pass as he converted a layup while being hacked by sophomore guard Courtney Ramey. As the referee signaled and-one, the 7-foot Nigerian native fluttered his hands to his face and smiled in celebration.
Despite the ups and downs, Azubuike finished with a double-double and led the Jayhawks with 17 points and 12 rebounds. His ability to bounce back earned praise from Self.
"His attitude was good," Self said. "I was actually very proud of him. I thought he showed great maturity and responded in the way you are supposed to."