With the spring game now in the past, the one subject that Kansas football coach Les Miles has not discussed is who will be the starting quarterback.
With that still very much up in the air, Kansan sports columnists Carlos Peterson and Ross Kaine debate who they think should be starting under center for the Jayhawks.
---
Carter Stanley
Carlos Peterson | @CarlosWritesKU
Junior Carter Stanley, otherwise known as the man who beat Texas in 2016, should be the starter this fall. Last season, many fans called for Stanley to see more playing time in place of the now-departed Peyton Bender. Almost three years removed from that historic upset against Texas during his redshirt freshman year, Stanley has played in 25 career games, by far the most experience of anyone on the current roster. 
Whenever Miles found success offensively during his days at LSU, it was with a veteran starting quarterback. Stanley, in his final year of eligibility, is a savvy player from the pocket who also has the ability to scramble and make plays on the outside.
Similar to how former LSU quarterback Zach Mettenberger was given the opportunity to showcase his talent under Miles, Kansas offensive coordinator Les Koenning will need to allow Stanley to get the ball to the playmakers on offense.
During his redshirt sophomore campaign in 2017, Stanley completed 101-of-185 passes, accumulating 1,108 yards and four touchdowns.
Stanley won't be asked to win the game for Kansas by himself — players like senior running back Khalil Herbert will take the pressure off the quarterback, allowing the offense to flow more smoothly.
With all that in mind, it only makes sense that Miles makes Stanley the starter this coming fall.
---
Thomas MacVittie
Ross Kaine | @RossKaine24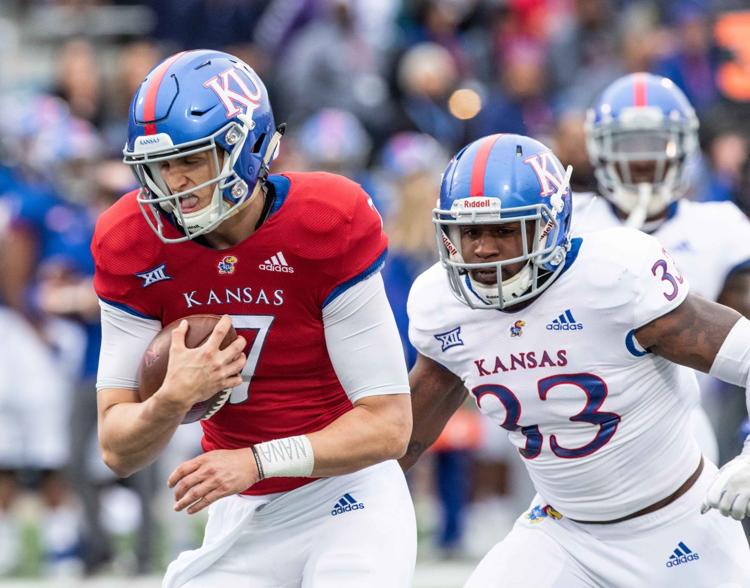 One of Miles' most successful seasons came in 2006, when his LSU Tigers annihilated Notre Dame 41-14 in the Sugar Bowl. That team was led by JaMarcus Russell at quarterback: a 6-foot-6, 260-pound behemoth who was very capable of passing out of the pocket and making plays with his feet.
While junior Thomas MacVittie doesn't quite have the same physicality at 225 pounds, he still has great length at 6-foot-5 and is a pure pocket passer.
At Mesa Community College, MacVittie threw for more than 1,000 yards and 16 touchdowns, to go along with eight interceptions, in only six games.
One weapon in MacVittie's arsenal that many tend to overlook is his ability to run the ball. MacVittie rushed for over 250 yards at Mesa to round out his impressive stats.
While his weight may be a double-edged sword, his light frame gives him the quickness and agility desperately needed to scramble out of a blitz instead of forcing a deep pass or throwing the ball out of bounds.
This facet of MacVittie's game will allow Kansas to be able to always push the ball and alleviate some of the pressure on the offensive line, creating some potentially explosive offensive opportunities.