ANALYSIS
Kansas soccer kicked off its spring season in late March, and with two wins out of two for the Jayhawks so far, the team's new leaders are starting to emerge as the team begins its first games without its current senior class.
Sophomore midfielder Ceri Holland and junior forward Katie McClure have both made big strides in showing their potential leadership for the 2019 season, stepping up into the void left by their soon-to-be-graduated team members.
However, in order for the spring season to be considered a true success, there needs to be visible growth from the players who are earning expanded roles in the team. Kansas is losing vital players such are midfielder Kaycie Young and forward Grace Hagan to graduation, meaning younger players are going to have to step up into their rolls.
The Jayhawks' game against Missouri State showed that players outside of the usual scorers can find the back of the net. Junior defender Eva Elíasdóttir has been the name that sticks out the most this spring season, scoring three goals in the past two game. Elíasdóttir has already topped her production from the past two seasons.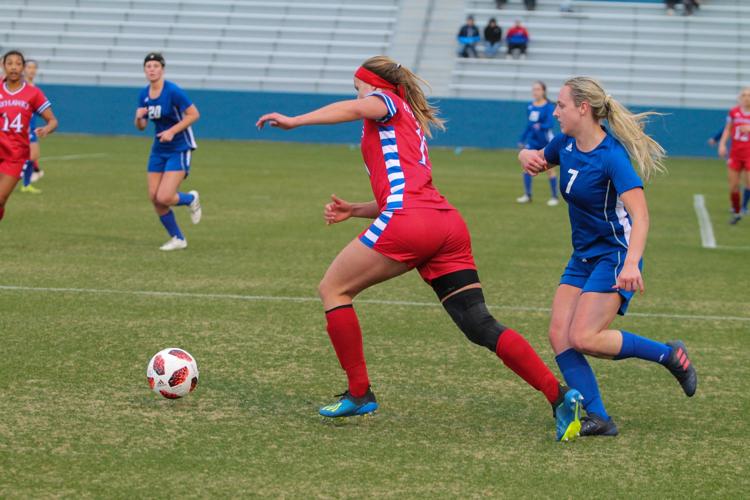 Now upperclassmen, both Holland and junior defender Addisyn Merrick have shown growth in the spring, making more passes into the attacking third. With her ability to make runs down the wing and send dangerous passes into the central areas of the pitch, Merrick can become a vital piece in an attack that struggled to capitalize on opportunities in Big 12 play last season.
Although perhaps the biggest thing that Kansas will want to improve on this season is taking full opportunity of its chances on goal. The Jayhawks often beat out their opponents on the stat sheet when it comes to shots on goal, but their inability to finish often means they come out on the wrong side of the scoreline.