Column
Sold out. Two words rarely heard following Kansas football.
However, Saturday, Nov. 2, that changed.
Was it the booze? Was it coach Les Miles? 
Or, was it every Jayhawk fan's dream of being there for a big win?  
For the past decade, about half of the seats in Memorial Stadium have sat empty on game day. But, attendance at the most recent Sunflower Showdown skyrocketed to approximately 47,000 fans, giving everyone a glimpse of what the good ol' days must have felt like. "The Booth" was officially packed full of anxious fans who were hopeful this was the start of something new.
Lynn Loveland, a dedicated Kansas football fan who said she has been going to games since 1963, expressed a tempered optimism for the increase in fan attendance and why she thinks this could help our team.
"The players get amped up seeing a big crowd," Loveland said. "It helps get their adrenaline flowing and enhances the experience for everyone in attendance." 
As for her thoughts on the recent Kansas vs. Kansas State game, she said she believes that's what the rivalry should look like.
"That's the way it should be all the time. I was just glad there was more blue than purple. That would have made me really sad." 
However, there has been speculation that Kansas owes this peak in attendance to our purple-clad rivals.
This season, each game's attendance has grown since the home opener. The most attended game in the 2018 season was 28,000 fans. Clearly, this is a pretty big jump.
"We need to support the players as they go out there to play their hearts out. It makes me feel like people only care about winning." Loveland said. "A lot of people tailgate because they like the atmosphere, but I wish they would go into the game."
While many fans pin Kansas' low attendance on its losing seasons, it seems that other football teams don't always have to win to hold their fan support. So atmosphere must matter.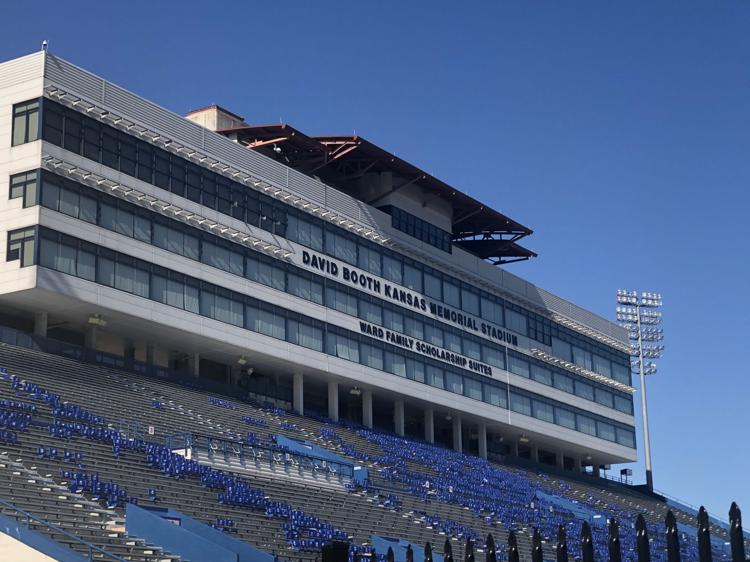 Look at the Nebraska Cornhuskers. A reputable team, but this year, they're sixth in their conference, yet their stadium continually sells out around 89,000 fans. And they don't even sell beer yet.
More and more colleges are beginning to allow the sale of booze inside their stadiums, and it was announced in July 2019 through a Kansas Athletics press release that Memorial Stadium will officially sell beer and wine to fans until the end of the third quarter. For a program that has been struggling to fill its stadium, this seems to have been a step in the right direction. 
While it's not guaranteed that selling beer is going to convince more fans to come to games, it certainly doesn't seem to hurt. 
The second and probably most important factor for the increasing attendance? The "Mad Hatter."
Ever since it was announced that Miles would become the head coach, Jayhawk fans have been hopeful for a fresh start. 
While the team is still a work in progress, in the end, it falls on the fans to bring hope to the program surrounding it. With the newfound energy that has been brought into the 2019 season, there is no doubt this could be the start of something great for Kansas football.