Lawrence has been home to many people who would often be considered eccentric or unique characters, making them unlikely local celebrities. Some of these Lawrence legends include "The Blue Lady," "The Tan Man" and "The White Owl."
The Kansas Hermit
Hugh Cameron, born in 1826, was one of the first well-known figures in Lawrence history. Nicknamed the "Kansas Hermit," Cameron walked to Lawrence from Kansas City, Kansas with D.R. Anthony, brother of suffragist Susan B. Anthony, to start a freighting business in 1854, the same year Lawrence was founded.
Cameron quickly became a recluse after serving two years in the Civil War, according to a 1908 article titled "Famous Hermit Who Lives in a Tree-Top" in the Human Life magazine by Alice Rohe.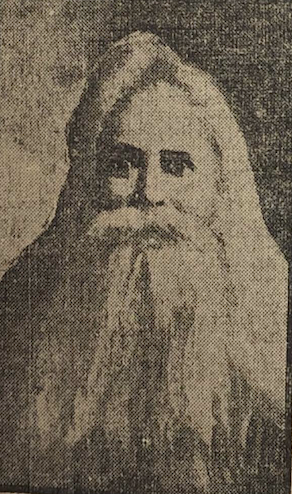 "After the war, he became known as an eccentric, and he had a treehouse that he built and lived in in Lawrence," said Will Hickox, the public engagement coordinator at the Watkins Museum of History and a KU graduate.
Cameron's treehouse was completely open on one side and was located at what is now Sixth and Louisiana Street. He also lived in a hollowed-out tree trunk in north Lawrence for several years. Local college students made it a ritual to go to Cameron's treehouse before they graduated, said museum curator and KU graduate Brittany Keegan.
Cameron was a strong supporter of social and political causes and was known for his passionate stance against slavery. At 55, he grew his long gray hair and beard out after suffragist Frances Willard jokingly said she wanted him to stop cutting his hair until women have equal rights with men, Keegan said.
The "Kansas Hermit" was also recognized as a great traveler. When he was 71, he walked 1,100 miles from Lawrence to Washington D.C. to witness the inauguration of President William McKinley according to archived documents from the Watkins History Museum. He also frequently walked back and forth between Lawrence and Topeka to visit friends and family. After walking to Topeka in 1908 for the funeral of a friend, Cameron had a stroke which eventually led to his death, according to his obituary.
Leo Beuerman
Several decades later, Leo Beuerman became a local celebrity in Lawrence in a different way. He was half blind, deaf since childhood, 36 inches tall and unable to walk without the help of his cart. He wrote on a pad to communicate because, according to Leo The Man, a website made to honor Beuerman, his voice was unintelligible.
His fame came after an article in 1963 described how he was robbed by two teenagers, according to his autobiography. Lawrence resident Catherine Weinaug read the article, contacted Beuerman and eventually became one of his caretakers.
"He had a special tractor built for himself that he could use working in the fields," Hickox said. "Later on, when his health problems continued and he was not able to be very mobile, he used this tractor to get to downtown Lawrence."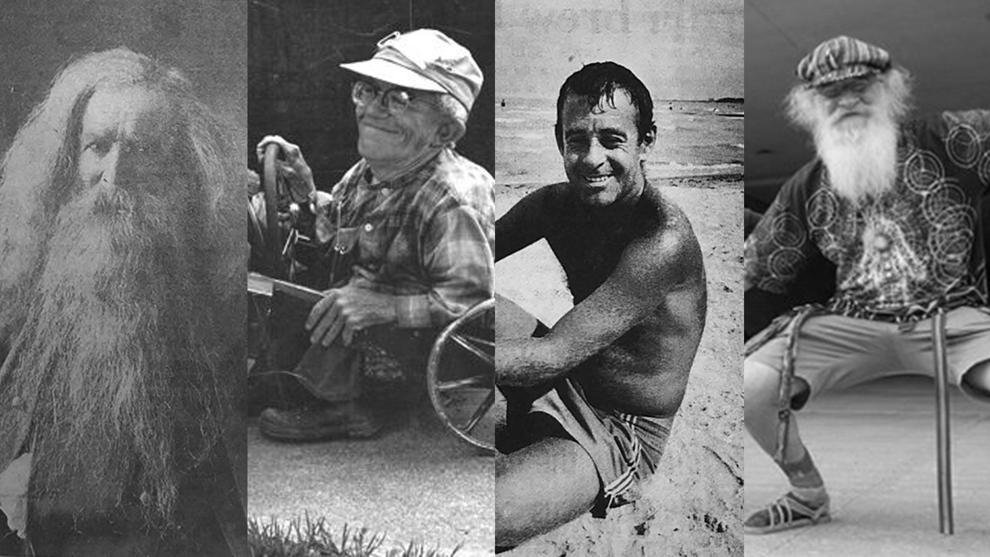 Beuerman used a chain hoisting system on his tractor to lower himself into a Flintstones-like cart where he stuck his feet through the bottom to pedal himself down Massachusetts Street. He often parked his cart around Eighth and Massachusetts streets, where he repaired watches and sold pencils, pens and art supplies to locals, according to Leo The Man.
His caretaker, Weinaug, asked a local filmmaker to create a short film about Beuerman which was released in 1969. The film was nominated for an Academy Award for Best Documentary Short, but didn't receive the award. Beuerman did receive a certificate for the nomination of the film, according to Leo The Man.
The Blue Lady
Jane van Meter, more commonly known as "The Blue Lady," was spotted occasionally on campus in the 1970s. She was always dressed head-to-toe in powder blue, which is how she got her nickname, according to students' rumors which were collected by Nancy Golden-Patterson who attended the University in the early 70s.
One rumor, from student Mary Beth Skach, said "the Blue Lady" used to live in Paris and hung around with F. Scott Fitzgerald and Ernest Hemingway. She was married to an English professor at the University and divorced him because "she was sick of living with Shakespeare," Skach said.
"It'd be probably easier to make a list of the notable people that she didn't know," said Wayne Propst who was friends with Van Meter and studied history at the University, graduating in 1971.
"The Blue Lady" came to know these notable people when she was working as an assistant to Sylvia Beach who owned Shakespeare and Company, a famous bookstore in Paris according to Beach's autobiography, titled after her store.
Propst said Van Meter moved to Lawrence with her husband after the store closed, which was due to the German occupation of Paris, according to The Washington Post. The couple always wore navy blue when they were walking around, but after their divorce, she switched to powder blue in retaliation, Propst said.
Many of the students' rumors said that she would randomly appear on campus in her powder blue outfit and would then disappear and return several months later.
The Tan Man
John Schneider, more commonly known as "The Tan Man," was frequently seen tanning around campus — most often on Wescoe Beach. Schneider said he initially came to Lawrence in 1968, but didn't start making his presence known until 1969. He rode his bike around town, wearing short shorts and no shirt. In the winter, he was usually seen wearing a jacket but remained shirtless.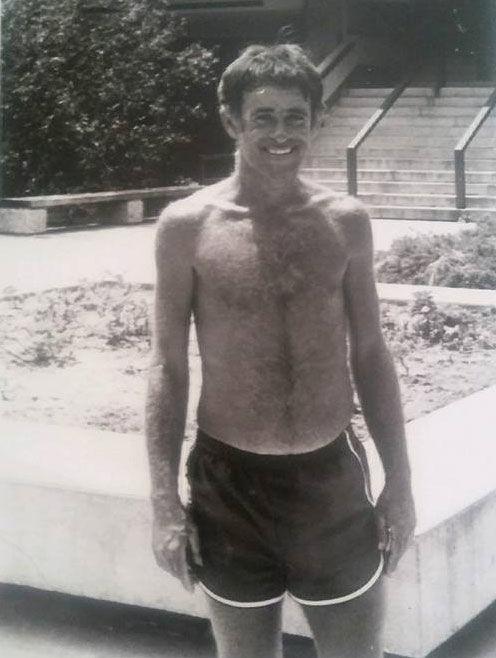 "[He was] somebody who was sort of a fixture on campus — always a smile on his face," said Barney Hubert who worked with Schneider at First National Bank in 1974.
Schneider said he moved to Corpus Christi, Texas, in 1977 for a custodial job — and because it's supposed to be warmer. However, Schneider was let down because he said the weather wasn't as warm as he was expecting and the people weren't as nice about his love of tanning as Lawrence residents and KU students.
Schneider returned to Lawrence a little over a year after he left. He said he still came to campus to tan frequently but was able to shift some of his efforts over to his custodial work when he began working in an operating room at a Lawrence hospital.
"The Tan Man" is still catching rays, but now lives outside of Wichita in Rose Hill, Kansas.
The White Owl
Another Lawrence legend, Jimmy Tucker called himself "The White Owl," a name he said was given to him by a Cherokee man. However, some suspect he nicknamed himself after the blunt of the same name, according to Deadspin.
Tucker was a popular and recognizable eccentric fan of KU sports in the early 2000s who consistently popped up on campus and at games.
In 2008, when Kansas football won the Orange Bowl, "he would be standing in front of Wescoe yelling about the football score," Keegan said.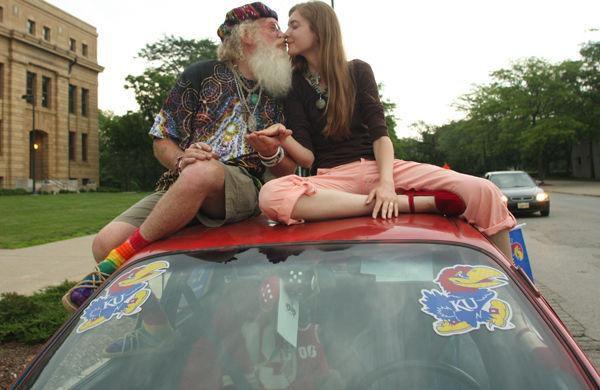 He was a Vietnam War veteran and became a local celebrity for chanting, dancing and rallying at sporting events. He had a long white beard and often wore a bright tie-dye outfit, Keegan said.
Tucker got engaged to 22-year-old student Julia Lee in 2008. Lee said in a Kansan article that her family wasn't happy with her decision, but she intended to marry him by the end of the summer and have kids right after.
However, her expected fate with "the White Owl" was short lived as their engagement was canceled. Tucker was banned from the KU campus and arrested after he broke a restraining order that was issued on behalf of his former fiancée, according to The Pitch.