Paintings with price tags line the walls of Aimee's Cafe and Coffeehouse on Massachusetts Street. The clinks of glasses, the brewing of the coffee machines and the sound of soft music fill the space.
It's a slow day. Owner and Lawrence resident Carry Strong discusses with a coworker what they could do in their spare time: restock, clean and do other random tasks while customers play board games and students do homework.
Aimee's opened in May of 1999. Strong named the coffeehouse after his then-fiancé. 
Aimee's is celebrating its twentieth year in Lawrence. The space for the coffeehouse opened up and Strong bought it, thinking it was the right time to start something new.
"We're the hallmark story of a small business or a 'mom and pop' business, and it's truly who we are," Strong said. "There's nobody else. There are no investors — just us."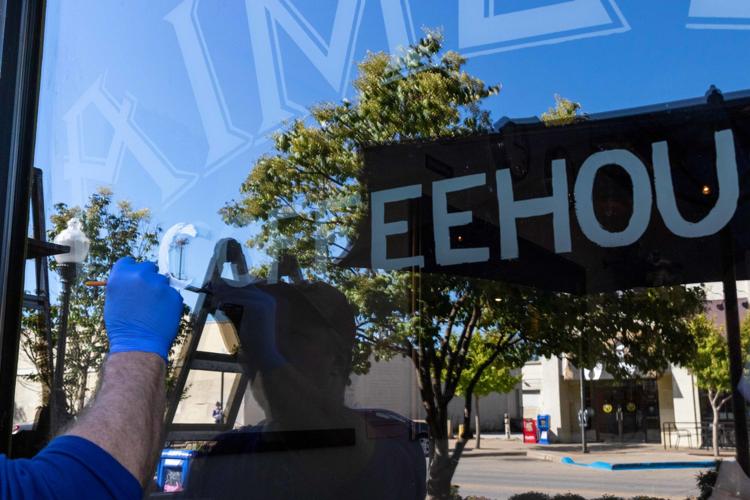 Aimee's regular Dennis Constance has been coming to the cafe for the past decade, and he habitually orders a bacon egg and cheese sandwich, he said. 
"I started coming here every Sunday after my Sunday school class," Constance said. "For a long time, I thought nobody knew me, but I came in one day and my picture from an interview I had done when I worked at KU was on the bulletin board. It just said 'the bacon egg and cheese guy.' ."
Being a small business allows Aimee's to decorate however it wants, such as by painting the outside of the shop a different color. Aimee's was recently painted yellow.
Strong said he enjoys being able to talk to the owners of small shops, such as book stores or restaurants. It's the special, personal connection he likes, he said.
Owning a small business can be difficult at times, though, Strong said.
"Running your own business, I think no matter what it is, you'll never work more," Strong said. "You'll never work harder. I think there's probably more work in it than what most people could imagine, including what I imagined 20 years ago."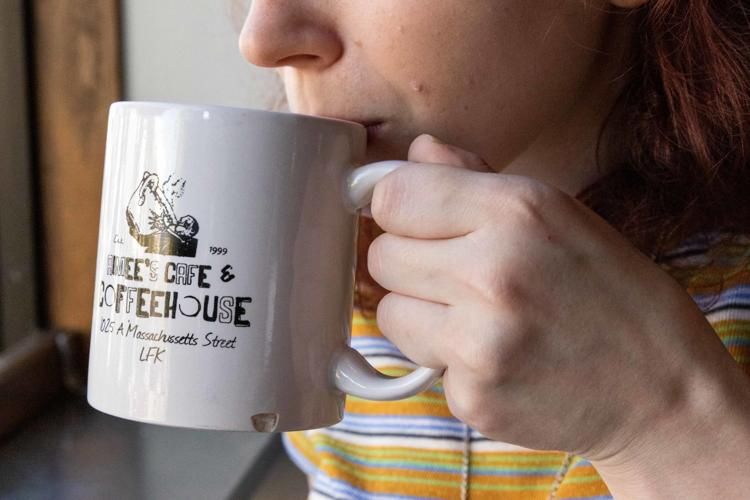 Right after Strong opened Aimee's, the recession hit in the early 2000s. Food prices increased and business became slow, but Aimee's stuck through it. 
"There's been several times where we've been very close to being done. It's tough," Strong said. "There have been times where we've hit bumps. We've had to sit and make decisions on whether we were going to keep going or not. We're sure that will happen again, but all you can do is put one foot in front of the other and keep going."
Strong and his employees still feel pride in Aimee's no matter what. They could not have done it in any other community besides Lawrence, Strong said.
"It's nice to have an actual downtown that's vibrant. I enjoy being able to walk out my door and go talk to my neighbors," Strong said. "That's one of the things that keeps me going. If I take a five-minute break, I can go outside and talk to Mohammed, the owner of Aladdin's. To me, that's a satisfying five minutes. It really helps out whether it's a busy or a slow day."
Throughout its two decades, Aimee's has been in business on Massachusetts Street and not much has changed within the coffeehouse, despite the cultural changes in Lawrence. Aimee's still serves coffee along with pastries (and other food) — two of Strong's favorite things.
"There's something fulfilling about [owning your own business]," Strong said. "One hundred failures won't outshine one success because it was something you created. The more small businesses you have, I think the more personal your neighborhood is — and I like that."
Aimee's is located at 1025 Massachusetts St. and is open from 8 a.m. to 3 p.m. Sunday through Wednesday and 8 a.m. to 10 p.m. Thursday through Saturday.