Alex Kimball-Williams rarely has time for herself outside of the organizations she's a part of. She's involved in Black Lives Matter-LFK, Girls Rock! Lawrence, BLACK Lawrence, Epicenter and Sanctuary Alliance. While it's baffling how she balances being a community organizer, working as a consultant with the Lawrence-Douglas County Health Department, being a Ph.D. candidate and a musician, the Lawrence native said she likes having a busy schedule. 
"It's just like a lot," Kimball-Williams said. "I'm pretty much doing stuff all the time, but it's stuff that I really like to do."
Kimball-Williams' activism includes things like participating in protests in the community, attending city commission meetings and working with children in Lawrence public schools to teach them about history and poetry. Her proclivity to be involved in her community is something that she learned from her family, one that has deep roots in the city. 
Her family migrated to Lawrence as Exodusters after the Civil War, and Kimball-Williams said they always encouraged her to read from Black authors and improve her environment. She also said her great aunts participated in a restaurant sit-in downtown, and one of her family members helped with starting the Ballard Center in North Lawrence for low-income families.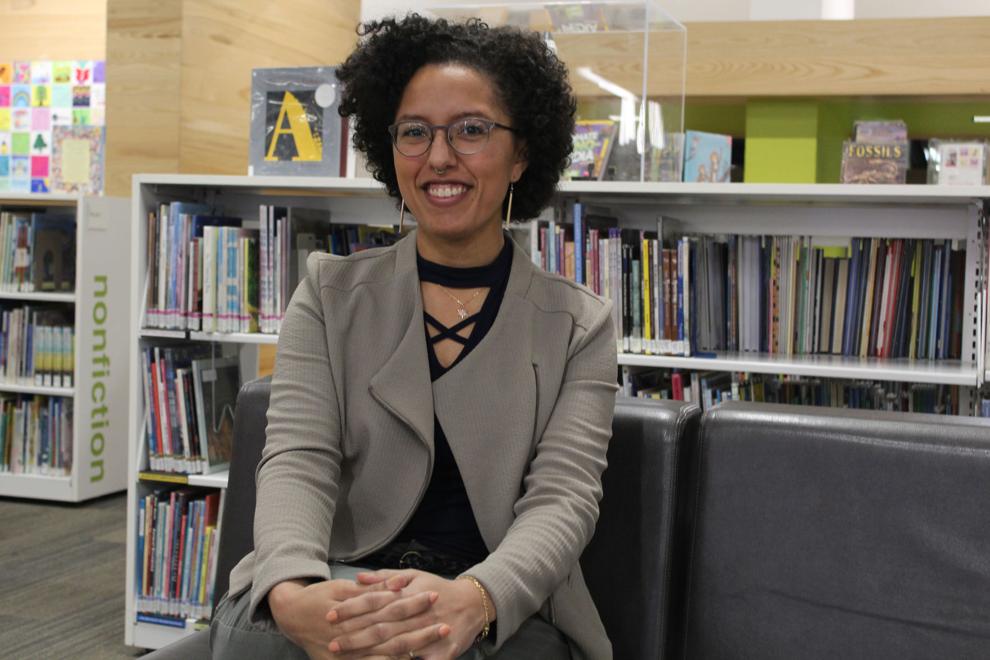 "My family is very well-known, and we were kind of the token, exceptional Black people in Lawrence," Kimball-Williams said. "It's kind of like a double-edged sword though because my family kind of helped change the atmosphere here, in terms of how people felt about Black people."
Another aspect that fuels Kimball-Williams' activism is her identity. Holding both Black and native — Kimball-Williams is of the Aleut tribe, a native of the Aleutian Islands — identities, she said that she was often singled out as a kid, which motivated her to always speak up when confronted by unfair situations. 
Through promoting both Black and indigenous musical styles through her own music, with the stage name Bad Alaskan, and curating indigenous art while working for the Spencer Museum of Art, Kimball-Williams wants to amplify the intersection of being Black and native.
"I noticed that there wasn't any indigenous music," Kimball-Williams said. "I just wanted to fill that void because there's not a lot of popular Black native musicians."
But, for Kimball-Williams, doing the work of an activist is just as important as singing about it. It's why, as a doctoral student in neuroscience at the University, she's currently interested in improving the ways people of color are medically treated in hospitals. She also studies law and indigenous studies and adds those components to her research.
"Something I've been really into now is the differential in medical dosage and how people of color aren't given the right medical dosages because we have different liver metabolism, so that's why we have Black kids dying from asthma medications and Black maternal mortality rates ... because the medicine isn't working the same on us," Kimball-Williams said.
Kimball-Williams' strong connections to the community is what led her to be featured in the Womxn of Color Mural, which is located outside of the Lawrence Public Library. 
"We chose her because of her family's deep roots and because she's also someone who advocates for the archiving and preservation of untold stories, especially those from marginalized communities," said Imani Wadud, a doctoral student in the American Studies department at the University who was a part of the mural's design team.
Although Kimball-Williams is greatly involved in Lawrence, she's thought about leaving in the future. However, she doesn't know where she wants to go. What she does know is that she'd like for Lawrence to make some institutional changes within the next 10 years.
"I want Lawrence to let people of color lead things more often," Kimball-Williams said. "I hope that in the future, Lawrence has more people authentically related to the issue to do the work or be funded to do the work instead of white folks making the decisions."