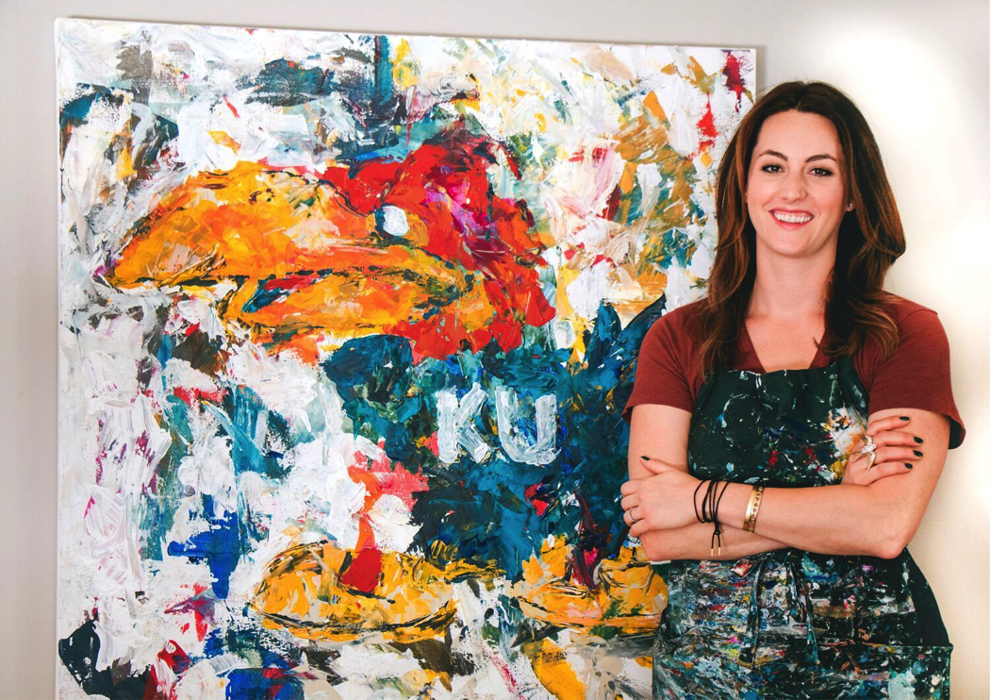 The Jayhawk's logo has changed several times in the last century, taking on different forms but holding the same meaning for current and former students alike. One of those former students is currently working on her own interpretations, through limestone paintings.
Megh Knappenberger has always loved painting. The St. Louis native is the child of two University of Missouri graduates. However, she chose the Rock Chalk path and graduated from the University of Kansas in 2004 with a degree in visual communication.
Thirteen years after graduation, she has returned to the University with "The Original Six" project: a six-piece display that represents the six different iterations of the Jayhawk. All six have different background color accents, but while highlighting the appearance of a particular Jayhawk design.
Columnist Alex Cateforis suggests students should admire the artwork in Capitol Federal Hall. The artwork comes from a variety of artists, including Roger Shimomura, distinguished professor emeritus of art.
Knappenberger knew that she wanted to be an artist, but to pursue a commercially acceptable and practical career, so she decided on graphic design. She moved to Chicago after walking down the hill and started at a small design firm, Liska + Associates Branding and Design.
Shortly after, Knappenberger was hired by Potbelly Sandwich Shop and worked there for four years, which helped jump-start her ascension in the food world where she stayed after starting her own graphic design business, helping places like Potbelly and Noodles & Company get into franchising their brands.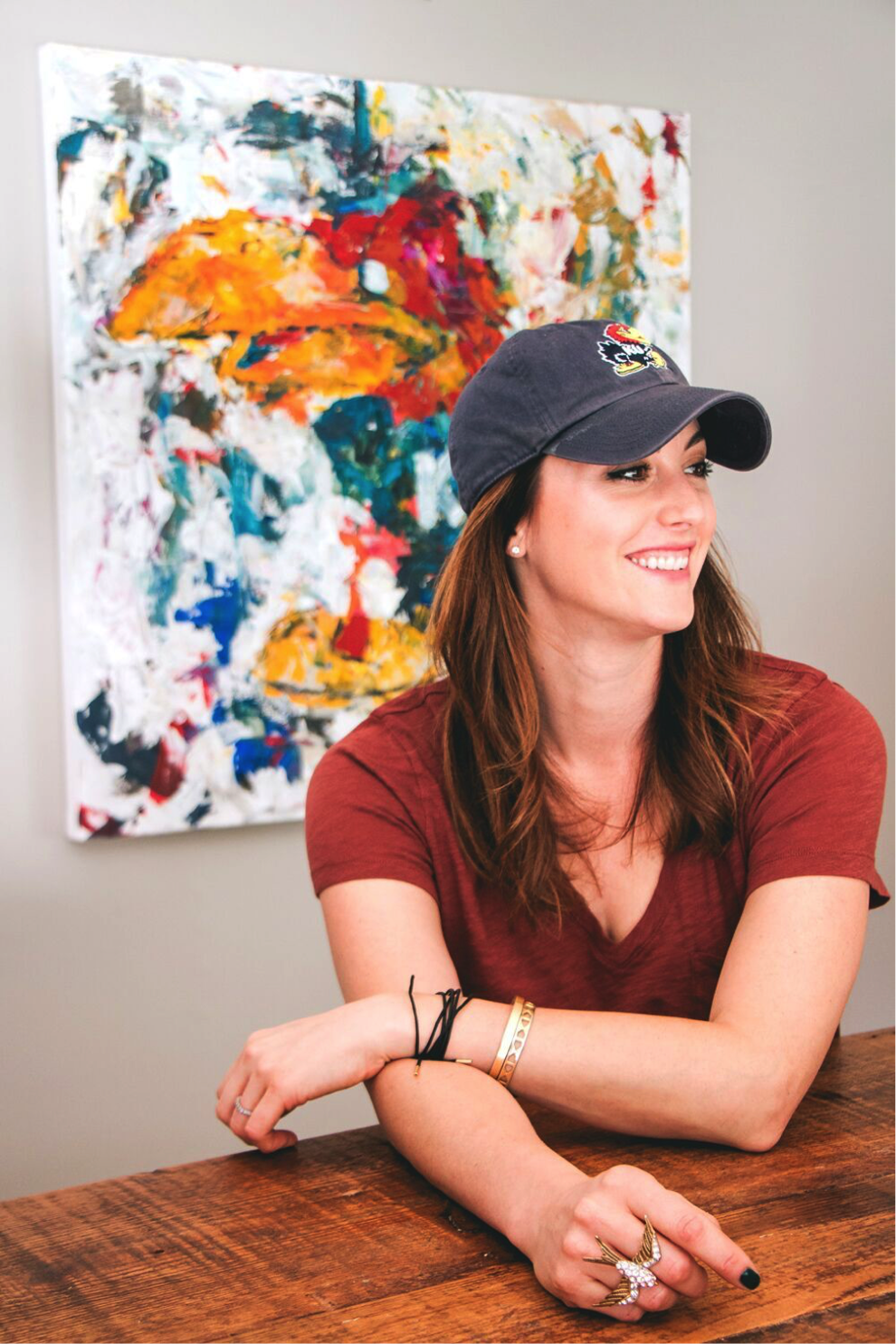 Knappenberger's experience with branding and her ability to keep logos true to their intent ultimately led her to "The Original Six."
"I have this understanding of brand and the importance of keeping the mark and being very respectful of it," she said.
The project moved quickly. In June, Knappenberger painted a James Naismith portrait for her husband for Father's Day. The portrait caught the eye of Michael Wilson, owner of Kansas City watchmaker Niall. Wilson began to make inquiries about buying Knappenberger's other work.
Lawrence-based artist, Paul Punzo, creates artwork using linoleum blocks and different types of paint. His artwork will be on display at Henry's Coffee Shop.
"It all started because I really liked her work," Wilson said. "The Naismith painting was absolutely phenomenal."
Niall has licensing of the Jayhawk logo through the University, so Wilson helped connect Knappenberger with the licensing officials. 
The University has been hesitant to work with artists in the past due to a tendency for artists to take something and make it their own — adding color to the feathers or adding a claw, Knappenberger said, but her vision and dedication to keeping the brand was in her favor.
"I told her she really needed to do something with the paintings," Wilson said. "She had come up with these Jayhawks on a huge risk that it might be this wild idea, and she just came back and nailed it. With her background in graphic design, she stayed true to the hawk which was really cool. And I think that that's ultimately why the University gave her a shot when they haven't given other artists."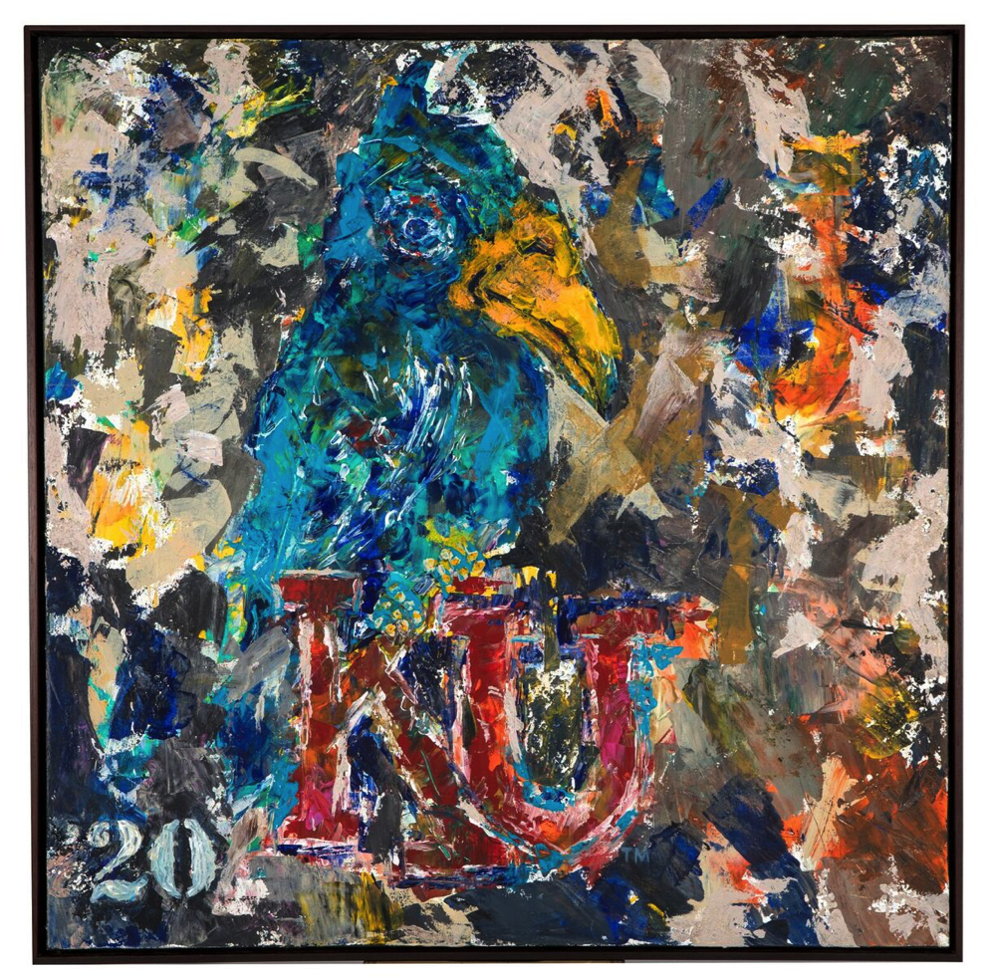 After originally saying no, Wilson and Knappenberger were able to convince Paul Vander Tuig, the trademark licensing director, to work with them after bringing Vander Tuig the physical paintings.
"When we originally launched the art at the Plaza Art Fair, there was an overwhelming response to her work," Wilson said. "I will always reference back to her work, which I think is important. Whether it was a hawk or a tiger, people liked what she did."
A special aspect of the paintings that can only be seen up close is the use of rock chalk in the paint. After visiting a friend's limestone quarry, Knappenberger discovered that the sludge byproduct of cutting limestone dried into a fine, white powder. She tried mixing that powder with the paint that she used for the portraits.
Amos Paul Kennedy Jr., a printmaker that works with messages of black culture, will talk about his work on Oct. 19.
Knappenberger and Wilson even snuck into Allen Fieldhouse in order to take pictures of the different years of the Jayhawks so Knappenberger could make stencils to keep the photos as authentic as possible.
Four months have passed since Knappenberger began her project, but looking back, Knappenberger sees how much has changed with her artwork, as well as her life.
"I have a job now that I love," she said. "And I love my job in a way where I said that before I realize now I didn't really. When it's Monday, I'm like, 'Yes! It's Monday! I have the whole week to do this.' I just feel this immense attitude that I get to do something that I genuinely feel good about and I feel like I'm good at it."
Even with the paintings done, there is still some time until the whole project is complete. Knappenberger, however, loves to stop and celebrate each moment she has achieved.
"I take time every time something good happens to celebrate," she said. "I feel really grateful and excited. When good stuff happens, I celebrate. I've celebrated every step along the way. I have cracked a bottle of champagne."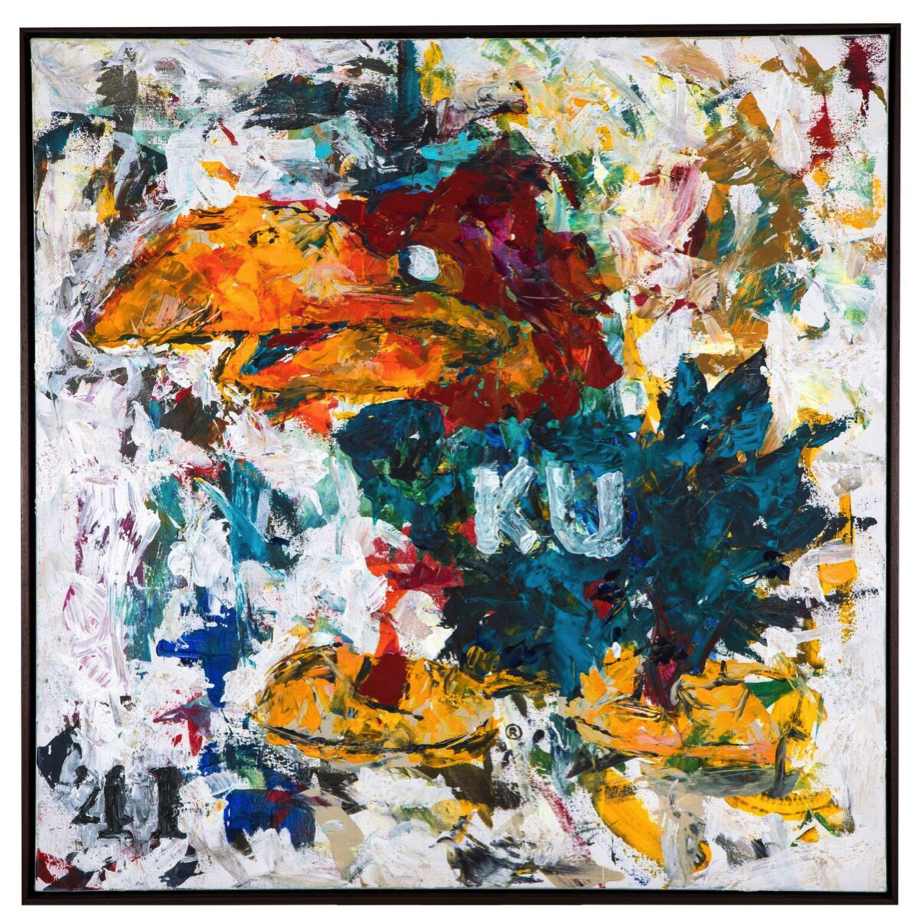 Print editions of The Original Six will be available on Knappenberger's website. She also documents her art on her Instagram and Facebook pages.
— Edited by Forest Lassman