Walking past Spooner Hall, you might not notice that within the black wrought-iron fence is a quiet courtyard, full of plants and sculptures and open to the public. Now, thanks to a two-semester project through the School of Architecture & Design, the courtyard is getting a makeover.
Emily Ryan, the director of The Commons, said she wanted students to utilize the Weaver Courtyard, so she enlisted the help of architecture assistant professor Keith Van de Riet. Ryan said the mission of The Commons is to provide a place for conversations across disciplines of science and humanities.
"The garden seemed to me like a really good opportunity to apply some these conversations and focus them on a specific topic," Ryan said.
Along with making the courtyard ADA accessible by adding a wheelchair ramp, the main focus is to clean it up — add new plants and sculptures and build a rain drainage system.
"[We wanted] to increase access and availability to the courtyard," Van de Riet said. "It's meant to increase the visibility from Jayhawk [Boulevard], but also literally increase the accessibility for people that can't come down the stairs, people that otherwise wouldn't know what they were passing by."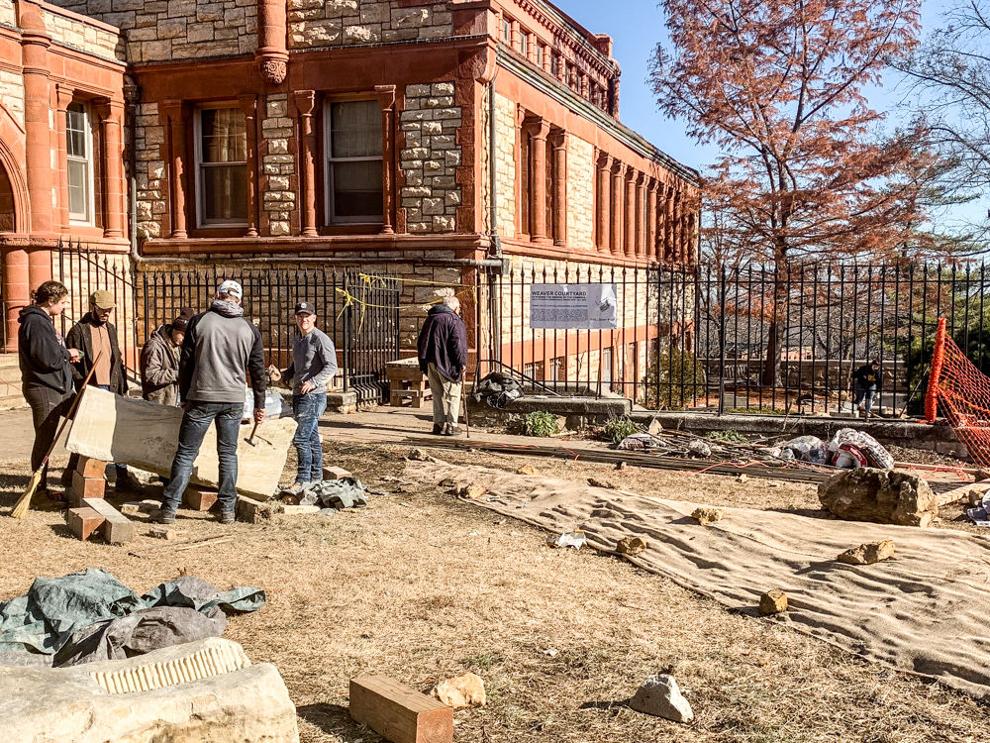 The students involved are enrolled in a junior-level design course that gives them hands-on experience with real-world problems. The spring period had five students enrolled for the project, while this semester that number jumped to 18.
Alyssa Aragon, a junior from Aurora, Colorado, said the students were presented with the different sections that were offered. She ended up choosing the courtyard project for the opportunity to leave her mark on the University.
"This [class] seemed like the most interesting," Aragon said. "It's a building on campus and when I come back as an alumn[a], I can come back and say that I actually worked on this project and it's such an honor to be able to do that."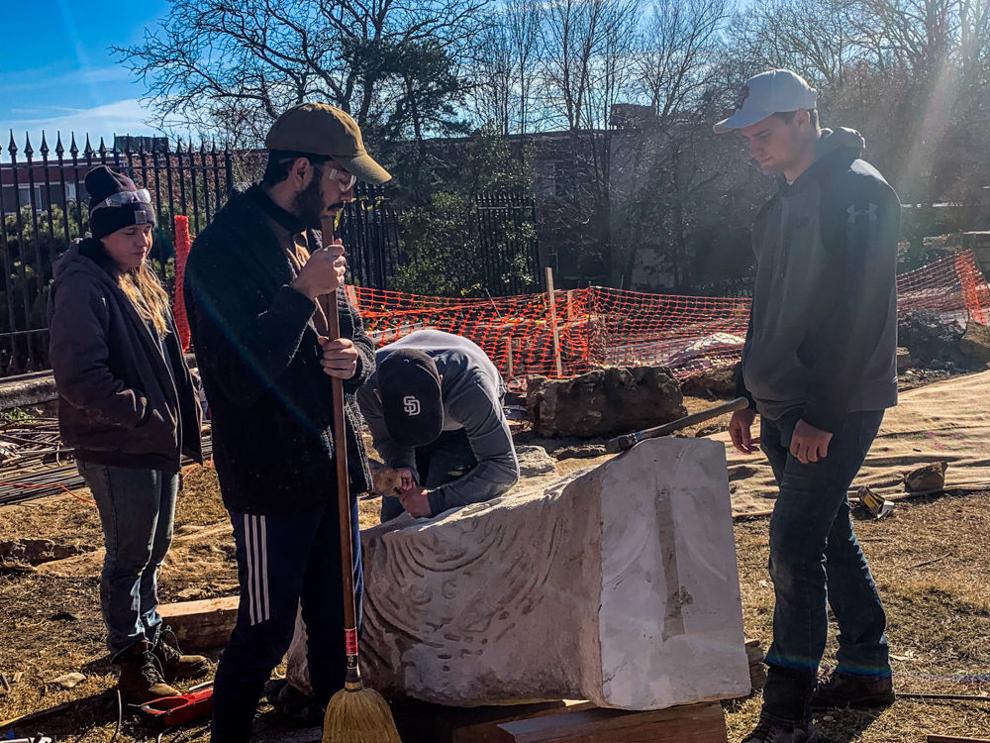 They began the semester coming up with the design for the courtyard before moving to construction. The students did the measuring, ordered the materials and began working by themselves with their professor and a few other professionals overseeing.
Dani Kolker, a junior from Chesterfield, Missouri, enjoyed the idea of leaving Marvin Hall where she spends most of her time, and being on a real construction site.
"The studio itself is in a building that doesn't host architecture students or any classes in general," Kolker said. "It was nice to get out of the Marvin studios for a semester.
All 18 students spend every day here from 9 a.m. until 5 p.m. The only time they aren't working is when they attend their other classes. Even on weekends, you'll find the students putting in work.
"You have to actually know what you're doing," said Savannah Kruse, a junior from Lake Zurich, Illinois. "There's so much knowledge behind everything that you're doing that, if you don't know what you're doing, there's so many things that could go wrong that you have to consider that you would never really think about watching someone do construction."
Gabrielle Duran, a junior from Commerce City, Colorado, didn't know how much work was going to go into the project at the beginning, but has valued the hands-on experience.
"The actual amount of work that goes into doing construction, I don't think a lot of people understand or know," Duran said. "Since we normally sit inside, actually being able to come out here and do the work, there have been multiple days where I just go home and say, 'I'm done.'"
Van de Riet said he's proud of the progress his students have made over the semester and their passion for the project.
"The students really grow together," Van de Riet said. "They really mature across the semester more than any other studios where you're only in a classroom. It seems to me the students working together develop really interesting cohorts just because they're working around each other. It's a different way to carry out architecture."
Ryan said while the weather has proven to be an adversary, the students involved continued their hard work despite the setbacks, proving their dedication.
"I've been really inspired to see how invested the students are," Ryan said. "They're here far beyond just what their class hours are. They're here at night, they're here on the weekends and they're here when it's freezing and they're here when it's raining."
Construction on the courtyard should be finished by next week or early January with accessibility soon after.
Students involved in the project:
Spring 2018
Margaret Dickherber
Rui Ge
Gavin Goga
Andrew Leininger
Patrick Sawyer
Fall 2018
Alyssa Aragon
Grant Bechtel
Charles Devries
Gabrielle Duran
Samantha Eichhorn
Tanner Garrington
Lake Giron
Andrew Gonzalez
Danielle Kolker
Azra Krdzalic
Savannah Kruse
Mackenzie Laxton
Nadia Laytimi
Matthew Martinez
Lena Michalek
Kristen Phillips
Grace Reinsch
Victor Renteria