Senior Annika Wooton said she can't recall where her artistry began, she just had a crayon in her hand is as far back as she could remember; and with a family full of artists, she was fated to follow suit.
From crayon illustrations, she took to painting. In high school, her art was so well known, she was invited to live paint with the school jazz band. The band would play while Wooton painted a picture of a jazz pianist upside down and turned it over at the end.
As a painter and speed painter, Wooton developed her interest through the Miss Kansas pageant. With a 90-second time limit for the talent portion of the competition, Wooton entertained the idea of taking her talent and condensing it to a 90-second display.
"I thought well, if I can paint a cool picture in eight minutes [with a jazz band] and absolutely no practice, then why can't I do one in 90 seconds with a lot of practice?" Wooton said.
Wooton said her art is inspired by her goal to engage an audience and bring them into a shared experience.
"Her power to connect with people makes her unique," Janine Johnson, Wooton's mentor for the Miss Kansas competition, said. "She seems to be able to connect with people of all ages and she does that through her art but she also does that on a personal level as well."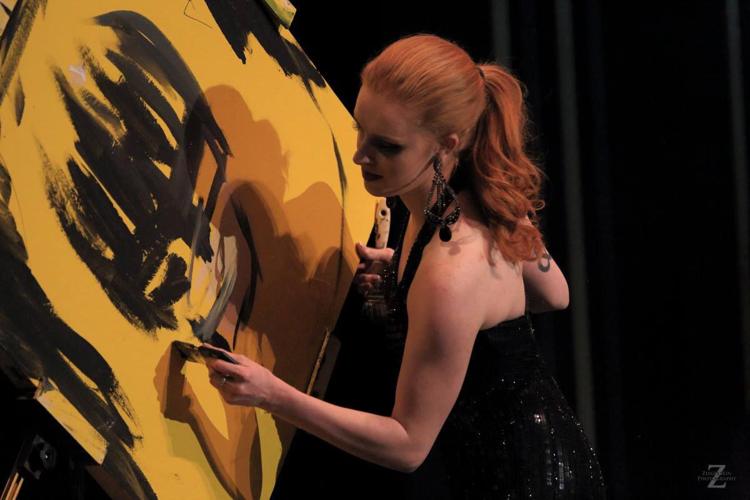 For Wooton, that's what art is, an experience. And it's for everyone.
"I like the fact that [her art] is so original and I love the fact that everyone can relate to it," Johnson said. "It's exciting when she gets up on stage and she starts to paint, it really grabs your attention. And it's unique. No one else does this on the Miss America stage, no one. And it's just been really fun to watch her take that talent and bring it to the stage."
While painting for Wooton is a relaxing and calming experience, it can also be somewhat stressful, especially when performing in front of a live audience. During a practice for a Miss Kansas competition, Wooton went through her routine, painting a piece she'd never presented before.
"In my first practice, the whole thing fell over, and yellow paint went all over the stage," Wooton said. "And I could have easily completely broken down and said okay I'm not doing it, let's pick something easier. I could've just dropped out of the competition because that was one of the most terrifying moments in my painting that I've had because I had built up that performance so much and all of my competitors were watching me, and everyone backstage was watching me. It was the first time that I presented this painting and it failed."
Instead of letting herself get discouraged, she quickly cleaned everything up, and told herself to move on. Five hours later, Wooton said she had a stellar performance.
Wooton has brought new pieces and original artwork to the pageant stage every year, but finding inspiration doesn't come easily.
"Her creativity to be able to take her painting and change it every year and as an artist, bringing something new and fresh to the stage each year she has competed is also very impressive," Johnson said. "And this year included not only the biggest painting she ever did, but it included a costume change, and that was a lot of fun to see her make that part of her talent evolve."
One of Wooton's most memorable paintings was of one she did for Miss Kansas 2016.
"We built this huge easel, this five-by-five-foot panel that spun so that the painting started off as an image of a tornado, and I painted over it, and as it transformed by the end, when I spun it around, it turned into an image of the Emerald City," Wooton said. "I cut and built my own easel, I designed and made my costume, I started in a white dress with a red sash, and when I spun the painting, I also spun myself and I turned into Dorothy. That was the pinnacle of my painting so far, and when I performed it successfully on stage, I have not had a moment that I could compare to how I felt in that performance."
Initially pursuing the arts education program at the University, Wooton switched to Illustration after taking a class in that area that she really enjoyed. As far as a career, Wooton plans to continue to follow arts education.
"I think that children, they really connect with that in being able to watch someone paint in front of them," Wooton said. "I'll be having a conversation with students about what art means to them and the impact of the arts in the community. I guess my mission is to change the way people think about art and through my speed painting, that generates a conversation that has propelled a lot of creativity in my mind for the youth of Kansas."
For now, Wooton continues to sit in her red, Victorian style reading chair in the art space in her apartment, with her cat at her feet, and "gets work done."