Pitchers, pots, watering cans and tea cups: the ceramic artist's go-to portfolio.
Those usable items, however, don't have the same appeal for University graduate student and local ceramics artist Antonio Martinez, who would rather make metal out of clay.
"I grew up with my father and brother working in our family business, which was an ornamental iron shop," Martinez said. "So I grew up around metal and welding and doing whatever my dad wanted me to do, but my dad and my brother would always tell me my welds looked like 'birch on a picket fence,' which is not a good thing."
Martinez's "devices" — as he calls his art — are representations of what metal workers would be most familiar with, be it a screw or an iron plate.  Some "devices" Martinez wishes to keep as ambiguous as possible, using the textures on the clay to depict a modern, metal feel.
"The clay is so malleable," Martinez said. "I can form it into anything I want and using the molds that I have. I can make it look like rebar or tools or whatever I want."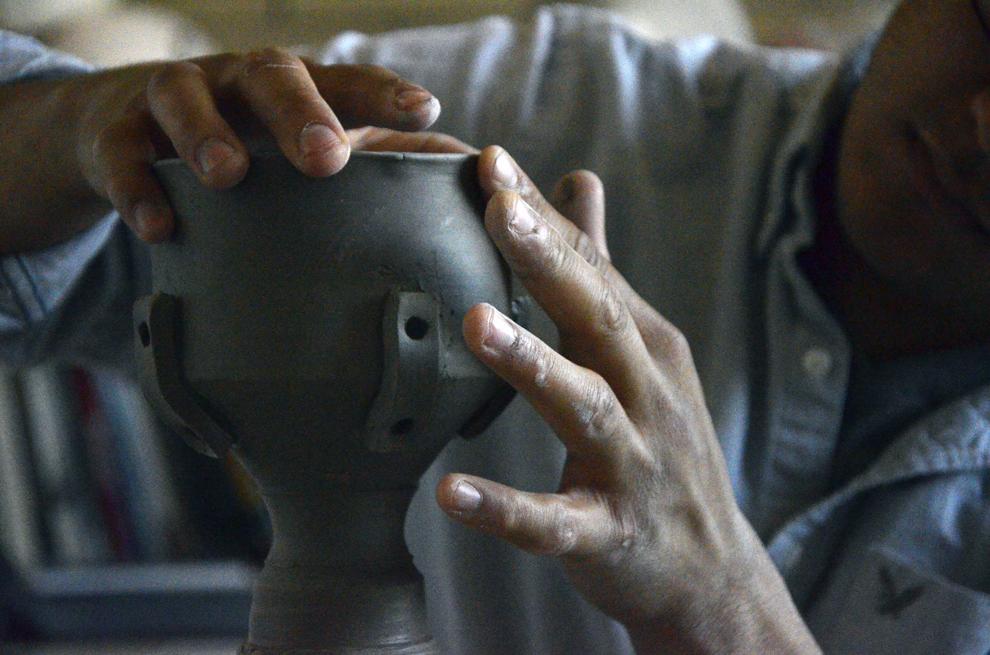 Despite growing up in a hands-on, artistic household working in the family business, Martinez almost stumbled into the ceramics world when he took a ceramics class in high school for a "fun credit."
"I just thought it would be art," Martinez said. "Art was supposed to just be a fun and easy 'A' in high school."
When Martinez graduated high school and went on to Wichita State, he continued taking pottery classes "just for fun."
"Before I knew it, I had taken so many classes that I ended up in the program without even thinking about it," Martinez said. "So I joined the program even though I didn't take it too seriously."
To officially join the ceramics program at Wichita State, Martinez had to be reviewed and accepted as an artist in a ceramics conference. His sophomore year, Martinez went to Seattle to attend one of these conferences. There, he said, his view of the ceramics and pottery world completely changed.
"I knew instantly after seeing the community and being involved, even for that small amount of time, with the lifestyle of the art that it was what I wanted to do with my life," Martinez said.
After being exposed to the world of ceramics, Martinez joined the program at Wichita State and graduated in 2013. Then he took a year off to teach adult art classes at a local art center in Wichita.
"After that year I felt completely stuck," Martinez said. "I had no idea what I was supposed to do and I didn't know how to expand in my art."
After he realized he wanted to do more than teach the elderly how to fire clay, Martinez applied for graduate school at Lincoln, Neb. and the University. Martinez admits that Kansas wasn't his first choice, but said he's glad he stayed.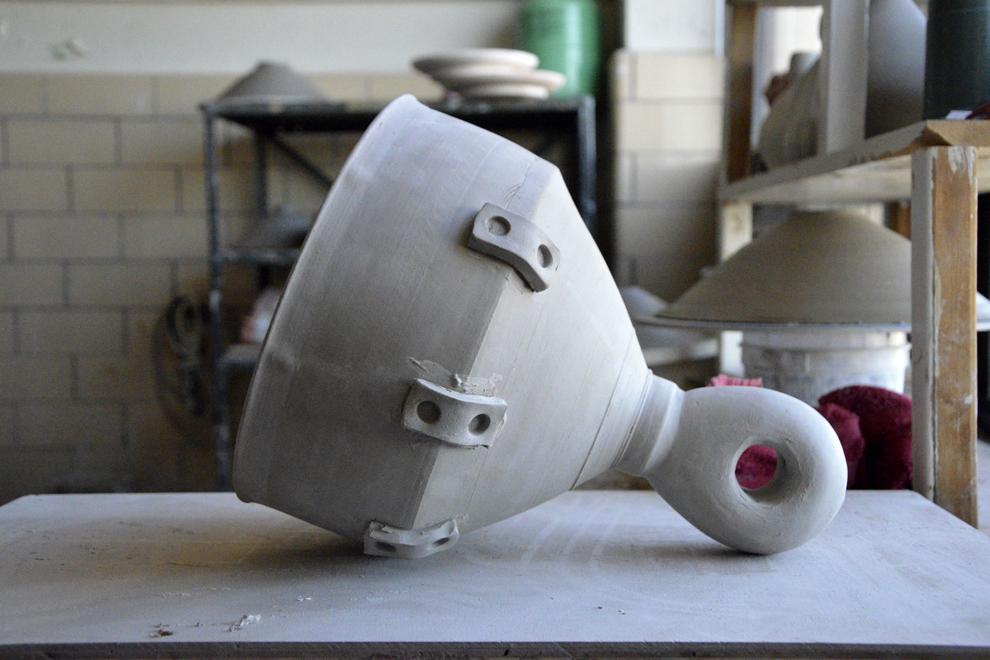 "When I came [to KU] I just picked up where I left off, which was making a lot of 'usable' pottery, so cups and pitchers," Martinez said. "But quickly I was encouraged to make a change, and I think that has been my favorite part about being at KU is that from the very beginning I was told to make a lot of mistakes and a lot of choices. This is such a supportive grad program."
Martinez says that even though he's still working on creating his metal-looking "devices" that the encouragement to branch out has started to mold his pieces into more abstract sculptures. When he first started, he created what he calls "functional ceramics" — like teapots and cups — but he recently started creating ceramic sculptures. 
He said he's excited to see where his art will go next.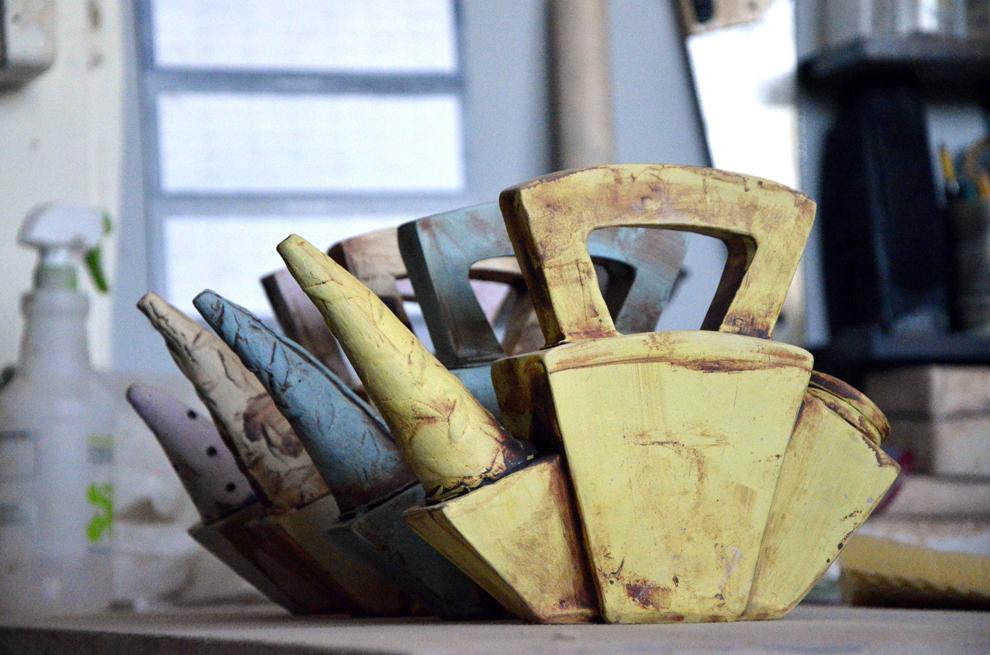 "Clay is such a fascinating tool," Martinez said. "It's moldable, soft, and malleable and I can form it into anything I can imagine but at the same time, once its been fired, it's hard and glossy and completely changes in attitude.
"It's a science that I don't completely understand yet, but I find it more and more compelling each time," added Martinez. 
In the coming semester, Martinez hopes to bring his fascination with pottery and clay to others, as he's scheduled to be a graduate teaching assistant come Spring semester.
"I think the rigidness of the syllabus and deadlines will help me," Martinez said. "But I can't imagine how immensely I will grow as an artist and instructor come the end of next semester. I'm really excited to start teaching." — Edited by Derek Skillett