A handwritten phrase is the first thing to note upon entering the studio space belonging to Haley Hapgood, a senior from Kansas City, Kan.
It reads: "La différence entre ton opinion et un café c'est que j'ai demandé un café." 
"I've been kind of teaching myself French," Hapgood said.
Translated, the phrase says: "The difference between your opinion and a coffee is I asked for a coffee."
Looking past the sarcastic French phrase, a sweeping glance around the studio space in Chalmers Hall reveals the talent of Hapgood, a visual art and art history major. Along with a few paintings, Hapgood's prints are the majority of the artwork.
Although Hapgood's talent is readily apparent, she wasn't always set on the art school path. While in high school, she was faced with a decision: study art or biology. She hoped that she could maybe illustrate textbooks. With interest in both, she resolved to let her AP scores decide.
When the scores arrived with a higher mark on her AP art portfolio, Hapgood decided to pursue an education in the arts. But her decision didn't mean the road ahead would be easy.
"Specifically with printmaking, I feel like there's this kind of pressure to either be creating new techniques or to be making images that are kind of going along with modern day," she said. "Because it's such an old medium there's this kind of urgency to keep it new."
But before Hapgood could begin thinking about innovating in her field, she had to get past the initial classes in the visual arts program.
"The foundations classes we take are so tough," she said. "I was even questioning just being in the art school."
It wasn't until a graduate teaching assistant took her Drawing I class to the printmaking classrooms that she rekindled her love for the art form, which she had previously dabbled in when she was in high school.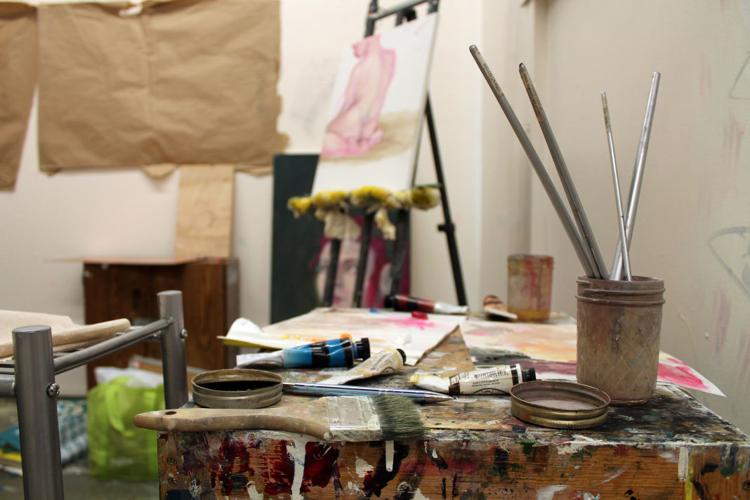 Now, Hapgood works with intricate processes to produce her detailed prints. One is intaglio, an old process in which a metal sheet — usually copper — is layered with acid-resistant grounds, usually wax. The artist then draws through the wax, and the copper that's exposed is eaten away by acid, and the ink settles into those pits. Finally, when the metal is run through the press, the paper is pressed into the pits and it picks up the ink to produce the image.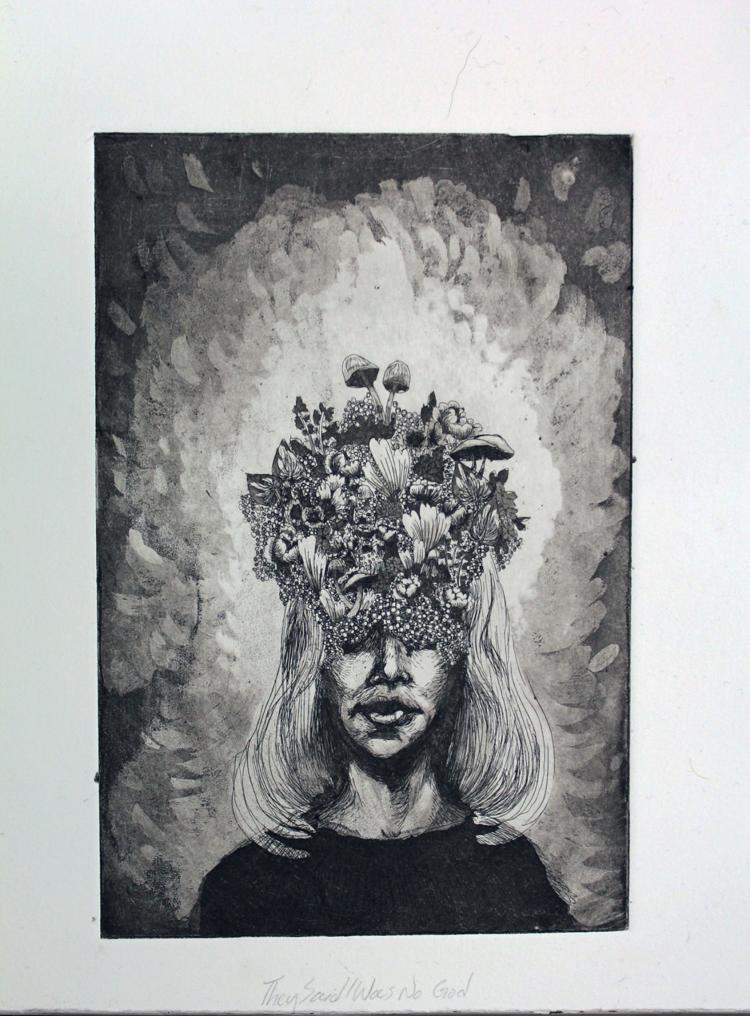 Hapgood has also developed her own style, reminiscent of pointillism. She uses tiny dots to form her patterns, and she sits for hours with her hand vibrating over the metal plate. She discovered this style in her high school AP studio art class when she was tasked with making a body of work for an art showcase.
"[The dot drawings] started out really figural, like drawing a person's face or hair with these dots, and I found that I really, really liked it," she said. "I kind of abandoned it when I entered art school just for mainly working with the figure, but I picked back up on this my junior year and realized that I still loved doing just this little intricate work."
Now, the work serves as an escape.
"It's really peaceful for me. I get lost in it — it's kind of a meditation," she said. "I can just put on a movie and just sit here and do this for hours."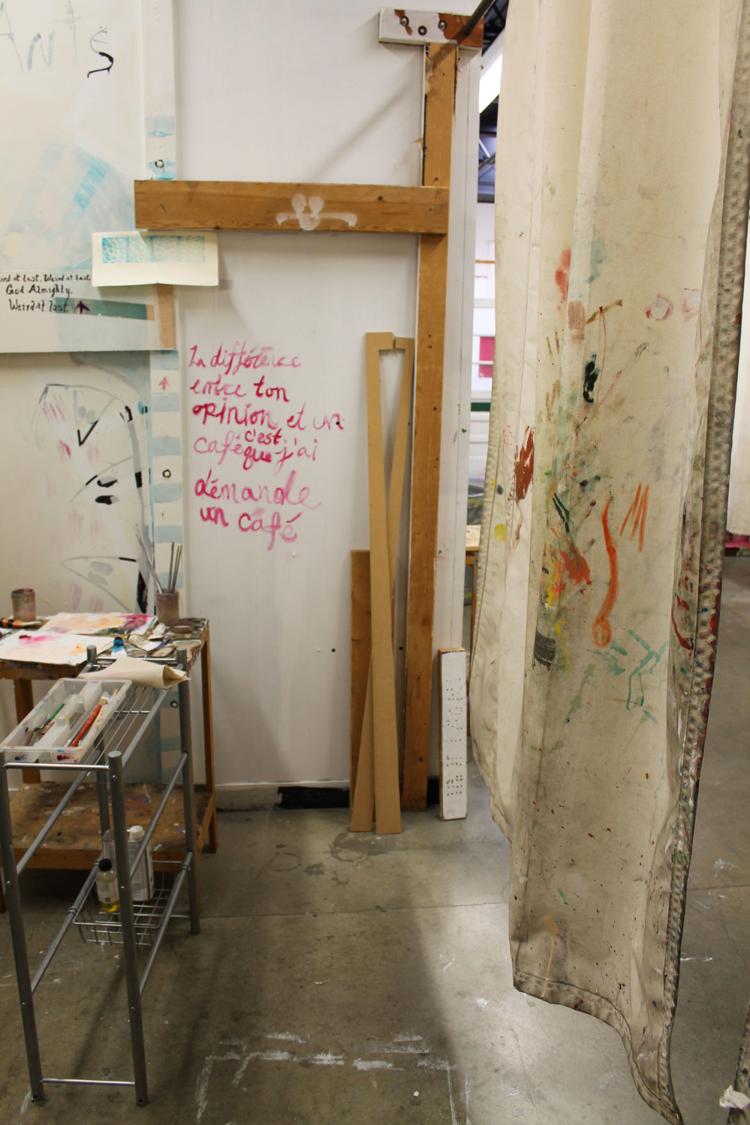 This meditative state reflects an important source of Hapgood's inspiration, which draws on the work of her favorite artist, Wolfgang Laib, who works with bee pollen and rice. Hapgood uses Laib's zen philosophy to relate to her own prints when she creates "abstract patterns that cover a large field of space."
Aside from her inspiration found in other artists, her ultimate inspiration comes from a deeper source: herself.
"I personally draw a lot from my own emotions. I draw a lot from my mental illness. I deal with anxiety, depression, stuff that a lot of other people deal with," she said. "Being able to share an emotion or a feeling or an experience with other people is really what inspires me to make art that could do that."
She added: "Because I'll hear bits of songs, or poems, and even just like little bits of words will kind of make me feel that kind of deep-seated emotion, and I want to be able to do what those words did, and to be able to share that kind of common emotion and make them feel what I'm feeling, what I put into the work."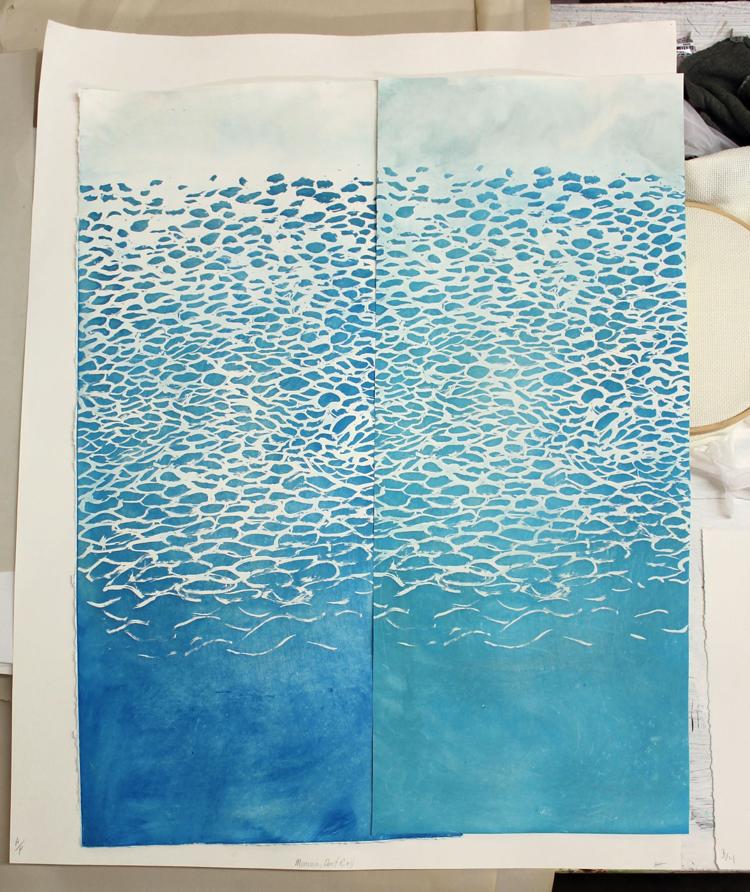 With such personal attachments and apparent passion for her work, Hapgood acts as a proponent for art in general and encourages everyone to at least take one art class, even a simple introduction course.
As for career aspirations, Hapgood hopes to work in museums and galleries and is interested in curating, which is why she decided to pursue art history as well as printmaking. Hapgood also aims to obtain master's degrees in art history and printmaking in graduate school.
"I think art is important because it's a new way of communication," she said. "It's a new language that anybody can pick up, it's not a language that you have to study for years to even be conversational in. Even if you just take a few classes, you've learned a new language, a new way of being able to see, a new way of being able to communicate your ideas to other people, and I think that's really important."
— Edited by Madeline Umali