Megan Murphy, a senior from the Philippines, has spent the last few years of her college career working on clay figures that personify hidden and abstract human emotions. 
Her time and development toward her craft recently culminated in a piece called "Suppressions," a clay-based work on display this semester at the Kansas Union Gallery.
For Murphy, her artwork, and especially her most recent clay sculptures, follows her own personal statement that she said she hopes to bring out in every piece she creates. 
"I figured that we live in this really rigid, constructed society where there's so many taboo things that we don't address and hide," Murphy said. "And that's what I tackle in my work." 
Since she was exposed to different forms of art as a child, Murphy found it natural to take art classes in high school. She also got involved with her school's student newspaper by drawing cartoons.
Once she got to college, she continued her involvement by deciding to major in visual arts. There was a period of time, however, when this track didn't seem right for her.
"For a brief period, I transferred to photo media, which is in the design school," Murphy said. "But I continued to take studio classes."
Murphy's experience in art up to this point contained mostly drawing and painting, but she said she wasn't finding much meaning. It wasn't until her sophomore year at the University that she decided to take a sculpture class.
"I took a sculpture class, even though I wasn't in the visual department, and my teacher brought in this alumni who was a bronze sculptor. I asked him, 'Do you ever doubt yourself?' And he said, 'Oh, every day.'"
She added that at that point, she had to leave the classroom.
"And I called my grandpa and I said, 'I'm going back to visual arts,'" she said.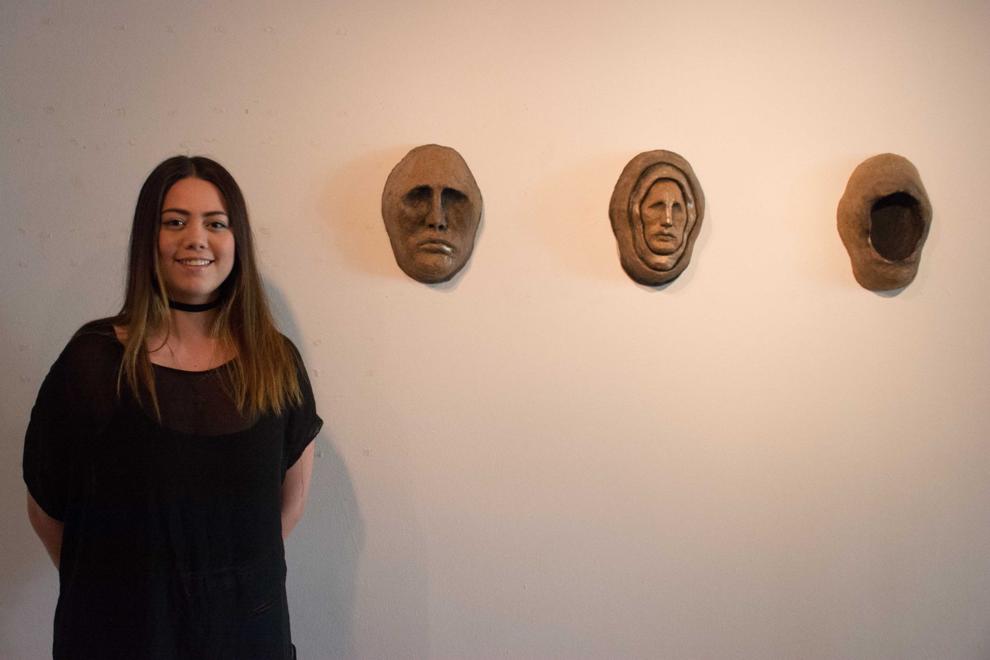 The speaker revitalized Murphy's wish to return to visual arts on more than just a mental level. His speech made her jealous, but in a constructive way that pushed her back on track.
"I got real emotional when he was talking to us," Murphy said. "He was able to talk about all this stuff that he was doing right now. He's doing what he loves, and I was jealous of that, so then I decided that I would go back."
Two years later, Murphy is finishing up her final year as an undergraduate student. She's put her work in exhibitions around campus, as well as in the Kansas City Arts Coalition's Undergraduate College Student Exhibition.
"I delivered my pieces there on Saturday," Murphy said. "And I saw all these other pieces that people had delivered, mostly paintings, and I thought that their work was so good. I was almost like touched that my work was placed in the same level as them."
Like others in the Lawrence art community, University ceramics professor Marshall Maude sees a high quality in Murphy's work.
Maude, who's known Murphy for two years, has had time to see her work develop.
"I've been really impressed with the progress that she's made just in the last six months," Maude said. "The preparation that she's done for the show has been exceptional. Her modeling of the figure has improved so much, [as well as] her subject matter and the content and her conceptualization of her work. Ever since this semester started, she's been working a lot."
When it comes to her work, Murphy finds ways to connect her ideas and statements in more than just her designs. To her, the clay itself plays just as big of a role.
"There's a direct correlation with the material I use," Murphy said. "It starts off as this soft material and I'm able to mold it however I want. I make these bodies and I chop them up once they reach a certain dryness, and then I scoop out the insides. So, there are all these dismembered body parts around me, and then I put them back together. Which is kind of a metaphor in and of itself."
— Edited by Frank Weirich