Displayed on the fourth floor of Chalmers Hall, a hanging form of wire and textiles dwindles, reflecting its shadow on the stark white background.
This is the work of Marissa Shell, a University graduate student from New York City.
"With the piece downstairs, I want to make it big to make the viewer feel as if they are walking into this natural environment which makes you question the importance that human kind gives to itself," Shell said. 
Nature is a source of inspiration for Shell. In a majority of her work, she focuses on different structures and systems in nature.
"That piece was based on the peristalsis, which is how your digestive track moves food through your body," she said. "I was looking for a way to use this totemic structure and connect it to a natural system in nature."
Shell is specializing in textiles and fibers in her graduate program. Her current piece comprises several different totemic structures, in which she utilizes lighting and shadow for the display.
"I've never really worked with lighting and shadow before, so I am still figuring out the quirks, but every time I install it I learn as little bit as I go on," she said. "I want them to multiply; I look a lot at cells and organisms and bacteria multiply very quickly, and I want my work to be like that."
The artist uses all black plastic mesh materials to create the structures in her current piece.
"My previous work was very colorful and people loved the colors," Shell said. "I think that I am just trying to eliminate color because I am trying to move from 2-D to 3-D. I think by eliminating color it just eliminates variables, which make it a little bit easier for me to kind of transition from making two dimensional work to three dimensional work."
Shell added: "I did not want color to become a crutch; I hate when people tell me that they love the colors, I would rather somebody tell me that this is not working. A lot of people want people to praise them for their work, but I feel like you do not get anything out of that, you do not grow from that."
Shell has always been interested in art, but her true passion for art started when she was 16. Before coming to the University, Shell received her Bachelor of Fine Art degree from Purchase College in New York.
For her senior project at Purchase, she created large-scale paintings based on abstract expressionism. After graduating and moving to a studio, she realized that her artwork needed to change.
"When you are in school you have all this space but when you are in New York, your space gets smaller and you have to go smaller. You cannot make the same work in a small scale that you can in a big scale because it is just very different. That is how I ended up doing those," she said, pointing to some objects on a table.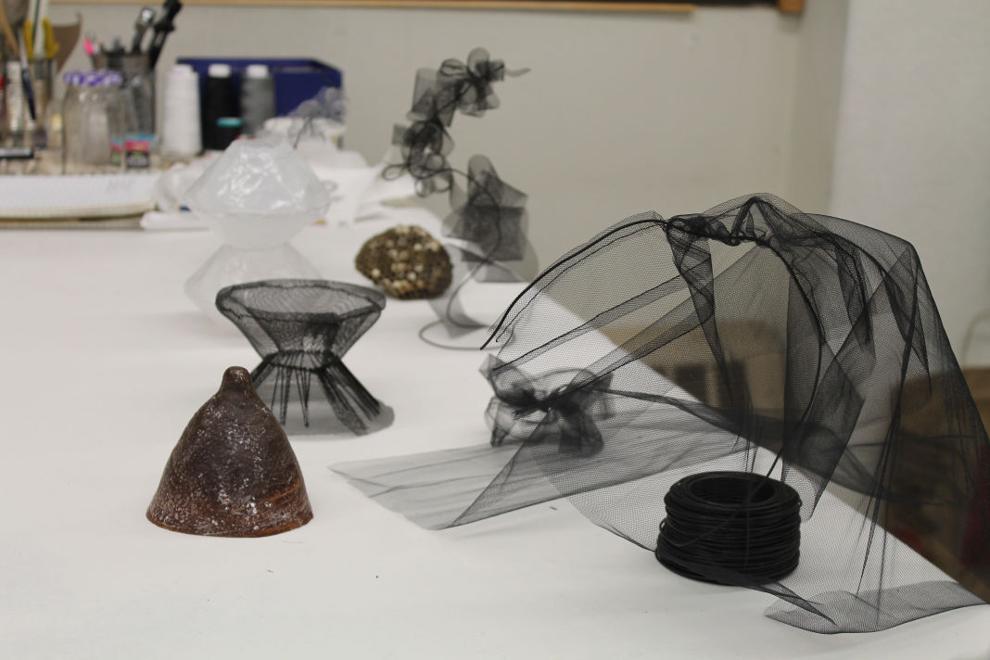 After attending Purchase, the artist attended the Fashion Institute of Technology.
While at the Institute, "I got really into weaving so I took a lot of weird weaving classes that were not in my curriculum," Shell said. "I decided I didn't want to do another undergrad, so I decided to finish the semester and then I decided I am not going to do the degree — I am just going to weave."
The artist used her weavings to apply to graduate school. Her interests in weaving were inspired not only by the art of weaving itself, but also by materials used by musicians.
"I want to come back to the weaving, it may just end up being a side thing but I am trying to collect strings from musicians to do a weaving project," she said. "I am not sure where it is going to go yet, but I need to collect strings first. It would be a way to incorporate music into my work as well as other artists and other musicians."
Shell works hard and often creates well into the night. Her dedication for her art carried through from New York to Kansas, said Alex Atta, a former classmate at the Institute.
"She was always working," Atta said. "She would be weaving until, like, three in the morning."
Along with her artwork, Shell has a spunky personality that attracts people to her. "Marissa and I always have a good time together, working with her is effortless," Atta said. "She moves to the beat of her own drum, which is why I like her." 
Shell said that she found the University on a whim. When she had been out of the city previously, she was persistent because she did not have any distractions. 
"I really wanted to go somewhere different than New York, I really wanted to be in a completely different environment," she said. "This is a nice break for me. I can breathe and go out for a run and not see too many people."
"She works best when she is able to concentrate on her work and be inspired by other creative artists or people who truly appreciate art," said Steven Shim, an art collector who knows Shell.
Mike Piergrossi is a friend and a fellow artist of Shell's from New York. He said he would come visit her while she worked at his local bar in Greenwich Village. He noticed that she was very productive and passionate about her work.
"She turned her time at work into time in the studio without slacking off on the job," he said. "Marissa's work prompts us to consider our own relationship to the environment, and to where and how we live, what we consume/discard, where we surf."
Piergrossi said Shell's work is narrated through her choice of materials.
"Her work is inspired by her surroundings and her relationship to nature and the environment," Piergrossi said. "Marissa constructs objects and installations that employ collected and found objects, as well materials that tell personal stories." 
In the future, Shell said she intends to expand on her existing piece. She is inspired by artists Ruth Asawa and El Anatsui to make bigger pieces.
"I just like to work large, I want to do more installation," Shell said. "That piece is so tiny to me, I want to fill the room with like a hundred of those. But it takes time."
— Edited by Derek Skillett