Natural change and progression is a running theme for artist and University art professor Michael Krueger, both in his work and teaching methods.
Krueger's art is a compilation of colors, ranging from bold to pastel-like. His designs play with texture and a combination of natural and synthetic materials. In his hometown of Sioux Falls, S.D., Michael Krueger said he knew he wanted to be an artist at a very young age. He grew up around artists.
His father was an artist and an activist in the American Indian Movement who advocated for native's rights. His home was often visited by people with unique visions of art and the world around them.
"I was exposed to a community of free thinkers, radicals and friends of my dad," Krueger said. 
Krueger experiments in various styles, but his classes specialize in drawing and printmaking. Employing ink, colored pencils, acrylics, gesso, lithography and a wealth of other art styles, he has a vast collection of work that has been showcased in reception rooms across the United States. His art has also been exposed and enriched during his travels throughout the world.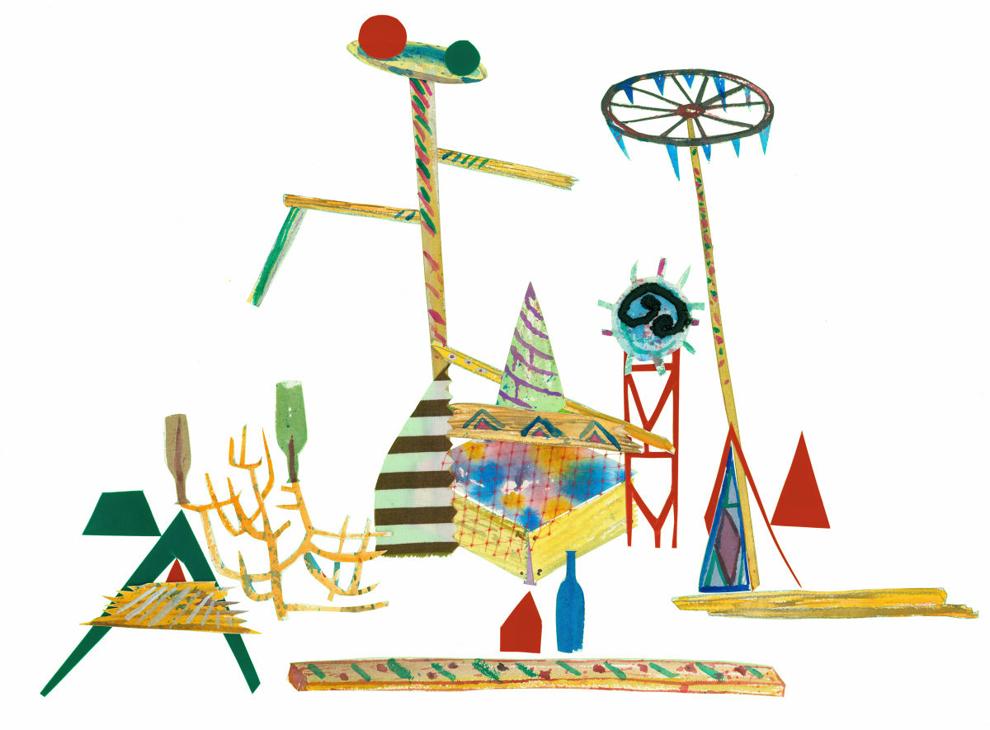 When he entered into the University of South Dakota, he knew he wanted to be an artist and first threw his passions into studying photography. He loved capturing images of nature and aspects of the real world around him.
"I like the adventure of going out into the world to take pictures," Krueger said. "There was this one time me and my friend took pictures of carnies at a carnival in town and they chased us down to get the camera back. They didn't want their pictures taken."
While in college, however, he found that his passion in the arts was sorely tested. During the summer of his freshman year, he decided to work in a photography studio. In the time he was there, he grew tired of the narrow creative confines that the work imposed on him, he said.
"[Photography] suddenly became work with very little creative freedom," he said. "They always put me in the dark room, and I often had to take pictures of people with their yachts."
The following year, he dropped all of his classes without a clue of what to do next.
'"As I was wandering down the hallway, a grad student came up to me and said, 'You need to take printmaking,'" Krueger said.
From that point on, he took various classes in lithography and said he fell in love with the process and the similar technical aspects it had, like photography.
Lithography is an art process that uses a stone as a base. An artist can use ink on a greased image on a piece of lithographic limestone. The rejection of moisture can craft an image that can then be pressed on a piece of paper.
"I was able to have success in the printmaking process and utilize technical skills that became enmeshed in my ideas," Krueger said. "It empowered me to go to other mediums and do the same thing."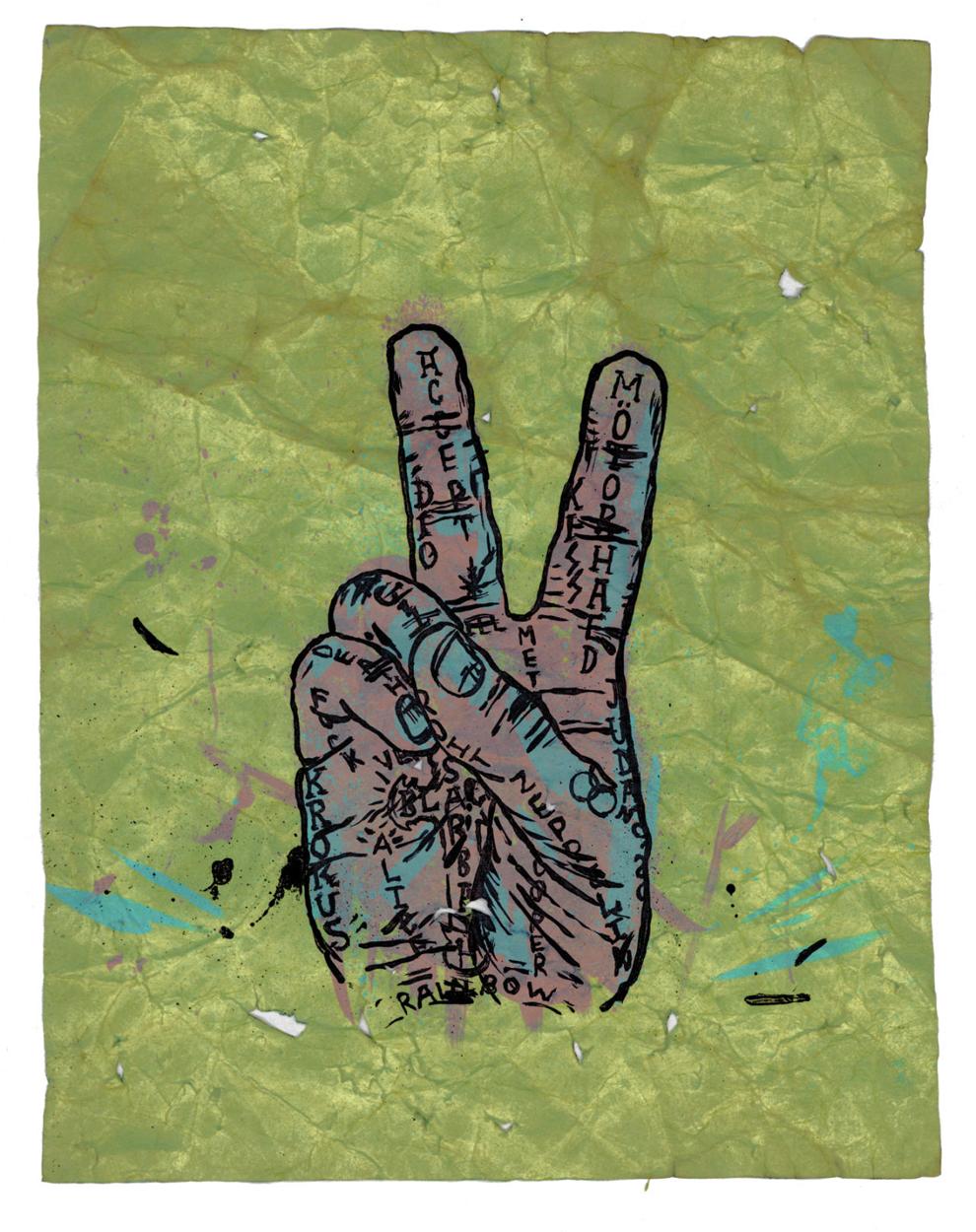 After getting his undergraduate degree, he moved on to the University of Notre Dame and got his graduate degrees in printmaking, drawing and photography.
Krueger has drawn inspiration from different sources throughout the years. When he first started out, he drew from his personal experiences. He said he is greatly intrigued by topics relating to dream analysis, surrealism and the psychologist Sigmund Freud.
Today his inspirations have expanded to topics relating to American history, revisionist history, contemporary American culture, art history and personal memoir.
The artist's vast and varied collection displays scenes of nature placed in the vastness of empty space. He recreates familiar images with different colors and templates that makes the viewer take something different away from its original subject.
He said he's also inspired by another artist's work, "The Plough and the Song" by Arshile Gorky, which primarily resides in the Art Institute of Chicago. The work is composed of odd lines and mysterious organic forms that share a connection that carries different meanings to the viewer.
Krueger admits that he has often visited this painting at different points in his life, managing to take something new from it each time.
"The painting never changes but I change. I bring new experiences to the painting," Krueger said.
This theme of growth and exploration has characterized Michael Krueger's artistic career. For Krueger, there is no real limit to what artists can produce in the artwork as long as it comes from a place of true authenticity.
"There is this idea of progression and change in the studio. I'm always pushing myself to see what I can do next," Krueger said. "For instance, I had a recent show in Boston composed of abstract painting. When I first started out I never thought I would do abstract art. You don't know what you will do later in life so don't limit yourself."
Krueger doesn't only apply this to his own work. He also tries to push this in his teaching. Throughout his teaching career, he has found another well of inspiration from his students. He said he's fascinated in the way they approach art and the solution they come up with, he said.
"It's interesting to see all the innovative ways [my students] have for solving problems that have no right or wrong answers," Krueger said.
Krueger's teaching methods left an impression on several of his students. 
Mark Hosford, an associate professor at Vanderbilt University and former student, said Kreuger was instrumental in his creative growth. Hosford first met Krueger in his third year of undergraduate study at the University in 1995.
"I have always been impressed and transfixed with Michael's art," Hosford said. "He continues to be an artist that I look at for inspiration and one who constantly engages me. His art has changed a lot since I first met him in 1995, which each new step breaking new ground. Throughout all of these changes, a strong authenticity is what links them all together."
Hosford said Krueger's influence had greatly impacted his artistic interests and his career path.
Hosford said Kreuger was "without a doubt" the most influential teacher he had.
"He came to KU at a critical time for me," he said. "He was the first art professor whom I felt really understood my background and the visual vocabulary I grew up with."
He also said Kreuger was the first instructor to teach him how to think critically about his art and how to use subjects more effectively. 
"Instead of just banning me from working in particular styles I was interested in, which many art professors did at that time, he would instead encourage me and push me to make my ideas and techniques stronger," he said.
Stephen Goddard, associate director and senior curator at the Spencer Museum of Art, is another former student who was inspired by Krueger's openness to change and growth. He became acquainted with Krueger in 1995 after he came in to replace his predecessor, John Talleur.
"I'm a big fan of Krueger's art," Goddard said. "We have some shared interests which makes it easy, such as a fascination with how our lives are shaped by the cultural and historical events of our youth, and the function of art as a sort of container for memory, and the remarkable alternative histories of Lawrence, Kansas."
Krueger said he feels his work "explores a collective need to get higher, get lost and be transformed."
"Art can elevate and take us to a higher place. We crave that as a culture and I believe that art provides higher experiences to understand personal ones," Krueger said. "Getting lost is an opportunity and art can offer unseen possibilities for personal discovery."
He added: "I never knew what way to go in life, and I think I benefitted from that."
— Edited by Madeline Umali