On June 19, the Black Literature Arts Collective of Kansas (BLACK) began a month-long series called "In the Know" which serves to help educate the community of Black art, health and history via daily posts on their Facebook page and Instagram.
With the help of sponsors and collaborators, they have worked to educate Lawrence residents on local Black history and artists. Along with that, they have brought attention to health disparities Black people face. 
Sponsors of the series included the University Sawyer Seminar: Chronic Conditions, the Spencer Museum of Art, Black Lives Matter - Lawrence, the Juneteenth Planning Committee, Watkins Museum of History, the Lawrence 1970 Project, United Way for Douglas County and Lawrence-Douglas County Public Health.
While the content is still available on BLACK Lawrence's Facebook, the series concluded July 19 with a poetry showcase honoring the memory of Black youth Jayion Harris-Jordan, a Liberty Memorial Central Middle School student, who died last July.
"Our main goal is to help raise the visibility and work of Black artists in this area," said BLACK Lawrence co-founder Alex Kimball Williams. "They do everything from playwriting to photography, music, writing, teaching, and we just wanted to elevate those people and make sure that people in our community know that these people are doing work here."
Because of COVID-19 and the restrictions that have come along with it, BLACK decided to have the series online. 
"We felt that because of quarantine and the coronavirus, we didn't want to endanger those in our community," said BLACK Lawrence co-founder Tai Amri Spann-Ryan. "The online series is a great way to reach more people and a broader audience, and it's accessible to people all around the country."
In the series, BLACK established some days of the week to have a certain theme around them. For example, on Mondays they have tried to showcase a Black, local, Lawrence artist. Wednesdays, or "Woke Wednesdays" were reserved for local history, brought to them by the Watkins Museum of History and the Lawrence 1970 Project. On Thursdays they have tried to interview someone with knowledge of Black culture and Sundays have an ongoing theme of spirituality.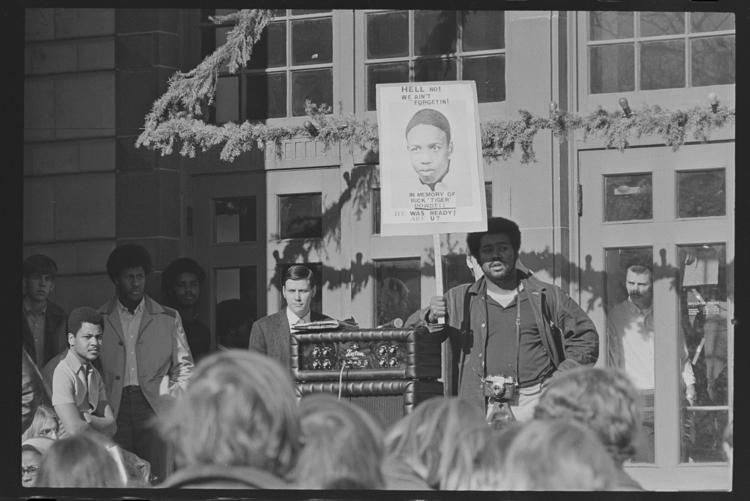 Regarding their historical themes, on their social media, they have honored Rick "Tiger" Dowdell, who was killed by the Lawrence police in 1970, and famous Kansans such as Richard Pitts who worked to educate people of all ages of the Underground Railroad.
"We definitely have a huge focus on Black history, with the help of the Watkins Museum and the KU Spencer Research Library," Kimball Williams said. "And then in terms of Black health disparities, we really just felt that when we talk about police brutality and the western medical complex, it kind of just enters the conversation organically."
Kimball Williams said that members of the collective work in the public health sector or have a lot of health interests while also having the sponsorship of the Douglas County health department.
"The public health department has also been doing Black maternal and family health disparities since January," Kimball Williams said. "We just thought that since we had this [research] to offer, our goal was to empower and enlighten the Black community."
As mentioned before, another aspect of this series is Black art and literature's connection with the community.
"I posted a couple of poems, one of those poems having to do with systemic racism in Lawrence," Spann-Ryan said. "I also wrote another poem in solidarity with sanctuaries abroad and in Lawrence. When we talk about the purpose of BLACK Lawrence, part of the purpose is to talk about what the issues are for Black people and how Lawrence can be a more just community."
Spann-Ryan said a goal he had for the Lawrence community through this series was education. He wanted them to learn how they can support local Black artists and the historical impact of the Black community in Lawrence. 
"When you think about the Black Lives Matter movement or anything with racism, it should be discussed within your local community first," Spann-Ryan said.