Jarron Lewis, a sophomore from Englewood, Colorado, studying architecture, expresses himself with homemade jeans and chokers on a cool, rainy afternoon.
Lewis wore Converse, striped bleached jeans, a black sweater, necklaces and a colorful beaded choker with his name on it. His favorite parts of the outfit are his rhinestone-studded belt and his necklaces.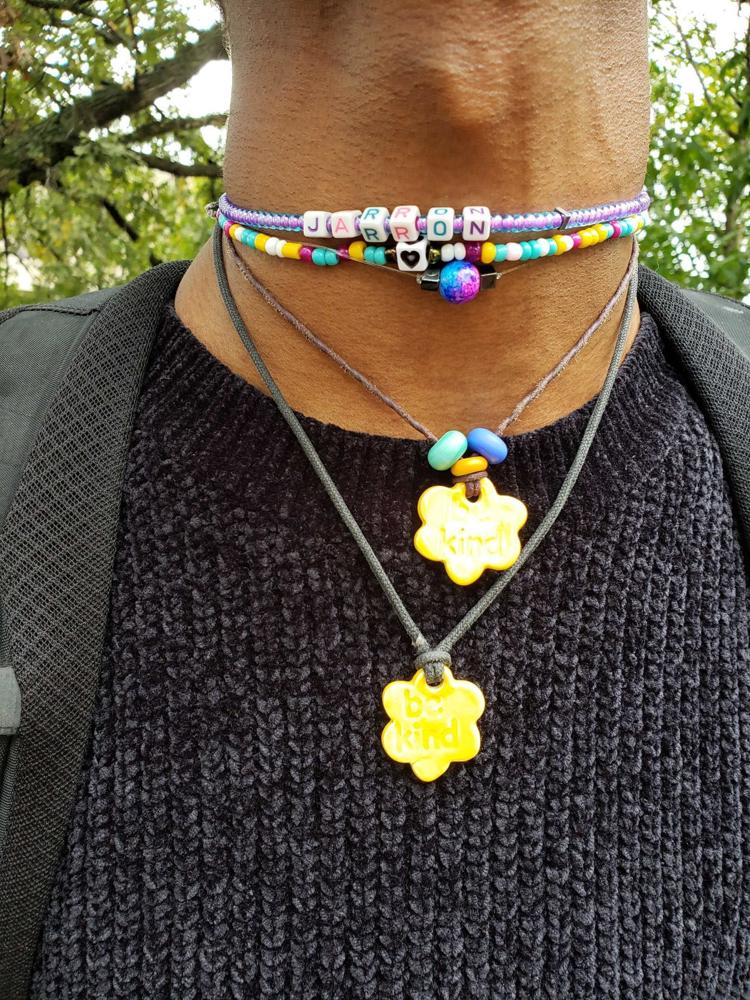 "Sometimes I wear things that are a little too stand-out-ish, and so today it was a little cooler and I was like, 'I'm not trying to be super bright and funky,' but it's still enough of my personality that shows through," Lewis said.
Lewis frequents thrift stores like Wild Man Vintage and Arizona Trading Company. He also said he likes shopping at Urban Outfitters, even if sometimes it's a little out of his price range. 
"I'm a person who has the ability to wait for sales," Lewis said. "If I see something I'll be like, 'OK, I can wait a couple of weeks for it to go on sale.'" 
Lewis also started making some of his own clothes last year by altering thrifted clothes. He said he made his striped jeans by using duct tape and bleach. 
"I feel like all the clothes I buy that are branded towards me are not what I want," Lewis said. "I feel like guys clothes especially are just always so boring and follow a very strict guideline." 
Lewis said he likes anything that is colorful and has a pattern on it. He also said he takes a lot of his inspiration from art and the brand Glossier. He shops with the company and follows its blog, "Into The Gloss," to get fashion inspiration. 
"I like the way they make everything," Lewis said. "It's just super simple and cute, and I feel like that is very much me." 
Shop the look:
Belt: Arizona Trading Company 
Sweater: Urban Outfitters 
"Be Kind" Necklaces: Ben's Bells 
"Campus Couture" is a weekly feature that spotlights one University student, faculty or staff member who is dressed to impress. Check kansan.com weekly to see who's featured in upcoming installments.
Know someone who you think should be featured in "Campus Couture"? Tweet us at @KansanNews or @aliciamarksb.