Where many see a troubling trend in the prominence of social media and disconnect between the digital and material world, Jonny Sun sees a unique opportunity to foster "communities of support" and bring individuals together in a safe environment, he said in a speech Wednesday night.
"Connection is connection," Sun said. "It happens right where we are and where we choose to be. Sometimes, that's online." 
Known widely for his book "Everyone's a Aliebn When Ur a Aliebn Too" and for illustrating Lin-Manuel Miranda's book "Gmorning, Gnight!: Little Pep Talks for Me & You," Sun has earned his place on Forbes "30 under 30" list for 2019. 
Sun also illustrated and wrote for the Netflix Original Series "BoJack Horseman." 
During the Kenneth A. Spencer Lecture hosted by The Commons at Liberty Hall, Sun stressed the importance of sharing vulnerabilities and forging connections with others experiencing similar hardships. He sees the internet as the perfect catalyst to this end.
For Sun, getting online provided an outlet to share and overcome personal anxieties by encouraging others to do the same.
"There are ways to make others feel comfortable in being themselves just by being your own self and sharing your experiences," Sun said.
As a Ph.D. candidate in Urban Studies and Planning at MIT, Sun paralleled online communities to "the third place''— a space "that isn't work or home and serves a social function as a place where people gather." In this way, Sun argues the worlds we create on the internet are similar to a city — they replicate the structure of cities by organizing people from various places and living various lives.
Sun credits the community he was able to find online with providing a form of expression similar to what he channels in his art, both of which he views as tools of strengthening connections with an audience.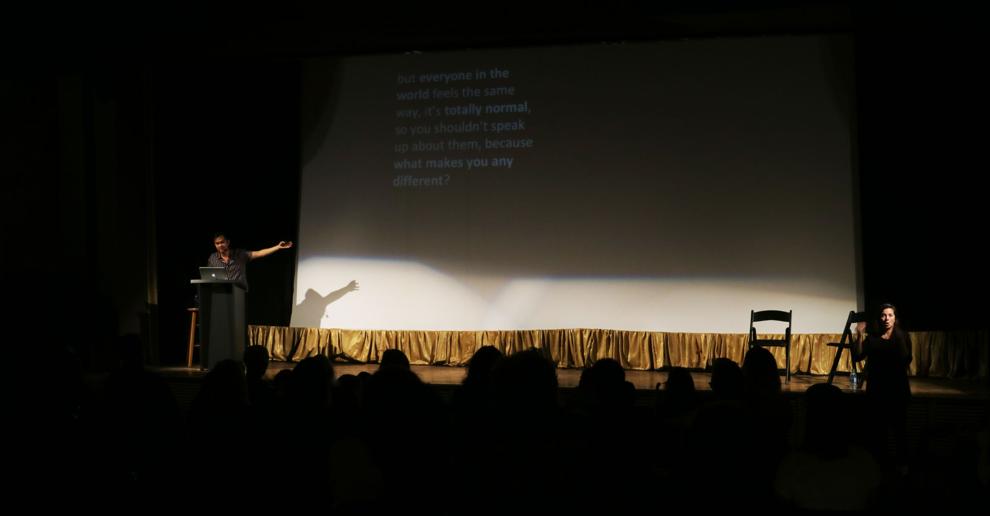 When asked what takeaway readers should have upon completing his book, "Everyone's a Aliebn When Ur a Aliebn Too," Sun responded they should have a feeling of "radical acceptance."
Focusing on social media for the majority of his talk, the claims Sun made about the intangible world's power to connect outsiders resonated with the audience at Liberty Hall. 
Sun's positive message online earned him both a place on Time Magazine's list of the 25 most influential people on the internet and the attention of a diverse crowd of Lawrence residents.
For Yvonnes Chen, an associate professor of journalism at the University, Sun is an inspiring figure for his "devotion to multi-disciplinary works" and ability "to draw connections amongst disciplines." 
"The ability to draw parallels between engineering and screenwriting" resonates in a society that often forces individuals to pursue one course, said Chen, who moderated the on-stage interview with Sun at the event. 
Chen said she also finds Sun an encouraging figure in an industry that historically lacks diversity.
"As an Asian-American, it is affirming to share the stage with Sun," Chen said. 
Promoting diversity and inclusion is a central component of Sun's platform. Chen said his message asserts that "despite humans inherent differences, we all have a lot to share." 
As online platforms proliferate and mature, it will become clearer whether or not Sun's ideas are adopted on a wide scale, but regardless, we can expect more from Sun in the coming years.
"I'm trying to figure things out and turn the things I figure out into the world," Sun said.