Walking into Murphy Hall pre-COVID, the building was a place to gather. Now, the music school is relatively empty.
Like other buildings on the University of Kansas campus, basic safety procedures were established, but extra precautions were needed to allow students to actually use their instruments.
In late June, the band program released a COVID-19 safety protocol statement which based its precautions according to a performing arts aerosol study. Aerosols, which are solid and liquid particles suspended in a gas, can distribute the coronavirus in performing arts activities like band and choir.
The study states that choirs can still practice and perform safely with surgical masks, but band students must use masks with a slit to allow a mouthpiece to go through it. Bell covers at the end of both brass and woodwind instruments are also implemented. 
Sophomore Elise Toney, a music therapy major from Seattle, says she had some doubts in terms of just how protective the masks are. As a trombone player, Toney says the insertion and removal of the mouthpiece is actually quite the hassle. 
"When I was in trombone choir or playing in marching band, we'd always wear the masks and honestly, they suck," Toney says. "First of all, I'm not sure of how they actually work thus far as preventing aerosols from escaping. I haven't seen much research into it. There's basically a hole in the middle of the mask. I get that there's an overlap [in the slit], but it's basically designed like men's underwear."
Toney participates in the marching band along with Nate Sawchak, a sophomore music therapy major from Gardner. Sawchak says he feels completely safe because he trusts his peers will do whatever they can to keep each other safe to preserve the marching season.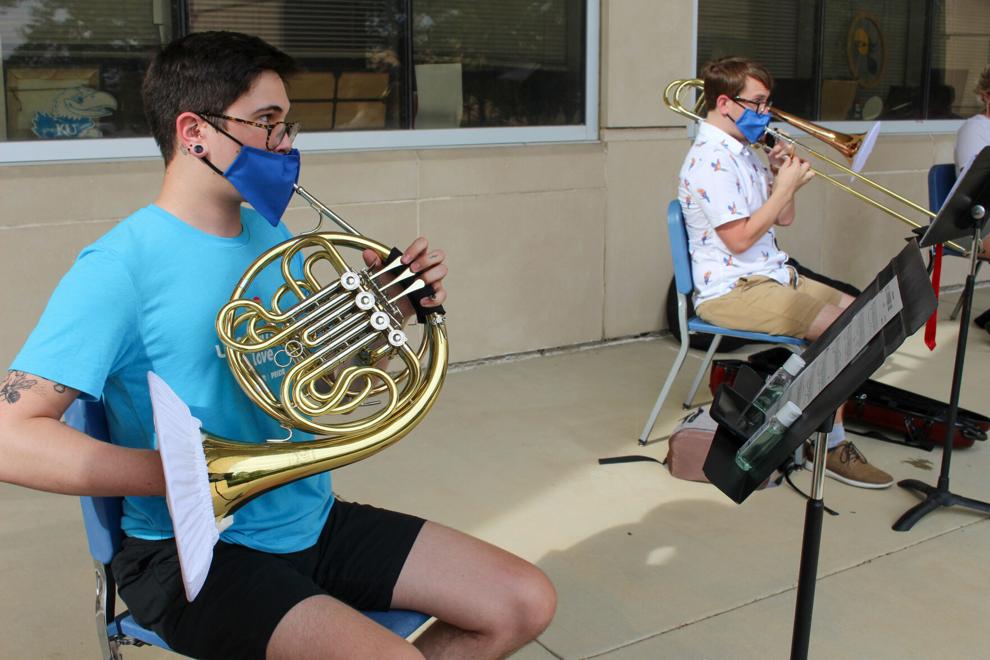 "I feel 100% safe because in marching band, everyone wants to be there in the first place so everybody's going to take the precautions because we want to be there," Sawchak says. "Everyone wears a mask, everyone socially distances and everybody puts their bell cover on."
Dr. Matthew Smith, the associate director of band, says combining a mask and a bell cover reduces aerosols by 95%. 
Since marching band was canceled for the first football game, the marching band split into small groups this past week and played around campus. Dr. Smith says the live music was meant to bring a little bit of light back onto Jayhawk Boulevard. Before the announcement, Dr. Smith rewrote the pregame show to accommodate for social distancing. 
In addition to the required masks and bell covers, rehearsals are limited to 30 minutes and the room must be cleared for an additional 20 minutes post-rehearsal to ensure air circulation. Air purifiers were installed in most of the classrooms and rehearsal rooms. Due to rehearsal time being drastically cut in half, Dr. Smith says there is an emphasis for students to hone in on individual preparation. 
"We're hoping that we can not sacrifice the quality but maybe raise the notion with the students that, in order for us to do what we want to do and love to do, we're all going to have to make adjustments," Smith says. "I think one of the things the band can do really well is to provide a sense of community of the campus this year."
Regardless of the pandemic, this marching season is the last one for several students. Toney says now more than ever, the band is doing all that they can to make the most out of every rehearsal. 
"We're really kind of treating every marching band rehearsal like it's our last because for a lot of people it could be and that's a sad thing to think about," Toney says. 
Marching band is the only in-person interaction for some students due to fully remote learning or other circumstances that call for limited contact.
"I mean, we still want to have band. This is some people's only interactions with real people for the whole year," Sawchak says. "Some people don't even have in-person classes at all. They're just stuck at home and then they come to marching band."