Across the field in front of Potter Lake, dozens of University of Kansas students lift their brush to their canvas.
The KU Painters club continues to operate in person, unifying the student painting community despite struggles from the pandemic, says it's sponsor Michael McCaffrey.
Members take COVID-19 precautions by only meeting outside, wearing masks and social distancing. While these restrictions make it difficult for them to be physically close to each other, Nathan Pickerell, a second-year fine arts major and club member, says that it is better than painting alone.
"[Painters] have a joke that it is a very isolating job," Pickerell says. "I think it's a great thing to bring us together, so we can paint alone, together." 
Sabine Rishell, a fourth-year member of the club and a triple major in Italian, art history and painting, says that it is important for artists to meet in person. There, they can properly critique each other's work, allowing them to grow together as artists. 
"Art really gets stifled when you are trapped in your own studio by yourself," Rishell says. "Here, we have our peers who can see what we are doing right and what we are doing wrong."
Although they have painted outside before this semester, the club is currently painting in collaboration with the Spencer Museum of Art for their fifth annual Backyard Bash, McCaffrey says.
This year's Backyard Bash — titled "Conference of the Birds" — is a month-long outdoor celebration of art. The museum commissioned students to create sculptures that would be spread out in Marvin Grove, the wooded, grassy area near the Campanile. McCaffrey says the museum contacted the club to paint pictures of the sculptures.
The club currently meets together on Fridays from 4 p.m. to 5 p.m. for plein air painting — painting outdoors. Plein air painting is a long-standing French tradition, McCaffrey says. Rishell says they will continue to meet outdoors until the Friday before the Backyard Bash ends. 
McCaffrey believes that keeping this club open for students is important because it allows them to come together in a less formal setting outside a Zoom classroom. As a result, he says the club meetings are less structured, allowing the students to paint freely without specific directions.
"It keeps that sense of community alive, which I think is really struggling in studio arts," McCaffrey says.
McCaffrey says that as the sponsor, he keeps the club organized and helps members develop ideas for their art, events and fundraising. Additionally, he gets to participate when they do art outside by painting himself.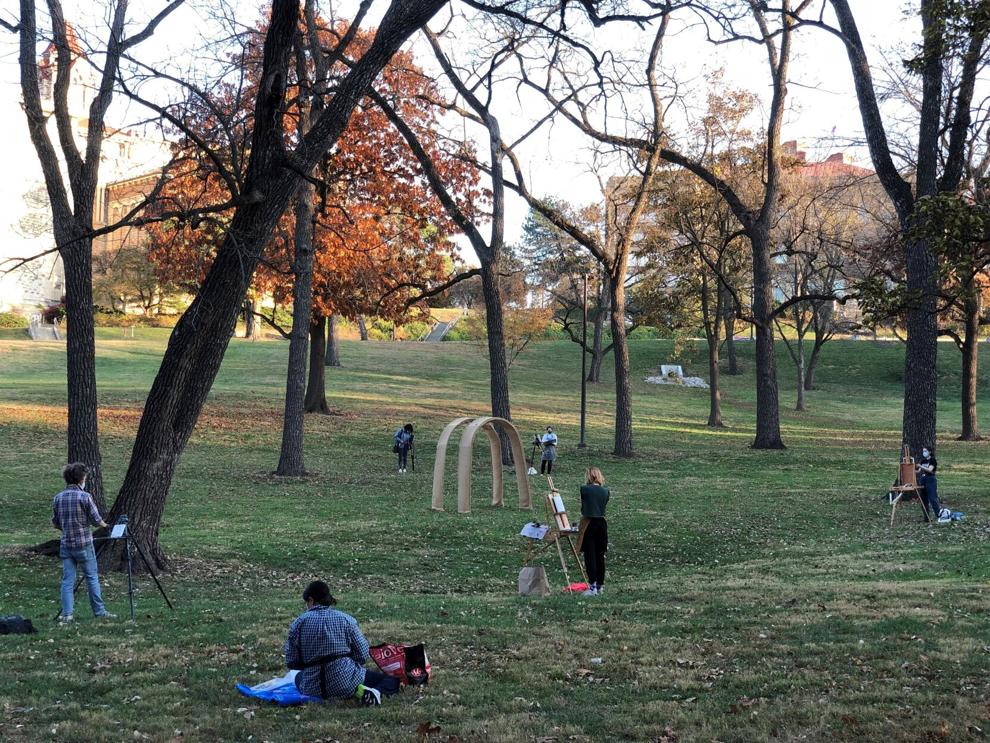 While not being able to meet has been the biggest COVID-19 drawback, McCaffrey says that another big issue has been reaching out to potential members. He visited some of the lower level classes to recruit students but says that COVID-19 has caused a challenge in gaining new members.
Sabine says the club plans on using the funds they receive from this event, provided by the museum's commission, to hire a visiting artist to do a studio visit over Zoom.