Fermentation specialist, food writer and DIY food activist Sandor Katz is visiting the University of Kansas this week as the Hall Center for the humanities' interdisciplinary scholar in residence to speak about his work with fermented foods. 
Katz said he always aims to make the topic of food and fermentation interdisciplinary because it lends itself to disciplines like microbiology, biology, sociology and anthropology. Microorganisms convert sugars in fermented foods to alcohol, making them rich in probiotics. Some fermented foods include yogurt, kombucha and sauerkraut. 
"I'm always trying to make the conversation interdisciplinary, so it's not just about the health benefits; it's not just about the flavors; it's not just about the traditions," Katz said.  
Katz is only the second interdisciplinary scholar in residence, a program started in 2018 that is funded by the Hall Family Foundation.
Sarah Bishop, the associate director of the Hall Center, said the Hall Center chooses an interdisciplinary scholar in residence who can connect to students and scholars across disciplines at the University and in the community.
"We're trying to find someone who can touch a lot of disciplines and relate to a lot disciplines," Bishop said.
Katz first started studying fermentation practices when he moved from New York to rural Tennessee where he started gardening, growing food and cooking. He doesn't have a formal background or education in culinary studies or microbiology, but he's learned from his more than 25 years of personal experiences with fermented foods.
As Katz started learning more about food and gardening, he said he was surprised when the cabbage in his garden was ready to pick at the same time and didn't know what to do with it all.
"I was such a naïve city kid," Katz said.
That's when Katz first started experimenting with fermented foods. He started making sauerkraut before moving on to making yogurt, sourdough starters and other fermented foods.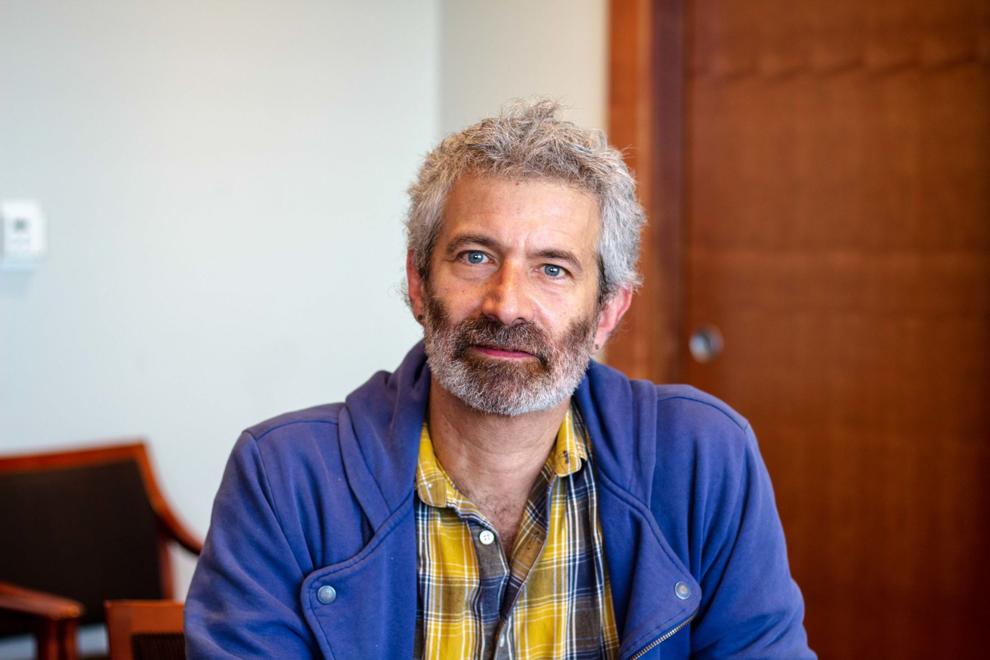 Katz said his time working with fermented foods has taught him some of their health benefits for others and himself. Fermented foods can help with digestive issues and can help boost the immune system, he said.
Katz also said he eats fermented foods for his own health and nutrition. He has been living with HIV for about 30 years and said it helps him with the digestive problems associated with the medication he takes daily.
There is no downside to incorporating fermented foods into one's diet, unlike the side effects for certain medications, he said. These foods may or may not address particular health problems, but they aren't going to kill you, Katz said.
"Many people's digestive problems would be improved if they incorporated these kinds of foods," Katz said.
Emily Ryan, the director of The Commons, unofficially nominated Katz for the scholar in residence. Ryan said she had considered inviting Katz for a previous event for The Commons, so she suggested his name to Bishop when the opportunity for the scholar in residence program came up.
"It became a perfect opportunity with the interdisciplinary scholar in residence," Ryan said.
Bishop said Katz's interdisciplinary work with food helps people see the humanities in a different way.
"I think so many people don't think of food and food history and food culture as being something that's in the humanities," Bishop said.
The Hall Center and The Commons, along with other sponsors, will host events around campus and Lawrence this week as part of the interdisciplinary scholar in residence program.
Katz will speak at the Lawrence Public Library tonight, Feb. 26, at 7 p.m. The Commons will also host a discussion with Katz, artist S.E. Nash and University professor of molecular biosciences Josie Chandler Thursday, Feb. 28, at 7 p.m. at Spooner Hall. Both events are free and open to the public.