Two unlikely subjects, art and science, have the ability to immerse someone into an alternative universe to question and analyze the problems and solutions that challenge our world in the past, present and future.
KU alumnus Justin Marable has recently delved into these concepts with an art exhibit that is entirely unique to the Lawrence Art Center. His exhibit, "Time-Shift Paradox," tells the story of time-traveling scholars and activists who take a journey through time in the hopes of positively changing history. The viewer walks through the time travelers' hideout, time machine, workshop and more. Each item tells part of the story and "was specifically picked out to fit the narrative and bring their personalities into the scenes," Bailey Marable, a jewelry maker and Justin's wife, said.
Throughout the exhibit are pieces of history that have been altered due to the time travelers' successful journeys into the past. A picture of the signing of the Declaration of Independence hangs on the wall, but was changed to include people of color and women. Next to it is a newspaper article that's titled "Martin King Wounded, Not Dead." These are just two examples of the small and intricate details that make up the exhibit.
"Printmaking is what I've done for the last 14 years," Justin said. "So the two-dimensional elements is also something I focused on."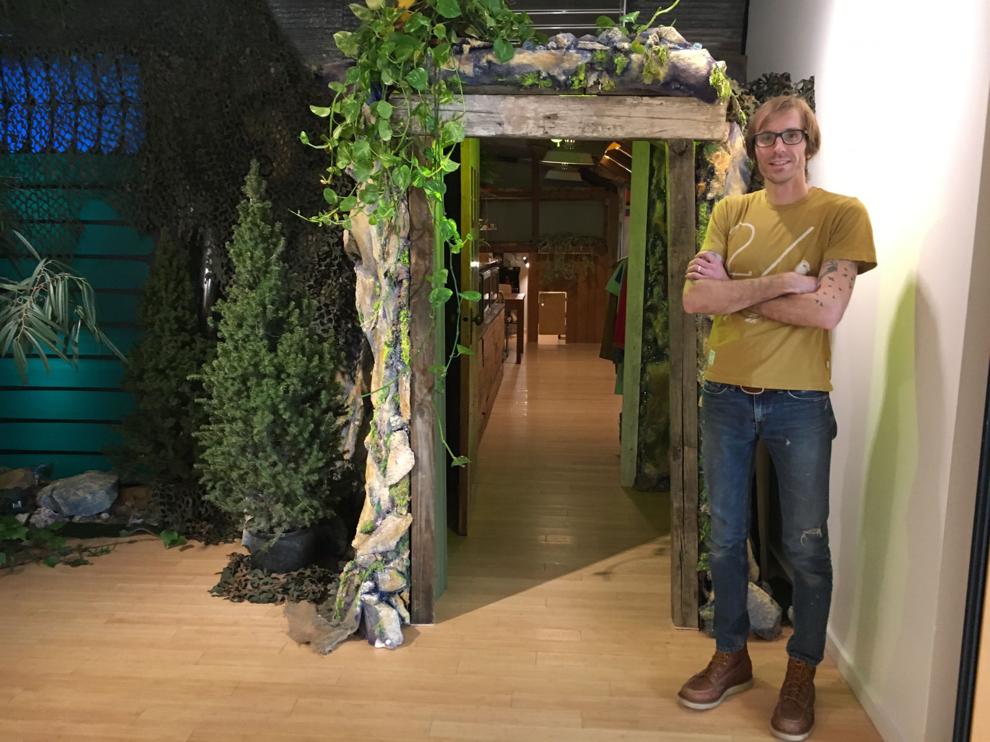 According to Justin, his influence for this exhibit was the 2016 presidential election, which made him want to be an activist for change. The exhibit was a way for him to speak about these problems in a unique way through storytelling and art.
"My highest goal is for people to want to make change in the world and be more involved in having some kind of impact on the present," Justin said. "I hope that people take away that there are a lot of things happening right now and if we are bold in the present moment that they can have the same effect of directing the future in the way we want to go."
Lawrence's off-the-beaten path art space, The Percolator, thinks of itself as a community space, a venue for activism and a open gallery for local artists of all types.
Justin worked on the exhibit for five months, day and night, to create this unique and immersive narrative through the use of two and three-dimensional objects and art.
"This was his turn to really step away from reality and do this amazing thing, art for the sake of art and creating change that is harder to do than a traditional 2-D piece of art," Bailey said.
His exhibit is meant to inspire creativity, according to Justin, while also opening the viewer's eyes to the possibility of change in the world by immersing the viewer into an imaginative universe.
"I think this is an ultimate experience of imagination, and I think it's important to experience," Justin said.