On June 24, Americans cried. While some had tears of happiness, others began to fear for the future.
After the overturn of Roe v. Wade, abortion laws are left up to the states. And on August 2, Kansans will decide. This unprecedented Supreme Court ruling inspired the Kansas Abortion Fund to host a showing of Tony award-winning Eve Ensler's play, "The Vagina Monologues."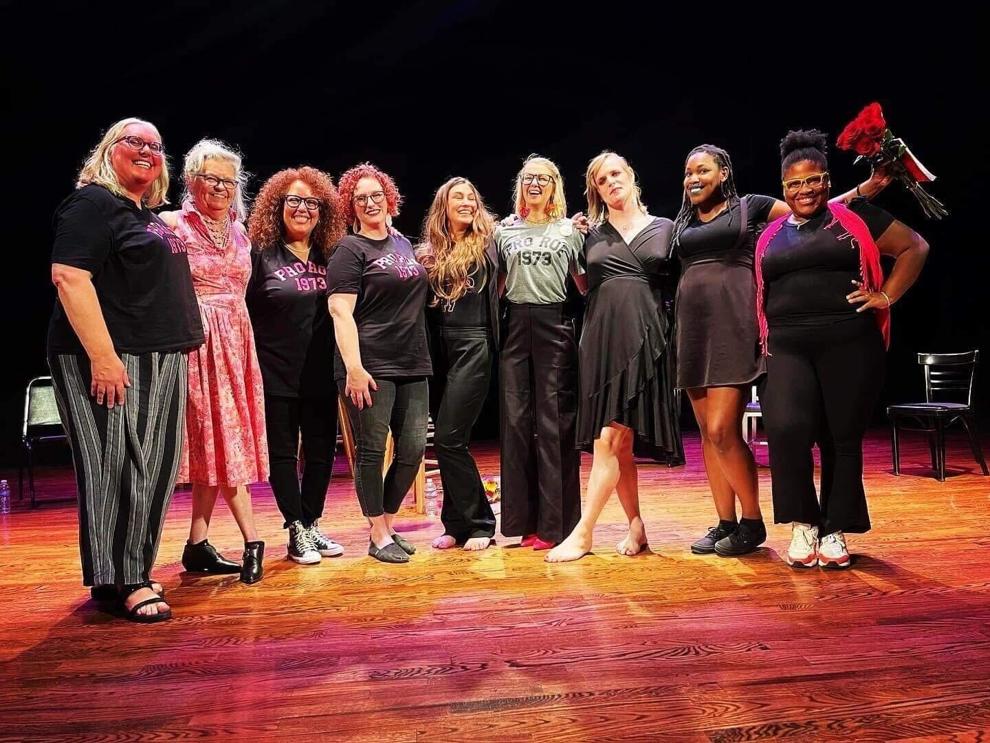 The 1996 play explores various women's issues and experiences regarding sexuality, reproductive rights, menstruation and assault. 
The event, performed last Wednesday at Liberty Hall, served as a fundraiser for the Kansas Abortion Fund and to spread the word for the upcoming vote on the Kansas No State Constitutional Right to Abortion and Legislative Power to Regulate Abortion Amendment.
Sandy Brown, the president of the Kansas Abortion Fund, said their mission is to help every Kansan access abortion services without financial obstacles. 
"Historically and today—unjust laws, abortion stigma, and deeply rooted health and economic inequities in this country have created barriers for people trying to access abortion," Brown said. 
Brown said she believes that as of now, Kansans have restrictions on abortion due to their economic status.
"For far too many Kansans, the ability to access an abortion is already based on their zip code and their income," Brown said. 
59-year-old Lawrence native Emmy Rivera performed two of Ensler's monologues, "My angry vagina" and "I was there in the room."
"It's an empowering show," Rivera said. "Working with this group of women, those on stage, and behind the curtains, was a magical experience." 
Though she said she enjoyed her time with the cast and crew, Rivera said she is appalled that legal abortion access is even up for debate.
"This whole thing is upsetting," Rivera said. "I just can't put it into words."
With her performance, Rivera planned to take her activism beyond the August 2 amendment by addressing the stigma surrounding female anatomy.
"It always amazes me to watch an audience at a standup show, half filled with women, laugh through a night full of dick jokes, yet wince, or get up to go to the bathroom, at the mere mention of a vagina," Rivera said.
And Rivera said she's had enough.
"We need to stop, stopping women from feeling free to talk about their vaginas," Rivera said.
Local comedian and poet Kimberly Ann Stiles performed a monologue in the play. As a transgender woman, Stiles said the focus of her performance wasn't on female anatomy. 
"It's about womanhood and femininity in general, which isn't reserved solely for those who happen to be born with vaginas," Stiles said. 
She said she is worried that Kansas legislature is not going to stop at just abortions. 
"This is the beginning of powers that be will destroy the vestiges we have of control over our bodies, abortions, hormone replacement therapy, or birth control," Stiles said.
Along with raising abortion funds and sparking a conversation about the Kansas No State Constitutional Right to Abortion and Legislative Power to Regulate Abortion Amendment, Brown also wants voters to know that "their bodily autonomy is at stake in the upcoming vote on August 2."
"Let's be clear, abortion access is on the ballot in Kansas," Brown said. "The anti-abortion zealots in the Kansas legislature are prepared to put a complete ban on abortion, if the amendment passes; forced pregnancy takes away a person's human right to control their body and their future."
You can check to see if you're registered to vote in Kansas on the Kansas Secretary of State's website. Polls close at 7 p.m. today.