Camp Kesem, a summer camp for children and teens who have been affected by their parents or guardian's cancer, was forced to operate online this year due to the coronavirus pandemic.
The camp operates with chapters across the nation, but there is only one in Kansas that provides year-round support to children and families. The summer camp event was originally scheduled for May, but concluded its week-long online activities the week of June 21. 
Camp Kesem Programming Director Shane Smith, a KU information studies graduate from Independence, Missouri, has been a part of the Kesem Kansas chapter for four years. He said being involved with Kesem was one of his favorite college experiences.
"[Kesem is] really about supporting the kids and getting them into this space to connect and have fun because they take on so many responsibilities," Smith said. "Many of these kids are having to grow up sooner than their peers."
The camp is free to anybody between the ages of 6 to 18, and who may have a parent or guardian that has died from cancer, has treatment or is in remission.
The online camp consisted of five days of virtual programming via Zoom where families could choose to participate in various activities throughout the day. 
In the morning, there was a full-camp activity, such as making pancakes together or playing a game. In the evening, campers would have cabin chats where they'd discuss their day and have open conversations.
Afterwards, they would split off into different units grouped by age at various times throughout the day where they would host dance parties, talent shows and camp songs over Zoom.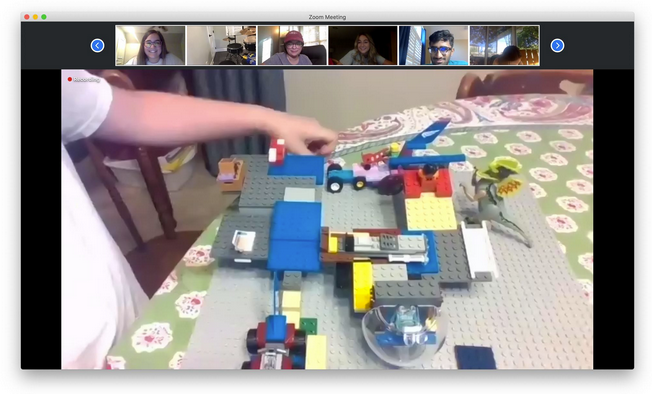 "The talent show was a huge hit," Smith said. "We got to see some talents that we wouldn't have at camp. Someone showed off their garden."
Though it is not a therapy camp, Kesem provides its kids with an opportunity to speak about their experiences with cancer during an activity known as "Empowerment."
"We really open up that conversation with them if they want to talk about it," Smith said. "So we kept that for our virtual programming to be able to provide the opportunity to connect, and lift each other up."
Smith said overall, the camp was a success. Though it wasn't the same, everyone was still able to benefit from it.
"The feedback they got was it went really well, exceeded expectations for our families, campers and our volunteers," Smith said. "They still felt the Kesem magic even though we had to adapt our programming," 
Ryan Mohamadi, a Lawrence native, is the co-director of the Kansas chapter of Camp Kesem. Once Kesem made the decision in March to go online, its management was tasked with figuring out how to provide for their campers.
"Obviously, COVID did happen. But, you know our campers they still need us, in a sense, even more now, with all the uncertainty going around outside," Mohamadi said.
One of the phrases Mohamadi and the Kesem community use to describe the energy of the camp is "Kesem Magic." In fact, the word "Kesem" means "magic" in Hebrew.
Mohamadi said he worked to keep the magic alive, though creating the virtual camp was a bigger challenge than he imagined. 
"Operations had the whole camp scheduled and figured out in January," Mohamadi said. "Having to scrap that and design a whole new camp schedule in a matter of 20 days was a big undertaking."
Mohamadi said accessibility was very important when designing the camp because not every camper had consistent internet and computer access. Because of this, Mohamadi and a team of volunteers created and delivered kits containing items used for many of the activities conducted during camp. The kit included a cardboard box, cotton ball and paper to make craft s'mores for a virtual campfire.
Vinay Thiagarajan, a junior biochemistry major from Overland Park, said he thought Camp Kesem adapted well despite the pandemic. 
"Virtual camp was a new experience for everyone, and I think the role of counselors was especially important to let the campers know that they are not alone and that we will always be there for them," Thiagarajan said.  
Thiagarajan said Kesem is especially important amid the pandemic because many families are already immunocompromised. This creates a heightened sense of awareness and community.
"This pandemic has made everything very difficult, placing people in very tough situations," Thiagarajan said. "During this time, while everyone is feeling isolated from one another, Camp Kesem lets the campers know that they are not alone and that they will always have the support of the Kesem family."