When the lights came up at the 2019 Norman Nachle national competition for Bollywood dance, the audience saw University of Kansas students dressed in "Harry Potter" themed clothing with ties, sweater vests, leggings and no shoes. Quidditch goal posts lined the back curtain with the Hufflepuff, Gryffindor, Slytherin and Ravenclaw crests hanging above.
KU Jeeva, a Bollywood-fusion dance team performed its Harry Potter-themed number at the 2019 University of Oklahoma Norman Nachle national competition for Bollywood dance teams in Norman, Oklahoma. Following tryouts last semester, the team is now preparing for the upcoming competition season. 
KU Jeeva has combined Bhangra, hip-hop, Bharatanatyam, modern, contemporary and Bollywood dance styles for 12 years to create original dances. The team competes around the country in tournaments and competitions and is the only Bollywood-fusion team in Kansas.
"When I got to college, I didn't think I would do the team because I didn't think I was the best dancer," said co-captain Nehal Sutariya, a senior from Parkville, Missouri. "I thought it would just be more stress on myself but I couldn't have been more wrong."
Sutariya started as a manager her first year so she could get more comfortable with it. Her second year, she tried out and made the team.
Co-captain Srishti Sharma, a senior from Overland Park, said she has been doing Bollywood-style dancing since she was 5 years old. She said the style of dancing she grew up with was similar to Bollywood fusion and incorporated modern dancing aspects.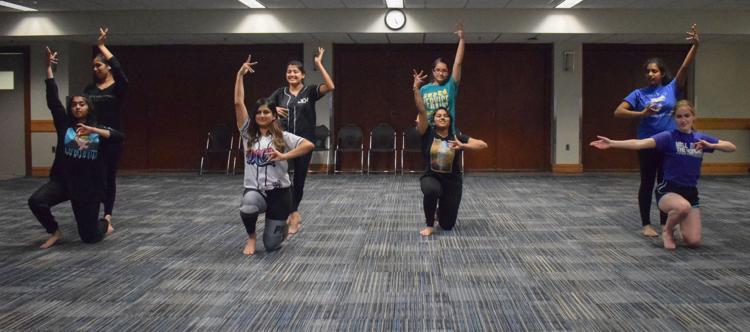 "Over the last four years, I've seen [the team] grow a lot and become more known," Sharma said. "People often think this is just an Indian team, but that's not true. We have people of all backgrounds, races and ethnicities."
Sharma said the team's diversity is essential because it allows them to learn about different cultures and incorporate them into choreography. She said their competitions have different themes, and diversity helps them bring in fresh ideas.
"With our theme, we have to tell the story through dance and short voiceovers in between each piece," Sutariya said. "If it's a powerful scene we will incorporate Bhangra, as it's a very powerful Indian dance form, and if it's a sad scene, we will dance contemporary to really get the audience feeling what we are feeling in that scene."
The team said it choreographs its own dances because it is most aware of its own stylistic capabilities. Sutariya and Sharma said they try to include every team member's individual talents and strengths as best as they can.
The team has performed in the competitive circuit and has been active in the Kansas community, performing at talent shows and cultural galas. Last year, they placed third at the 2019 University of Oklahoma Norman Nachle competition.
"We've met some of the best people at these competitions," Sharma said. "This is such a unique opportunity and something you can't really put into words."
Although Jeeva can be a time-consuming activity, both co-captains said they believe it's all worth it.
"I hope the dancers on the team learn that college is more than just studying and books," Sutariya said. "[College] is also about finding who you are as a person and what you want in your life. Jeeva has taught me that."
The next Jeeva competition is at the end of February in Louisville, Kentucky. The team is also preparing for the Holi and Bollywood Bash. Dates are not finalized but they will be posted on KU Jeeva's Facebook and Instagram.