University of Kansas a cappella group Crimson and Blues will compete this Saturday at the International Championship of Collegiate A Cappella quarterfinals. The event, which will be hosted by Varsity Vocals, can be live streamed via YouTube starting at 7 p.m. CST. 
This isn't the group's first competition experience: Crimson and Blues has found success with ICCA in the past. For two consecutive years, they were ranked the #1 collegiate a cappella group in Kansas, and last year members Darren Boydston and Ariana Stein won Best Vocal Arrangement in the Southwest Region Quarterfinal. 
This Saturday marks the first competition of the 2020-2021 school year. Crimson and Blues will compete in the midwest section for a spot in the ICCA semifinals. Rather than performing a live set, all groups must submit a studio-produced music video for the judges to evaluate. 
Crimson and Blues social media director and KU senior Marinne Lilly helped the group put together its music video. All 18 members of the group recorded their parts individually. Boydston, treasurer and head music arranger for the group, put the clips together for the final product, which he compared to the gallery view in Zoom.
Because of the new competition format, ICCA judging guidelines have changed. In past years, groups were evaluated solely based on music and choreography, but this year contestants will be judged less on pitch and more on creativity of the music video.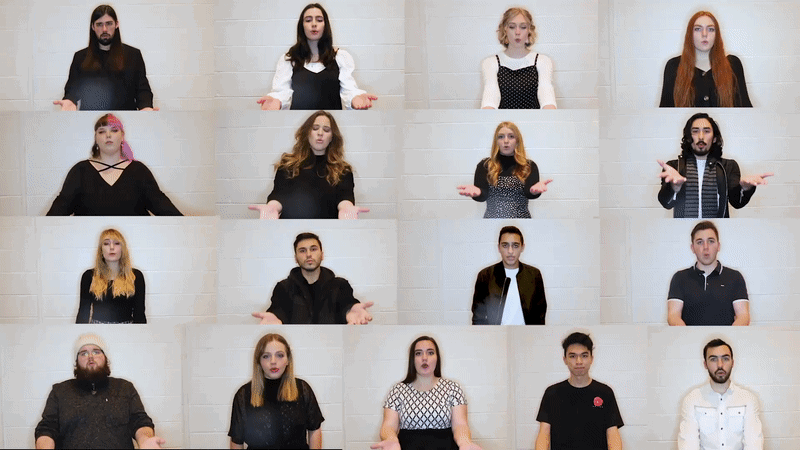 The virtual format has left members with new feelings about the competition. 
"We are all ready to relax and enjoy the competition in a way we haven't experienced before," Stein said. 
Music director and KU junior Samuel Ross said there are pros and cons of a virtual competition. 
"As a performer I do enjoy that feeling of nervousness, that feeling of anticipation," Ross said. "With having pre-recorded performances this year, that live pre-show anticipation isn't quite the same."
Although ICCA rules prohibit contestants from discussing set lists prior to the competition, Boydston said the group put a lot of time and effort into it. 
"We've been preparing for the competition since the beginning of the semester, really," Boydston said.
The competition begins Saturday, March 13 at 7 p.m.