University of Kansas alumna Nicola Ginzel didn't take an art class until she was 22. Now, she has received a Fulbright U.S. Scholar grant to pursue her art in Vienna, Austria, next March.
"I feel extraordinarily honored," Ginzel said. "I think it really stands on the project."
The Fulbright Scholar grant will enable Ginzel to complete a residency with Q21 Art-in Residency Studios Program at the Museum Quartier in Vienna, Austria. The Fulbright Scholar Program is a federal program that awards thousands of grants to professionals, artists, scientists and independent scholars, among others to conduct research, teach, study or show their expertise and talents abroad.  
She will complete her residency and do a collaborative art project with Lichttapete, an Austrian Art Collective. Ginzel will work with the midsection of a tree trunk that is under glass and embedded into the side of the Palais Equitable, a building in the center of Vienna. The tree is a "Nail Tree" talisman that dates back to the middle ages. It has hundreds of nails that have been pounded into it that stand for healing protection, and it's regarded as a historic landmark.
For the project, Ginzel will project light onto the building behind the tree to make it appear as if it's growing upward, shifting the energy of the building.
Ginzel said the project and residency will allow both herself and those at Lichttapete to learn from each other. She will be working in digital art, which is something she said she's never really done before.
"It's bound to bring something else to the table for me as I'm going through this process," Ginzel said. "It's bound to sow seeds in places that I don't necessarily expect in my own work and how I go about doing things."
Ginzel graduated from the University in 1995 with a BFA in printmaking. She originally received her degree in German language and literature but returned to the University to finish the studio classes for her degree in art. After teaching German in junior high school for a time, Ginzel took her first art class that encouraged her to pursue art.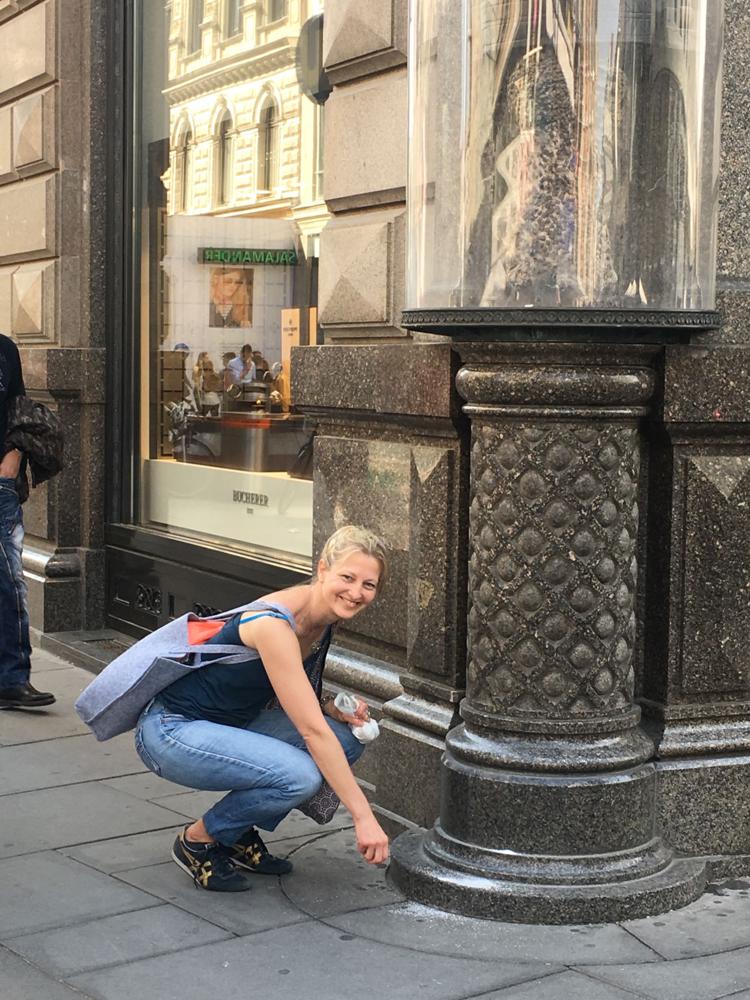 "I just thought, 'Wow. This feels like home'," Ginzel said. "It felt like art was mine."
Ginzel said she usually works on a smaller scale with her artwork, so this large-scale light projection project will be a first for her. She instead works closely by hand with materials that are often thrown away or discarded. For one work, she transformed an Utz potato chip wrapper into art.
Former University professor of art Cima Katz taught Ginzel in some of her studio classes while she attended the University. She said Ginzel "never was a follower of trends" and found her own materials to use in her art.
Katz said she sees remnants of the work Ginzel did as a student artist in her work now.
"I think she's very invested in the idea of using throwaway objects, and then in the transformation, she makes them precious," Katz said.
Katz said Ginzel works very closely with the objects and can tell they hold personal meaning for Ginzel.
"She becomes very physically intimate with those objects by the work she's doing with them and the time she spends with them," Katz said. "I think that that intimacy becomes embedded in the work, and it's something that the viewer feels."
Ginzel's work is all about transformation — taking an object that already exists and making it into something else. She often works between ephemerality and permanence.
Ginzel's Fulbright Scholar grant is well deserved, Katz said, and she's interested to see where it will take her work.
"She's right on the cusp of an important career," Katz said.