How do we live with each other and not against each other? That is the question University graduate and filmmaker Christina Hodel aims to answer with her newest documentary "Freedom, Love, Gold."
Hodel's upcoming documentary follows the story of Frederick and Katherine Tarnay, along with their three children, in the final days of World War II.
According to Hodel, Hungary's treasury and 500 of the treasury's family members were spared from destruction at the hands of Nazis due to the actions of the Tarnay family.
The three Tarnay children, now adults living in Southern California, star in this true story of surviving the three-month-long, 350-mile journey on the "gold train" from Budapest, Hungary, to Spital am Phryn, Austria.
"The goal of this film is to better understand how any nation — whether in the past or present — can be so politically divided," Hodel said. "The significance of the film is that it offers a blueprint for unity."
Hodel attended the University from the fall of 2011 to the spring of 2016, officially graduating in spring 2017. During her time at the University, she was a PhD student in the Department of Film and Media Studies, and earned a graduate certificate in Women, Gender, and Sexuality Studies. Hodel said she often finds herself looking to make films about strong female characters. This fascination with such personas led her to the story of the matriarch of the Tarnay family.
While Frederick stayed behind in Budapest to manage what was left of the bank, Katherine was left on the train to organize 500 women and children, three of her own children and the contents of the Hungarian Treasury. When Frederick would get permission to tell his wife to move the train forward, he would do so via coded love letters. Katherine would decipher the messages and alert the train engineer when and how far to move the train on the next leg of the trip.
"Hollywood doesn't make enough stories about women like Mrs. Tarnay," Hodel said. "Her stories and others like it have not only have been proven to sell, but they are stories that show women's power, strength, and multiplicity — something that the world needs more of."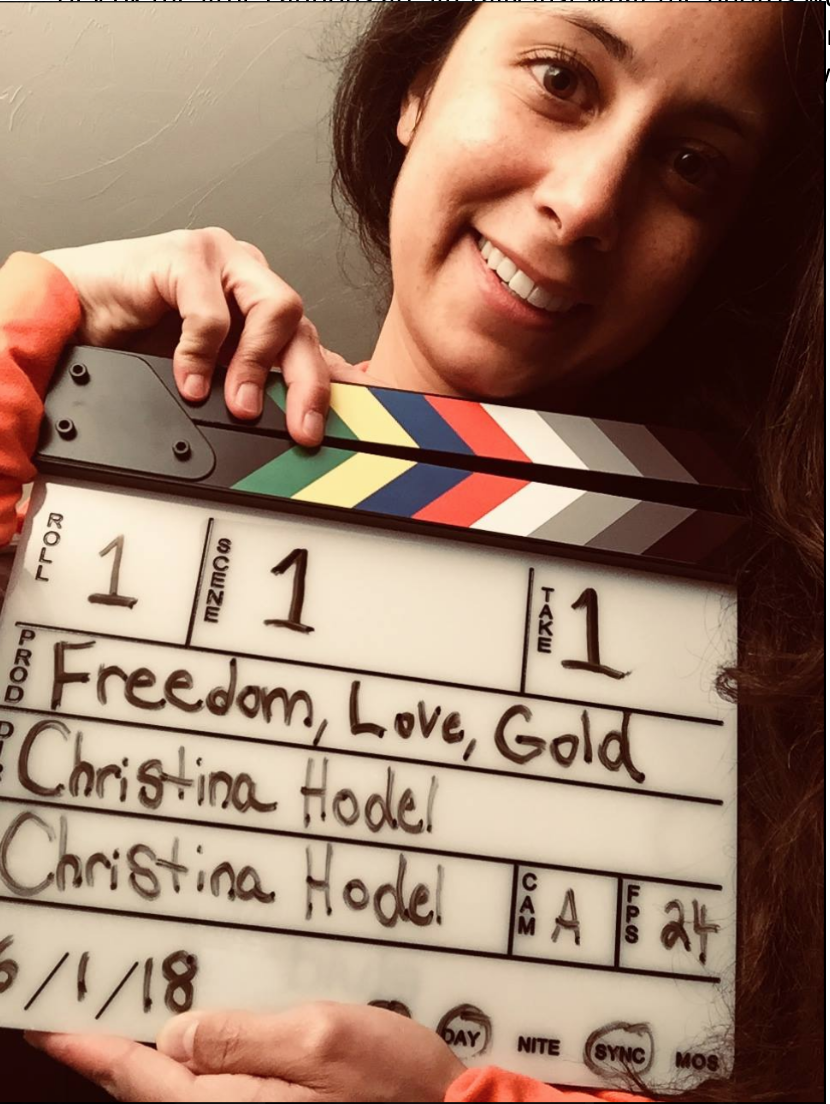 "Freedom, Love, Gold" is Hodel's fifteenth film and fourth documentary. This piece is unprecedented for Hodel in that she does not make an appearance.
"Ordinarily, I write, direct, produce, edit and star in my own fictional films," Hodel said. "This time, however, I do not even make a cameo appearance or voice-over. In addition to not appearing in the film, the subject matter is different than what I usually tackle, but shares some similarities to my past work."
After taking a karate class under the direction of one of the Tarnay brothers, Hodel found herself sharing family immigration stories with him. She said this initial discussion sparked her interest in producing the documentary.
"Once I heard the story and read the accompanying text, I knew I had Hollywood gold in my hands: perfect three-act structure, intense drama, romance, exotic locals, heroes, action, happy endings," Hodel said. "Everything needed for a big screen hit was there."
Among the most challenging aspects of the films' production has been narrowing down what footage to use, according to Hodel.
"I shot a lot of beautiful images both in the states and abroad," Hodel said. "However, figuring out which images to choose and when to use them has kept me in the editing room for a while. I want the audience to feel the excitement, adventure, love, and fear the subjects felt when they were on the train."
University of Kansas professor, actress and filmmaker Laura Kirk spoke at the Free State Festival on Friday about the influence of women in early film.
Hodel credits her understanding of cinematography to KU professor Matt Jacobson, who taught Basic Video Production and Cinematography courses, in which Hodel served as graduate teaching assistant.
"I learned a lot from being a GTA in his courses and assisting him in classes got me interested in lighting and lenses," Hodel said. "I am currently a Professor of Digital Filmmaking at Bridgewater State University and was awarded the University's most prestigious grant to make 'Freedom, Love, Gold.' The first thing I did with my funding was purchases a set of prime lenses."
One characteristic of Hodel that Jacobson said made her especially enjoyable to work with was the attention she paid to her choices in cinematography.
"Cinematography is key to the entire cinematic experience — it's the thing that makes movies movies," Jacobson said. "It's the ability to create a narrative visually."
Jacobson said he is glad to hear Hodel has kept up with production, as it gives her an edge in teaching she would not have if she focused solely on film study.
"She was very interested in incorporating production, even when she was working on her final paper as a graduate student," Jacobson said. "I think Christina really has the ability to teach either or both."
Hodel is currently in her second year of her assistant professorship at Bridgewater State University, which she said she finds rewarding.
Hodel said she will likely continue further down her current path in the future, never straying too far from filmmaking.
"I have some ideas I'm developing for other documentaries and am finishing a feature-length screenplay that I plan to direct," Hodel said. "For now, I will enjoy my new career in academia as I keep one foot in Hollywood's door."