When "Untitled (Flag 2)" by Josephine Meckseper was taken down by campus officials and moved to the Spencer Museum of Art after a surplus of government officials reacted with disdain, Joe Hams felt that these government officials were censoring free speech and ending the conversation. Since then, he's stood outside of Spooner Hall every day to ask other students and residents of Lawrence their own thoughts on what it truly means to desecrate the flag. 
"We're just flooded and drenched in flags all the time without people really thinking about what it means. So, that's why the past few days I've been asking, what does it mean for other people?" Hams said.
Hams, a graduate student at KU studying counseling psychology from Lincoln, Nebraska, first saw coverage in Campus Reform the day the flag was taken down.
"I knew based on the school where I came from that this was going to blow up and it was probably going to be removed today. I came out, it was like 4:30 p.m. and it was gone," Hams said.
At the time, he'd been carrying a sign that read, "A flag flown correctly. Finally!" in support of "the artistic expression of the flag," he explained.
Now, he's traded his original sign for two long, white boards. One is a question that changes every day, that asks those who participate an ethical question about how they view the flag. The other reads, "Do any of these images show flag desecration?" and depicts seven images and a column that reads, "None."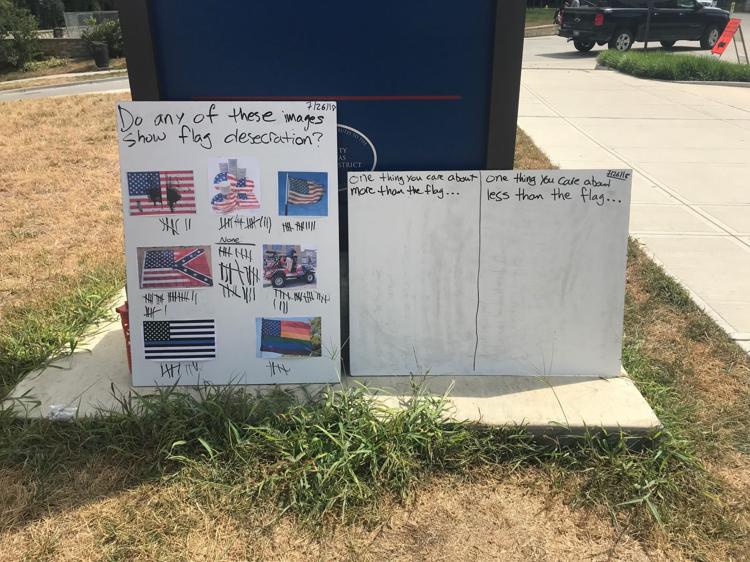 Those willing to participate are asked to tally beneath the image they believe is desecrating the flag. Hams doesn't engage in discussion over the matter until afterwards, as he doesn't want his own opinion to sway what that person marks, and wants to genuinely understand where the participant is coming from.
"We respect and welcome continued discussion of the artwork 'Untitled (Flag 2)' by Josephine Meckseper, now on display inside the Spencer Museum of Art," a statement from the Spencer Museum of Art, the KU Biodiversity Institute, Hall Center of Humanities and the Commons said in a press release closer to the incident.
Hams aims to further promote this discussion, and to challenge people to think in the eyes of how the flag could possibly be perceived abroad or for other people.
"I'm just trying to get people to not only think, 'Okay, I love the flag because it benefits me.' I want them to think, 'The flag means different things for different people,'" Hams said. 
He also wants to ask participants about what they believe desecration means. 
"You can only desecrate a sacred object. What the implications are when we have elevated the flag to a sacred level? What does that do?" Hams said.
For Hams, a prior experience at the University of Nebraska-Lincoln helped inspire him to start the project, when a graduate teaching assistant was re-assigned after a video surfaced of her calling a student a "neo-fascist." The governor of Nebraska, Pete Ricketts, had also stepped in, similar to how Kansas government officials had intervened with "Untitled (Flag 2)" being flown on campus.
"The reason the grad student story kept going was because people tried to do this — they just kept trying to talk about it," Hams said. "That's what I'm trying to do. Some good things happened in regards to that story, because people talked about it." 
Currently, Hams is posting regular updates of the project on his Instagram and on his Facebook for other people to engage with.
Michael Swain contributed to this report.