It doesn't take long to figure out that University of Kansas senior Grant Butler is an enthusiastic music fan, especially once you walk into his dorm room. 
On one side of the room is a plethora of concert posters with artists, such as J.I.D., Bas, Sydny August and others who have recently performed in Lawrence. In the center of the room, there's only a desk and a laptop — where the magic happens. 
In the background, he's playing a new beat he made the night before that samples Kanye West lyrics and a jazz beat that somehow mesh together as if they weren't two separate songs. It's the same skill that's heard on his most recent track "flywy," which released last month.
During the day, Butler is a business major studying information systems, but at night he's — according to his Instagram bio — a "slightly above average producer" who uses his memory to decide which parts of songs fit together on a beat. It's a passion that he developed his freshman year at the University while managing the heavy workload of being an engineering major. 
"It's a really good creative outlet," Butler said. "I wanted to get involved with it after listening to lo-fi hip-hop beats on YouTube [for] pretty much all of my freshman year to keep my sanity together while being an engineering student." 
During the summer after his freshman year, Butler released his first track "ZS." It garnered more than 5,000 listens on SoundCloud. The track has a soothing vibe that's uncharacteristic compared to his most recent tracks, which boast a perfect blend of hip-hop and jazz. Butler said the track's subtle sound is a testament to trial and error. He learned which production software works best for his desired sound, prompting him to switch from using GarageBand to FL Studio.
Butler said FL Studio is the most effective software for him and helped him go from making beats once every couple of months to making beats almost every day.
"I try to touch this thing like every day just for familiarity," Butler said. "I don't ever want to lose it, so it's usually just once a day, even if I'm making a drum loop or something like that." 
After his freshman year, Butler became more serious about his production skills, along with having a clearer sense of direction for his career. He changed his major from engineering to business after the first semester of his sophomore year. 
"For me, there wasn't any straying from that path," Butler said. "I was always doing engineering in high school and was okay with it. Then, I came to college and everybody was really good at it. I was working hard at it for that first semester after I got that reality check, but it just wasn't for me."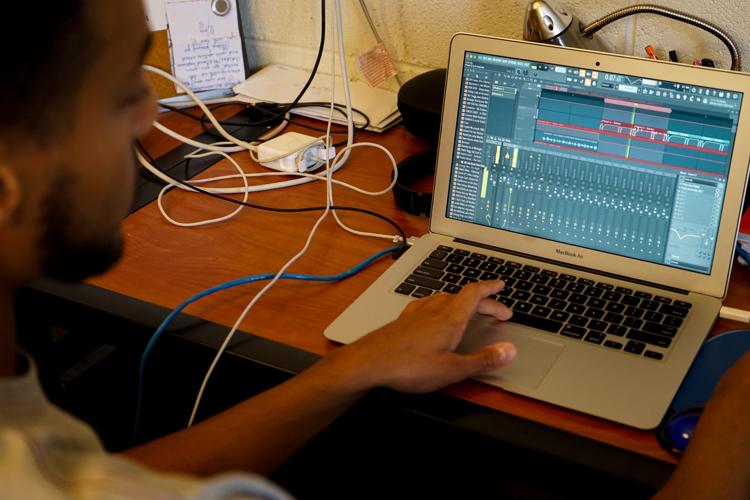 Butler has released 14 tracks since then, including his first beat tape. He also creates videos for tracks he produces. 
Sierra Waters, a junior at the University and a friend of Butler's, said she was impressed with Butler's beats and videos, although she had her doubts when she was first introduced to his music. 
"He played me a beat, and I actually liked it," Waters said. "His style of beat making is very lo-fi. It's just very soothing, especially when he does the graphics with it. It's very chill and relaxed at the same time. It's a whole vibe."
Hip-hop and orchestral jazz are the main two genres heard throughout Butler's music. He said 9th Wonder is his favorite rap producer to listen to. "Honey" by Erykah Badu, which was produced by 9th Wonder, is one of his favorite beats.
"I listen to producers more than actual rappers," Butler said. "I listen to a lot of J Dilla and 9th Wonder. There's a show on YouTube called 'Rhythm Roulette' where you go into a record store and pick three records you have to make beats from, and his [episode] was ridiculous. I watch it at least every two weeks because it's insane the things he pulls out of a record and puts drums and bass over it and turns it into something totally new with the beat."
Although Butler hasn't produced for artists outside of his friend group, he said he wants to make his goal a reality very soon.
"I think that's something I really want to accomplish this year," Butler said. "Even if you have to pay a certain amount of money, just having somebody that's not like Kanye West from 10 years ago on a song would be really nice."