Studio 804 is a nonprofit corporation associated with the University of Kansas Department of Architecture that offers graduate students in their final year the opportunity to design and construct their own building in its entirety. Each project is funded with the earnings from the sale of the previous year's building and other miscellaneous donations. 
On June 27, Studio 804 students showed off the creation of their house at 722 Ash St., a property that borders the Levee Trail in north Lawrence. This home is being listed at just under $500,000. 
The design of the home allows for two different residences to live in their own private headquarters, but the spaces still remain attached by a multi-functional storage unit.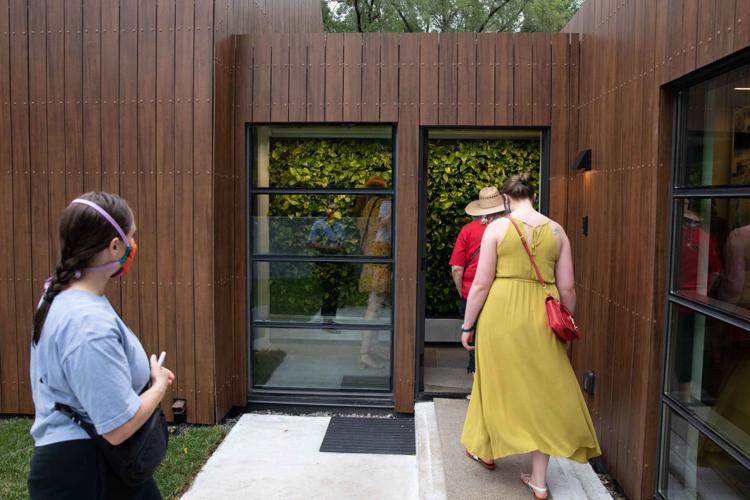 The primary living quarters is 1,500 square feet, complete with two bedrooms, one and a half bathrooms, a full kitchen and a living space. The accessory dwelling unit is an additional 500 square feet of space that functions similarly to a studio apartment with a wet bar, full bath and flex space. 
The home was built on a R7 zone property, meaning that the owner of the home can earn income by renting out certain areas of their home, in this case the accessory dwelling unit.
This year's Studio 804 team is hoping to earn Leadership in Energy and Environmental Design, also known as LEED, Platinum certification on their building, the highest and most technical standard of sustainability in the United States. Platinum status has been achieved on 15 of the 25 completed Studio 804 projects, said Dan Rockhill, Executive Director of Studio 804. 
"Every project that we do we aspire to LEED Platinum, I never assume that it's going to be something that is easy and it's actually pretty complicated," Rockhill said.
A unique feature of the home that contributes to its high level of sustainability is the rain screen made of fundermax, a recycled wood-like material from Austria, which helps to keep water out of the house and drain out into the Lawrence Levee, said Maddy Irwin, a graduate student from Kansas City, Missouri, who was the mechanical lead of the project.
This year's open house was originally scheduled for May 16, the day before the official commencement ceremony. However, work was not able to resume until the governor opened the state back up in May resulting in seven weeks of lost time, said Abbie Ford, a graduate student who was the lead of sustainability. 
Due to the pandemic and other outside obligations, only 16 of the original 21 members were able to return to the site to finish work. 
Upon returning, the team hit the ground running and made plans to finish the project by the end of June, said Kelly Schorn, a graduate student from Fort Worth, Texas, who was responsible for the outside exterior of the home.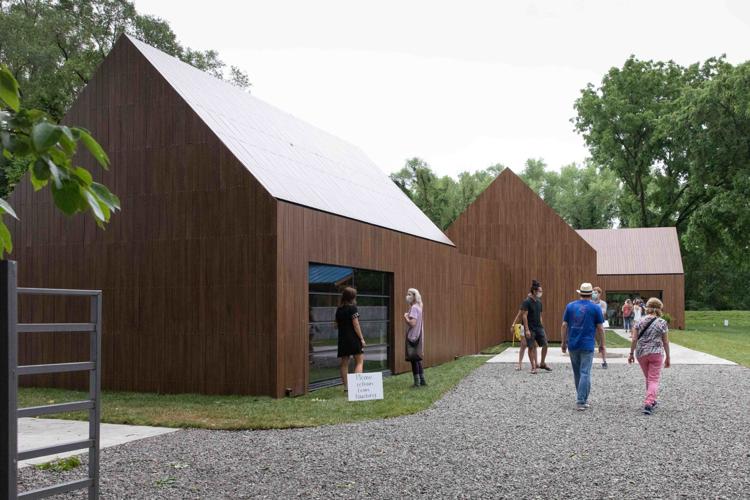 "The dynamic of the group this year was especially strong and I think that I owe it to that dynamic for the success of the project," Rockhill said. 
LEED officials are planning to visit the site this week to test the overall sustainability of the structure and determine whether or not this year's team achieved the Platinum certification that they aspired for. 
"It's an amazing thing for our program to be able to show off, because there is really no other architecture firm in the country that has won as many residential awards as this program has and it's done by students," said Joe Colistra, Department Chair of the School of Architecture and Design.
The students who work on Studio 804 projects say they gain more than just industry experience.
"We have all been given this ability to just have confidence that we can figure things out like If we are approaching a problem and we don't know how to do something, I think we are all very capable now of being like 'okay let's research, let me figure this out', because that's sort of how we had to approach this whole project," Schorn said.