For more than 40 years, Sunflower Outdoor and Bike Shop has resided in Lawrence. It started as an army-navy surplus store in 1971 and moved to what it is today: one of America's Best Bike Shops, according to the National Bicycle Dealers Association.
This year marks the seventh year of the America's Best Bike Shop list and the seventh time the bike shop located at 804 Massachusetts St. has made the list. Dan Hughes, co-owner of Sunflower, said the list helps the bike shop to continue to pedal ahead.
"I think there are a few shops around the country, probably less than a handful, that have been on it every year, and all seven years the Sunflower has been fortunate enough to be on that list," Hughes said. "For us, it's an opportunity to not only review what we are doing as a business, but also to have people check us on it."
To be considered for the award, the shop must check requirements off of a standards list with things such as shop layout, store traffic and extra store events. The strict requirements bring Sunflower in as one of four shops in Kansas to win the award in 2019.  
The shop has expanded over the years to cover outdoor activities, such as camping, backpacking and rock climbing, but at its roots, it has always been a bike shop. 
"I think our mainstays in the bike shop at this point are probably gravel bikes and mountain bikes and all the things that support that," Hughes said. "Then every once in a while somebody will come along and want to buy a five-figure time trial bike."
Charles Hughes, Dan's son, has been working at his father's shop for around a year but said he unofficially started three years ago when he was put on stock duty in the back room. He has grown up surrounded by bikes and gear. 
"I definitely feel like there's a lot more connection between the employees and the customers [than] other stores or other retail establishments," Charles said. "We're on a first name basis with a lot of our customers, and all the employees hang outside of work."
At the core of the company, Sunflower wants to provide experiences for those who want to get outside.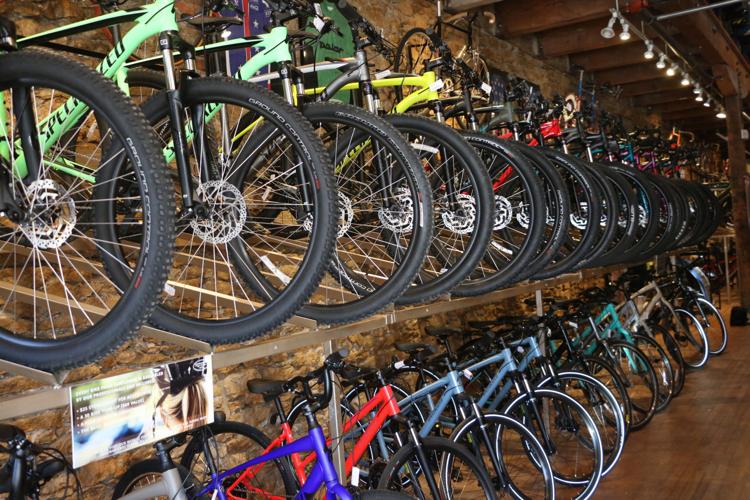 "What we're selling is the idea that somebody comes in and they buy a bike, and the bike is the thing that gets them out on the trail and riding a trail," Dan said. "Or they buy a gravel bike and that bike is the thing that gets them to compete in a gravel race that they never thought they could do, right." 
Doug Platz, an employee of almost two years, said this aspect is his favorite part of working at Sunflower. 
"Just talking to people about their adventures and that type of thing, it's probably my favorite part of it," Platz said. 
Dan said he feels the same way, aligning his store and employees to love the customers, to add value to transactions and to constantly improve. 
"Selling those experiences and being part of those experiences, being able to share that with those customers, that's probably what motivates me and gets me excited," Dan said. 
Sunflower Outdoor and Bike Shop is open Monday through Friday from 11 a.m. to 7 p.m., Saturdays from 10 a.m. to 7 p.m. and Sundays from noon to 6 p.m.