Amid closures and social distancing due to COVID-19, Lawrence bookstores are finding creative ways to stay open and keep books flowing into the community. Delivery and pickup services have become the new method for locals to get their literary fix. 
Danny Caine, owner of The Raven Book Store, located at 6 E. Seventh St., is keeping his staff busy and safe during the wave of shutdowns. To mitigate the effects of social distancing, The Raven is offering free in-town delivery, $1 shipping for domestic orders and in-store pickup for special orders. 
"The phone's been ringing off the hook," Caine said. "My goal is to keep all of my employees on board at their full rate, at their full hours for as long as we can. We have been able to do that so far with online sales." 
If you are brave enough to pick up your favorite best-seller in person, there are barriers within the store itself which enforce the CDC recommended 6-foot distance to avoid close contact. 
"People need books. It's a great way to help with being bored and stuck at home. We're happy to provide them as long as people are happy supporting us. If we can all keep supporting each other, we'll emerge on the other side of this just fine," Caine said.
On the curb outside their store, The Raven has a selection of free books donated by the Lawrence Public Library, while supplies last. 
Around the corner from The Raven, The Dusty Bookshelf, located at 708 Massachusetts St., is closing its storefront and limiting hours to Monday through Friday from 12 p.m. to 5 p.m. for those who want to pick up a book outside the store. Store manager Manda Barker is handling the change in stride.
"At this time, whether it is good or bad for business, it is a responsible thing to do to limit our physical interactions with each other," Barker said.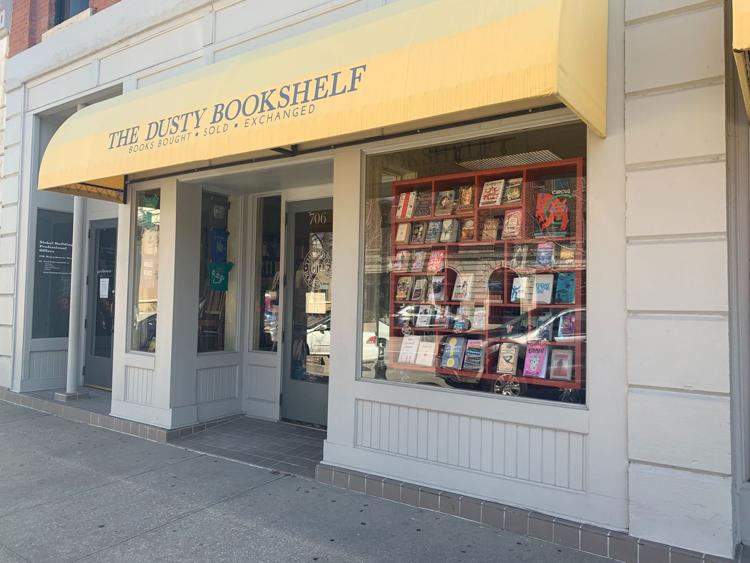 In a business where customers enjoy running their hands over the textured spines of old books while they shop, social distancing is difficult to maintain. Still, customers are eager to get a hold of new books to fill their imaginations. 
"We absolutely want to do our best to get books into people's hands," Barker said. "Whether that is by shopping in the store for things people will enjoy, putting together grab bags, dropping off purchases or ringing up things over the phone."
The Dusty Bookshelf is not buying books from the local community at the moment, a main source of inventory for the store, as a precaution to avoid the outside spread of germs. 
Lawrence independent bookstores have survived corporate chains come and go through the community, and now they look to weather the pandemic. Despite the shifting landscape, Barker and Caine said they remain optimistic. 
"What will not be changing is our love for our community and our commitment to our book pals," Barker said.