As COVID-19's stay-at-home order has forced area businesses to close their storefronts, some Lawrence businesses have had to get creative to survive. From replicating a home-shopping network to using Instagram, Lawrence's independent merchants are working hard to stay afloat and remain the cornerstone of the town's charm. 
"The uniqueness and the fact that you have so many independent businesses and homegrown businesses and businesses that are unique to this community is really important," said Steve Kelly, vice president of the Economic Development Center of Lawrence and Douglas County. "And it's lent a lot to the quality of life. It's lent a lot to what makes Lawrence, Lawrence."
As a result of the growing concerns of COVID-19 and the potential expansion of the stay-at-home orders, many Lawrence businesses have been left no other option than to innovate and move to new online platforms.
"Wonder Fair has very deliberately always avoided selling stuff online. So it has been, I would say, a tough pill to swallow," said Paul DeGeorge who is a co-owner of Wonder Fair, an art and gift shop located at 841 Massachusetts St.
DeGeorge said they take a lot of pride in the space they have in Lawrence, and there's much more satisfaction in selling something in person, which is why they've avoided selling online — until now. 
To avoid what he described as "soul-crushing" work, on March 28, they opened their online shop and launched what they are calling "The Wonder Fair Home Shopping Channel."
"What's compelling to us about selling online is being able to find our own path to it," DeGeorge said. "So, we're doing broadcasts live from Wonder Fair almost every day." 
DeGeorge said their broadcasts are on YouTube and Instagram live and consist of infomercials similar to the Home Shopping Network, product features in the store, unboxing videos and potentially some tutorials in the near future.
"So [we're] just trying to maintain a little bit of that connection, rather than just put up a store on the internet," DeGeorge said.
This move to online platforms has come after Wonder Fair experienced significant declines in business. Their connection with the community is what co-owners DeGeorge and Meredith Moore said has helped to drive their business over the past several years.
"It's really rare that people say something's decimated and they're using the word correctly — which means it's one-tenth of the standard," Moore said, "But this is actually a situation where our sales are tanked 90%."
Other small businesses in Lawrence have created alternative products that are better suited for online purchases. Jungle House, a plant nursery located at 924 Delaware St., added "physical distancing plant grams" to its shop, which are small potted plants that customers can buy and have delivered to a friend or loved one.
"The idea behind it was it allows people to still be social while not being so close to people physically," said Rachel Guffey, owner of Jungle House.
Guffey said Jungle House didn't previously have a very functional website, but, eight hours after closing on March 15, they were able to get a working website up. However, she said even though their plant grams have been doing well, it's nothing compared to when the store is open because Jungle House is an experience-based business.
"We have to figure out how to bring our store to people and not rely on them coming through our doors, which I think is also kind of a statement to the times now as well," Guffey said.
Getting creative is what has helped keep business going for Jungle House, Guffey said. She said she worries other Lawrence businesses might not be able to do this with their products. Other businesses had an easier transition and simply had to ramp up their online presence as a result of the pandemic.
Love Garden Sounds, a record shop located at 822 Massachusetts St., previously had an internet presence on Discogs, an online music marketplace, but COVID-19 has forced the store to move almost entirely onto the website.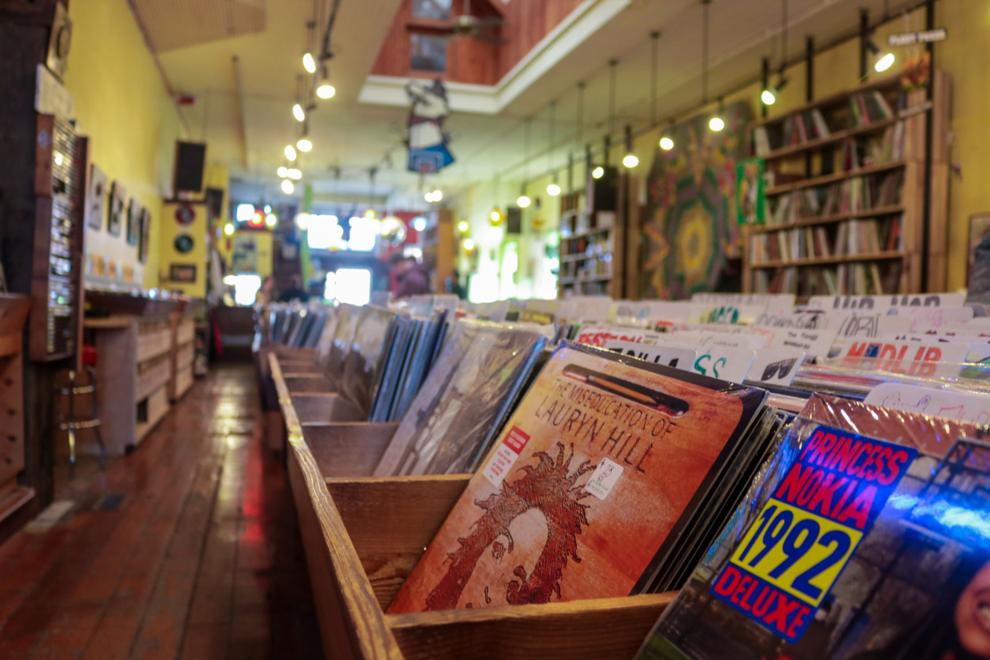 "Discogs' stock was, in a pre-COVID era, meant to be a place where we would sell things that didn't succeed in the physical store," said Kelly Corcoran, owner of Love Garden Sounds. "So it's really not our primary avenue to sell stuff by any stretch."
Corcoran said generally, online sales make up 8 to 12% of Love Garden Sounds' business. However, he's projecting their online sales to go up amid COVID-19 but not nearly enough to make up for the lost in-store business. 
"Regardless of any government programs, this is going to be a hit for people, and it's just a shock to the system," Kelly said.
While the future of many businesses in Lawrence is uncertain as a result of COVID-19, all three owners agreed that coming together as a community, even if it's via the internet, is the best thing for the community right now. 
"I feel like we've hit our quota of feeling hopeless," Moore said.