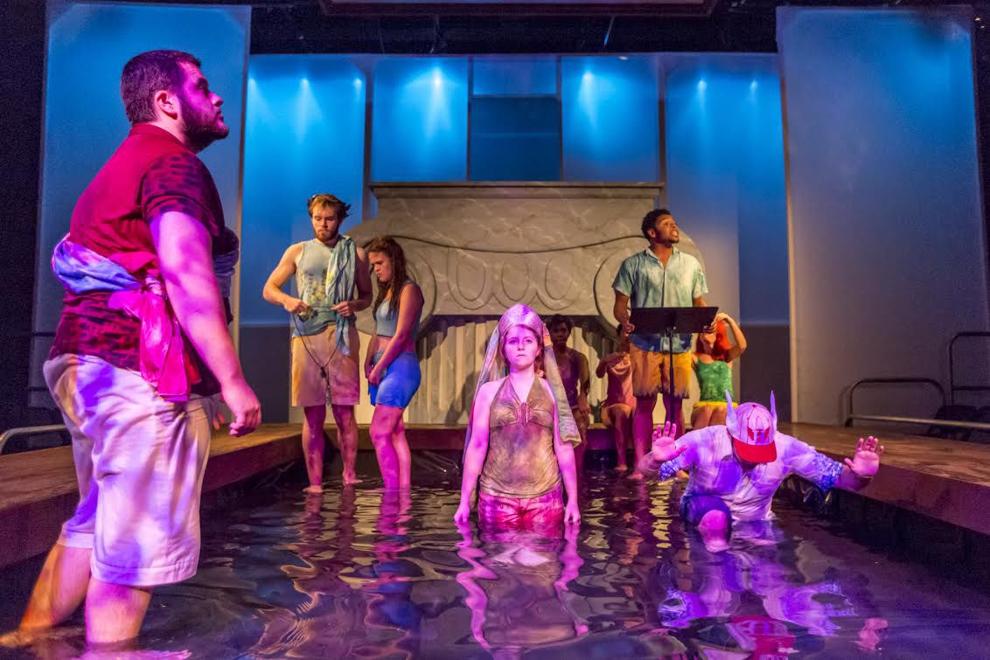 Turning the clock back to ancient Greece, KU Theatre explored heart-wrenching tales of loss, love and greed in its production of "Metamorphoses" at the William Inge Memorial Theatre in Murphy Hall.
"Metamorphoses" was originally directed and written by Mary Zimmerman, a playwright and theatre director from Nebraska. The University's rendition of the production was directed by University Theatre professor Henry Bial.
The production was unique to what is normally seen at the University, as the entirety of "Metamorphoses" was performed inside, or on the deck of, a pool. The cast spent weeks rehearsing their steps to make sure they would not slip or fall deeper into the multi-level pool.
"There were difficulties with the levels because we worked on a flat surface at first because we didn't have the pool for a good three weeks at the beginning," said Maggie Puderbaugh, a sophomore from Topeka who plays Eurydice and several other roles.
Ten students filled the cast of the show, but each member was given a few roles to play, as there were over 60 characters in the production. "Metamorphoses" consists of 10 Greek myths told as a collection, each teaching the audience a lesson of life.
Whether it was King Midas asking the gods for the power to turn anything he touched into gold — which he immediately regrets when he accidentally turns his daughter into gold — or Phaeton, the son of the sun god Apollo, setting fire to the earth with his father's "car," each story held a deeper meaning than what was shown on the surface. The final three stories stories ended happily, which was the subject of criticism by the cast itself.
The beginning of the play started with six dismal stories, ending the streak with a tale of incestuous love forced upon the daughter of a king.
"I think the story about the incest made everybody very, very uncomfortable," said former University professor Paul Lim. "I think that was maybe part of what Mary Zimmerman intended, because a lot of the stories are fairly adult in nature and are not simple fairy tales."
Lim said he was in the audience of the original production of "Metamorphoses" in New York. A main difference between the original and Bial's adaptation, according to Lim, was the color Bial added to the costumes and lighting. However, Lim said the student cast held its own against the original, professional cast.
The powerful acting and unique setting were only amplified by the intimate setting of the sold-out William Inge Memorial Theatre. The thrust theater seated the audience close on three sides of the stage, even including a splash zone for the more intense scenes.
"Metamorphoses" will have three more showings: Tuesday at 7:30 p.m., Wednesday at 7:30 p.m. and Thursday at 7:30 p.m. Tickets are available online or at the Murphy Hall box office.
— Edited by Emma Green