Over 20 years ago, Katherine Okesson, a graduate teaching assistant in violin, was invited to a Christmas party in Washington D.C. to perform. 
The party had the typical decorations, each room having distinct holiday themes to match the festivities. English Springer Spaniel puppies could be spotted running around the parlors of the first floor. All this while Okesson's youth orchestra group was rehearsing before a room full of strangers. 
She had only been playing for two years — possibly not even that — and she was about to perform in the White House. Then, former President George H.W. Bush passed by.
"The Bushes came around the corner, and we were in the midst of rehearsing," Okesson said. "They came up and talked to us. That was a moment that was really nice." 
On that day, Okesson played her violin in the Blue Room of the White House. It was a part of the Southern Methodist University conservatory group for the annual White House Christmas Party. At the time, she was based in Dallas, and Okesson recalls the night as one the first times "the stars aligned" for her.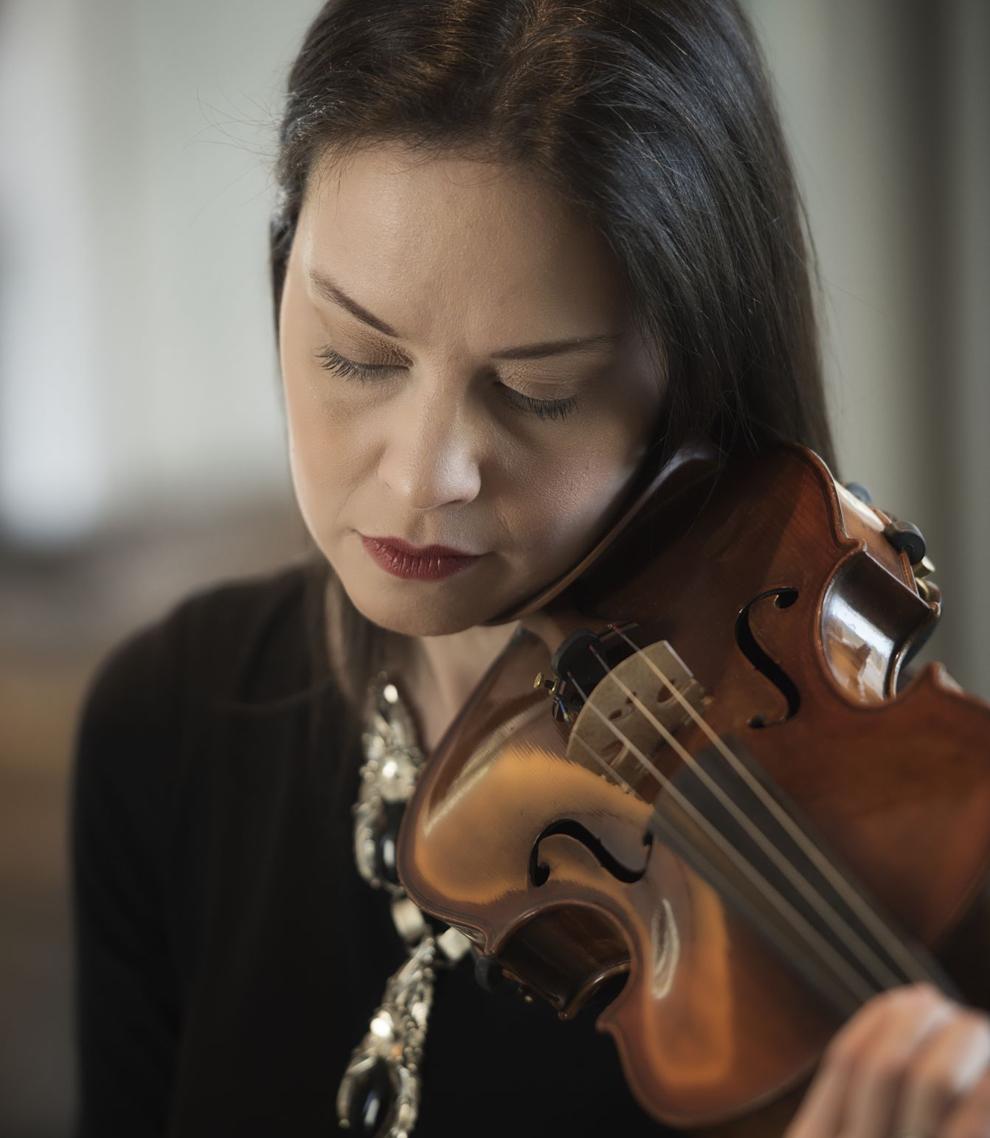 After her White House performance, Okesson would go on to perform across the country for a variety of symphonies and chamber orchestras. She has appeared in several PBS specials and performed with or for the likes of cellist Yo-Yo Ma, singer LeAnn Rimes and her personal idol, violinist and conductor Itzhak Perlman, to name a few. 
At a young age Okesson had music instilled in her through her upbringing. The middle of three children, Okesson and her family had to move constantly across the southwest region of the country because of her father's job as a petroleum geologist.
But the whole family, including her mother Jan, would continue to hold what they called "noise nights" no matter where the next stop was.
"Noise nights" were special, she said. They happened once or twice a week, and it was a chance for the family to get together to play music in one form or another. 
"My mom played the piano, my dad was a drummer and so was my brother, and my sister played flute and the recorder," Okesson said. "All the time we had these get-togethers where we would play music together and improvise with each other, so music was always integral even when I was really little."
Okesson split her time as a child mainly between cities in Texas and New Mexico. By the time she was in high school, Okesson grew an interest for the violin and began a mentorship with Dallas Symphony violinist Sasha Shtarkman-Adkins.  
As the years went by, Okesson even decided to graduate high school a year early to work with her mentor more in-depth. 
She said Shtarkman-Adkins played a big role in her growth both during and after high school. One of the key moments in their relationship came when it was time for the White House Christmas Party auditions.
After initially telling Okesson she would not make it due to her relative time playing the violin, Shtarkman-Adkins changed her mind after she heard Okesson insist that she would do whatever it takes to nail the audition.
"Immediately from then, she ramped up what I was doing (to prepare)," Okesson said. 
Years after getting the chance to perform in front of the president, Okesson would again have fate go her way while a part of the Rockford Symphony Orchestra in Illinois. 
"The night I got engaged to my husband, I played a concert with Itzhak Perlman," she said.
Even before she picked up a violin, Okesson listened to the songs of Perlman's in order to get through times of stress. She was amazed by his technique, and when she heard her longtime idol would be a part of an upcoming concerto, it became a day she knew she would remember.
This even before she knew then boyfriend Kevin would propose.
"The two most important things in my life are my family and music, so for them both to culminate in such a way on such a pivotal day for me was incredible," she said.
Now, Okesson and her husband reside in Manhattan, Kan., building their own family. Okesson teaches sections of chamber music in the music department while also getting her doctorate from the University. She also teaches violin and viola lessons for those around the Lawrence and Manhattan area. 
"She was already a very experienced teacher and musician, and a sought-after clinician and adjudicator," Véronique Mathieu, assistant professor of violin and Okesson's doctoral chair, said. "She has been a wonderful addition to our program."
From her time learning from Shtarkman-Adkins to her own days of teaching, Okesson said the main thing she wants future violinists to know is to stay committed to the craft, even when there are periods of financial, emotional, and physical difficulty. 
"A lot of the students come up to me and they feel bad if they make a mistake," she said. "The thing that I'm trying to do is make sure they can define what problem they have, pick it apart and give them tools to fix any technical problems they may have and be able to identify those problems on their own.
"One of the biggest things to know is that we're human, and your value as a human, as a musician or an artist is not equal to the number of notes you get right."