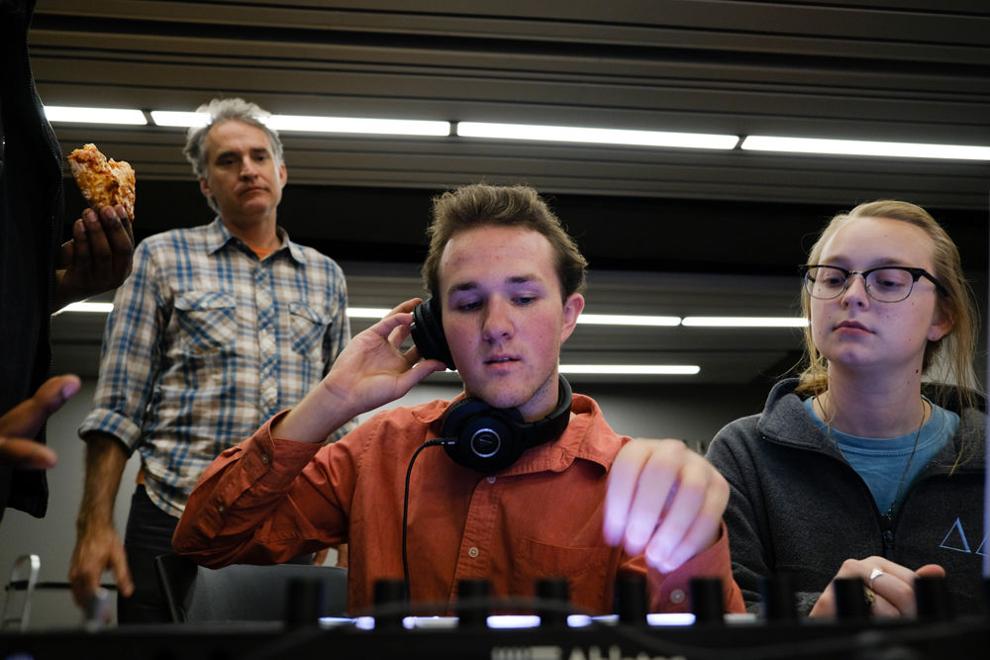 Film professor Robert Hurst sits in front of a soundboard covered in dozens of knobs, buttons and blinking lights. A window separates him and the board from a warmly lit room with a gently sloping ceiling and walls with large square ridges that seem to jut out at random places and at odd angles.
"I smile so big every time I come in here," he said.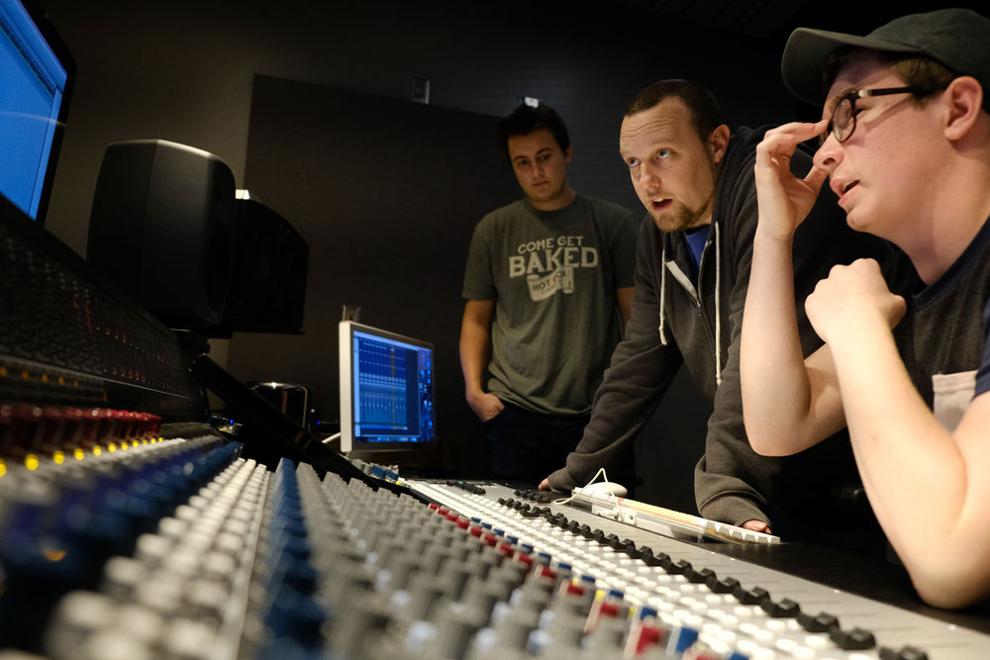 Hurst is in the Department of Film and media studies' new sound recording studio, one of the crown jewels of the program's new home in Summerfield Hall. The studio, designed by acoustician and adjunct faculty member Robert Coffeen, can be used to record music, voiceovers, sound effects or anything else a film student may need for their project to sound its best.
The Film & Media Studies major currently includes 256 undergraduate majors and 32 minors, up from 226 and 23 majors and minors, respectively, in 2016.
The department's move to Summerfield this fall followed a two-year, $10 million renovation that also included upgrades for non department offices and classrooms. For film students, the move across the hill into the state-of-the-art facility, meant leaving behind "rustic" Oldfather Studios, which was built in 1955 and had housed FMS since the 1990s.
Yasmeen Cruz, a sophomore from Wichita, said the difference between the renovated Summerfield and Oldfather is night and day
"The first day of class, they took us to see everything, and we all just kind of stood there in awe," she said. "We all just kind of stood there and were like, 'Are you serious?' They were pointing out things we didn't think we needed until they told us we had it."
Summerfield's soundstage is bigger and more tricked out than Oldfather's, complete with two "coves," one green and one white so students can shoot with different colored backgrounds, and two cycloramas, tall, curved walls that give the illusion of unlimited space on camera. These features are separate from each other, meaning that multiple students can shoot at the same time, which wasn't possible at Oldfather.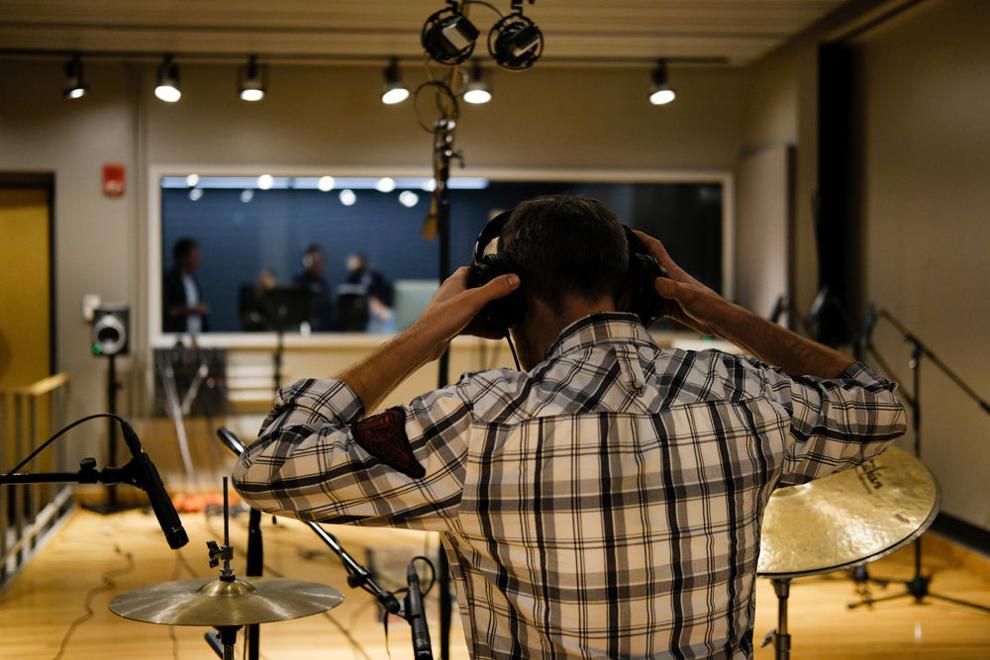 Department chair Michael Baskett said the renovations of Summerfield have set the University's film studies program apart from other programs in the Midwest. Most of the schools known for producing big-name filmmakers are located on the coasts, such as New York University and the University of California, Los Angeles. Baskett said that one of the goals of the renovation and relocation was to offer Midwestern film students an opportunity to receive a quality education at a location that was both close and affordable.
"You learn different things in different parts of the world," Baskett said. "We're part of the world; we're just not LA or New York, and that's nothing to apologize for."
Hurst said his sound design class students are thrilled to have class in the new recording studio.
"They might never work in a room this nice again," he said. "This is a real, live room."
The renovation is attractive to prospective students as well, Hurst said. He said that on tours, people are "blown away" by the department's new digs.
"I just think it really offers a real opportunity for students who want to get firsthand experience on the professional process and technology," he said. "At the same time, you're getting a university undergraduate degree, which is really important. It's not a trade school degree."
Hurst and Baskett were both involved with the Summerfield project from the outset in 2015, along with other department faculty, alumni and design specialists. The goal was to create a new environment, in what was previously the School of Business, that would foster the creation of quality work as well as prepare students for work after graduation.
"Our first concern was, 'Can we make films here and media here that will help students in the 21st century get jobs and compete?'" Baskett said.
During the renovations, walls were replaced and repainted, new lights and wiring were installed, and classrooms were transformed into places to watch and make movies.
"It was a great experience to be able to have a hand in designing a facility like this from the ground up," said FMS assistant technical director John McCluskey, who also offered his expertise to the initial plans for the move.
In addition to the recording studio, the Summerfield renovation included classrooms, editing bays and a media lab that sits just beyond the building's north entrance. A two-story soundstage sits on the second floor, the other highlight of the renovation, according to McCluskey.
At Oldfather, students and faculty dealt with space constraints as well as outdated equipment. The old soundstage doubled as a classroom — not soundproof — which meant that whoever was shooting a project had to schedule around classes.
"It was kind of cool you could go from lecture right into practical exercises, but it really limited the use of that space for larger projects and longer-term projects, which is one of the big advantages we have on the soundstage over here now," McCluskey said.
Baskett said that no matter where a filmmaker is from, they have something to offer. The Summerfield Renovation helps ensure that University students to go out into the world and offer uniquely Kansan works of art.
"A regional identity and how life unfolds in the area where you come from — whether you're in upstate New York or whether in the Dakotas, or whether you're in Texas or whether you're in Kansas, — produce a different sort of artist, a different sort of thought about what art means," he said.
— Edited by Danya Issawi