In the wake of the Breonna Taylor verdict, University of Kansas Black Student Union members formed the Black Student Coalition.
Niya McAdoo, the co-founder of the Black Student Coalition, says that the idea of starting the group was formed after an intense conversation took place in a GroupMe chat for students that are part of the Black Student Union organization. The purpose of the group chat is to bring students together to share ideas about new issues and events that are happening on campus and locally.
The conversation revolved around a recent, tragic event that happened to a young African American girl named Breonna Taylor. She was fatally shot in her Louisville, Kentucky, apartment after three white male officers forced their entry under investigation. 
"When the verdict for Breonna Taylor came out, many people were upset," McAdoo said. "This was an issue that affected people nationally, especially Black men and women. Once again, we witnessed another young life of a Black person taken away at the hands of law enforcement and no justice was served."
This tragedy led to the students deciding to go out and hold a Black Lives Matter protest on campus, and this was the moment the students decided that the Black Student Coalition needed to be a movement on campus.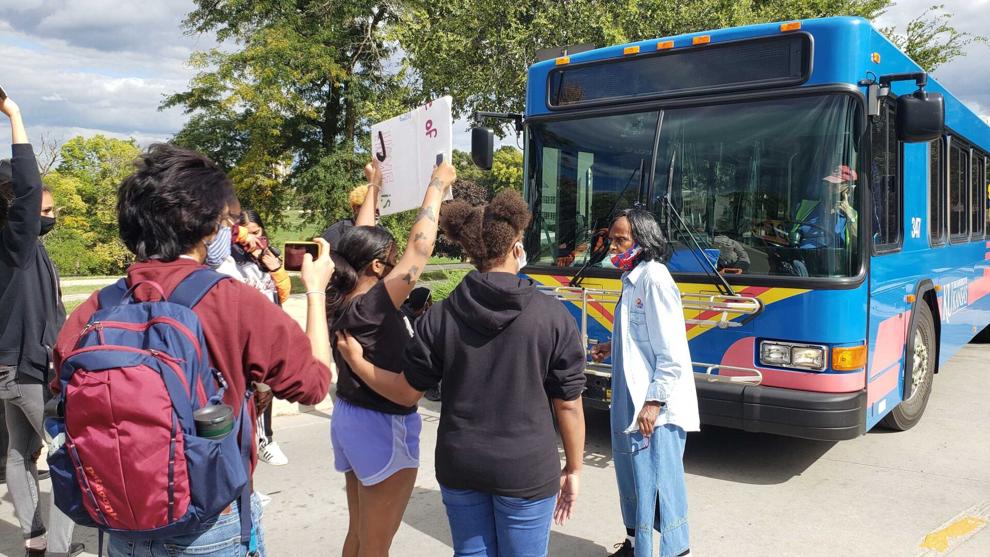 "At the protest, I started talking to a student named Keir Rudolph, an education major. We spent a good amount of time conversing and giving out different ideas to each other," McAdoo said. 
McAdoo said that after she met Rudolph, the two began conversing and sharing different ideas with each other. 
"Niya and I were talking, and I asked her, 'What do you think we could do to get more events like this to happen?'" Rudolph said. "I think this is a really good thing we've started here today, and I want to hold more protests or events similar to this." 
For Rudolph, being in the midst of an event that is so prominent with issues in society today was a powerful feeling. 
"It felt really good to know our voices were being heard. People actually stopped, asked questions and participated in the protest with us," Rudolph said.
McAdoo says that this organization was formed to welcome anyone of any background that wants to bring issues to light, whether it is happening in their community or to someone else around them. 
"We are also working with students from (Haskell Indian Nations University) with protests we organize. Many things that are happening to those within the Black community are parallel with issues that Native communities in our country are facing," McAdoo said.
On Oct. 22, the Black Student Coalition held their first event: a protest against Nigeria's violent harassment and exploitation from a police unit known as SARS.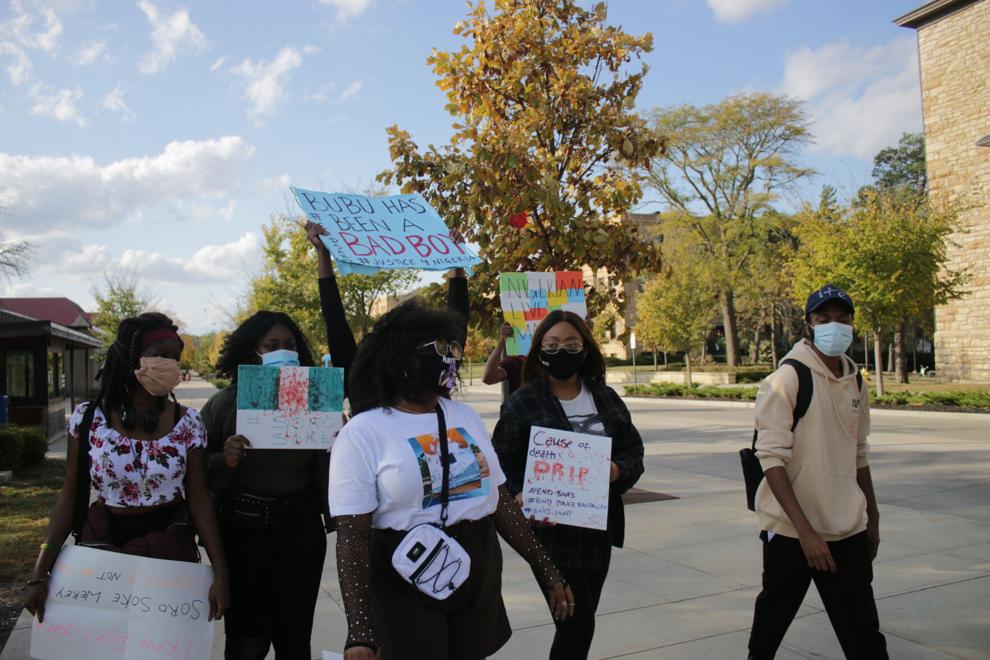 "We had a good amount of people show up, close to around 20," McAdoo said. "There was music playing in support of Nigeria and the overall environment was a positive one."
McAdoo emphasized the importance of Black American students standing in support of Black students that come from other parts of the world as well. 
"There were some international Nigerian students that came out to the protest as well, which was exciting to see," McAdoo says. "It's important to recognize that Black Americans and Black international students face the same issues regarding police brutality and racism. Therefore, it's important that we can all come together." 
She went on to underline that students should be able to openly discuss their emotions and express how they feel about things that are bothering them. 
"We want our students to be able to come to us and say, 'Hey, I think we should talk about this issue and bring different ideas and opinions to us,'" McAdoo said. "We don't want to censor anybody. If you're upset, you are allowed to be upset. Our goal is for everyone to speak their truth."
The Black Student Coalition is still a new organization on campus, but it is one that is hopeful and ready to welcome any one with a desire to join the organization. 
"Although there are already plenty of Black organizations on campus, which we stand in support of, there isn't a Black student group that focuses solely on holding events for social justice issues and overall recurring issues in the Black community," Rudolf said.
The organization is currently working on hosting more peaceful protests on the KU campus.