The Spencer Museum of Art launched Spencer Art at Home, an online version of the museum, on March 30 to make the museum accessible during the stay-at-home orders.
Spencer Art at Home includes pages of content including art tutorials, virtual tours, K-12 lesson plans, artist talks, video exhibitions and a searchable online collections database with over 45,000 works of art.
"The Spencer Art at Home was an online initiative that we started specifically in response to needing to close the museum for health and safety precautions during the pandemic," said Elizabeth Kanost, the Spencer Museum's communications manager. "As soon as we knew we were going to close the galleries, we immediately shifted to start thinking about how we could continue to fulfill our mission, which is to connect people with art." 
Staging Shimomura, an exhibition featuring videos of local artist Roger Shimomura's performance art pieces, was set to be open to the public from Feb. 29 to June 21. Now, the videos from the exhibition have been uploaded online to allow people to see the exhibit during the shelter-in-place order.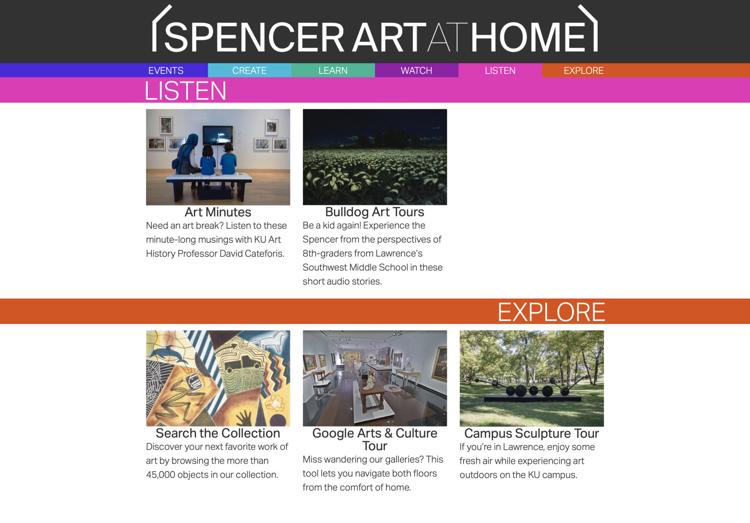 Other exhibitions that were set to be shown before Kansas went on lockdown, such as Past Presence and Audubon in the Anthropocene, are available through the online collections database, but plans to make them more accessible are underway, said Kanost.
"We do want to make sure that we get some sort of more robust content for those as well," Kanost said. "We might do some live streaming with different curators talking about their shows. We might see what we can do in the way of virtual tours. We sort of have a lot of ideas that we're exploring, and we're trying to see what our audiences want and what we think would provide the best access to that content right now."
Before the shutdown, visitors were encouraged to drop by the Spencer Museum's Goddard Study Center on Fridays to see art on paper from the collections not currently on display. Now, Spencer Museum curator Kate Meyer, holds this event in an online format through Facebook. 
Every Friday during the shutdown, users can request a link to any piece of work on paper from the collection on the Art Me Anything Facebook post. Users can request a specific image, animal, scene, time period or even an emoji, and Meyer will respond with a link to a work that matches your description. 
"It is my job to be kind of a human Google," Meyer said. "If you have an interest, I attempt to facilitate that interest using the Google in my brain and the resources that we have established to make it easier — like our database." 
Along with the online collections database, the Spencer Museum also has over 100 videos on its YouTube channel, including artist lectures, behind the scenes content and video series.
The Spencer Museum of Art continues to develop new ideas for new ways to connect with audiences during the stay-at-home orders and more events are still to come, Meyer said. 
"We are just as committed to making art accessible for everyone and helping people find connections and comfort through art at this time as we always are even when the building is open," Kanost said. "Our mission hasn't changed, and our digital doors are still open."